Playbooks
Digital Signage Benefits in 2021
Digital signage continues to be a great tool for companies and organizations looking to get a leg up on the competition. Here are all the new and improved benefits of digital signage you can expect in 2021.
WRITTEN BY: Pavel Karpovskii, 09-02-2021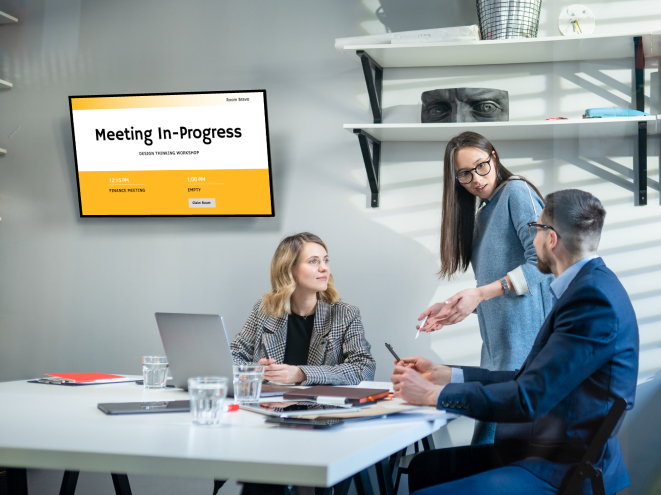 Over the past decade, digital signage has steadily increased the ability of companies from a wide variety of industries to improve ROI and engagement.
But as with any industry and market, digital signage—how it is used, best practices, and the underlying technology behind it—is constantly evolving. That's why we're here to explain the ins and outs of the digital signage landscape in 2021 and the main benefits you can expect from installing a digital signage network.
Digital signage—How digital signage has evolved in 2021
Digital signage is still a young technology in terms of the multitude of emerging ways it is being leveraged and how quickly the technology is changing. More specifically, a whole host of game-changing features are making digital signage far more advanced than before, such as:
Programmatic content creation
Custom applications
Localization
Advanced audience tracking/segmentation
Secured dashboards
Those are just a few of the hugely beneficial features now on offer with digital signage. Overall, the strides digital signage has made in the past few years have made it much more advantageous for companies to adopt.
Digital signage—the main benefits
Of course, there are dozens of awesome benefits derived from adopting a digital signage platform, but here are the top five digital signage benefits you need to know in 2021.
1. Digital signage increases visitor awareness
There's an obvious reason why you're bound to see digital signage when you walk into an airport, hospital, arena, or pretty much any other venue or building that deals with tons of visitors entering and exiting regularly. That's because digital signage is one of the few tools that can effectively communicate information to a large number of visitors in a physical space.
Whether it be emergency messaging, wayfinding kiosks, digital directories, waiting room signage, or a wide range of other digital signage use cases, digital signage improves visitor awareness. Digital signage can get information to those who need it, when and where they need it.
2. Digital signage helps you grow your business
Another one of digital signage's advantages is its ability to boost a business. This happens in a number of ways. The two most obvious ways are by improving ROI and by engaging consumers. To get more specific, digital signage can be used to:
Boost brand awareness
Help create and maintain a coherent brand identityLaunch marketing and ad campaigns
Upsell at the point-of-purchase
Showcase promotions and hot deals
Highlight delicious food items on a digital menu
Target content to consumers who need it
Merge digital and physical spaces
Of course, those are just a handful of the digital signage benefits you can expect as a business—large or small.
3. Digital signage improves internal communications
On a similar note, digital signage is also great at improving employee communications. Most workplaces, especially crowded offices, are fast-paced environments where tons of information gets bounced around at all times. Some of the time, this information is lost by the wayside due to poor and outdated avenues of communication between employees and management. For example, most companies communicate via emails, which are far too often ignored.
Digital signage gives the management of companies the ability to instantaneously beam custom content and important information to their employees at a moment's notice—rather than sending it to any user individually. By having vital information floating around on your office's eye-catching screens, employees can get information with a simple glance. This can be anything from work policy updates or altered deadlines to employee recognition and birthday announcements.
4. Displayed information can be changed automatically 
At the end of the day, digital signage is only as good as the content that is running on it. But ways to deploy that content have changed vastly in the past few years. Rather than launching static, unchanging content on screens, now organizations are launching highly targeted, dynamic content that can be updated or changed automatically.
The key features behind this advancement are scheduled content, customizable playlists, and automatic content triggers. Let's say you are a fast casual restaurant owner utilizing digital menu displays. Other digital signage advantages include the ability to set up your menu to automatically update based on the time of the day, the day of the week, or other custom rule sets! That way, different menus would seamlessly transition to new menus without anyone having to move a muscle.
That same principle of automatic and seamless content rollouts and updates can be applied to nearly every industry.
5. More attention from people
If we know one thing about modern humans, their eyes are constantly attracted to screens—small or large. This eye-catching nature of digital signage is its most valuable trait. The fact that you can guarantee eyes focusing on your screens makes them very useful. In fact, few other things draw the amount of attention that screens do in physical spaces.
So whether you are operating a small business or a large healthcare facility, digital signage gives your organization the ability to communicate with consumers and visitors in much deeper and more meaningful ways. How you choose to use your screens to boost your organization is a decision you'll have to make on your own, however. The opportunities and benefits of digital signage are nearly limitless when carried out correctly.
Getting started with digital signage
In 2021, digital signage software made another huge leap forward and there are now more advantages of signage than before. To see how digital signage can benefit your business, try TelemetryTV's all-in-one solution today for a 14-day free trial.
Visual Communication. Everywhere.
Get started for free. No credit card required.