How SXSW Uses TelemetryTV'S Digital Signage Software
Every spring, hundreds of thousands of people descend on the city of Austin, TX, to partake in a cornucopia of music, technology, and film.
WRITTEN BY: TelemetryTV, 06-16-2014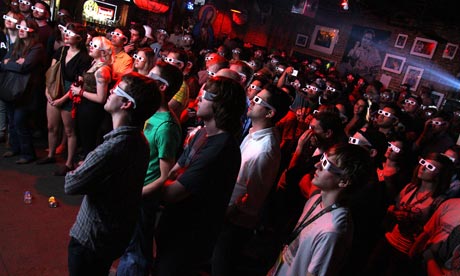 Every spring, hundreds of thousands of people descend on the city of Austin, TX, to partake in a cornucopia of music, technology, and film. Tech entrepreneurs mingle with filmmakers, while musicians belt out powerful vocals to the crowds buzzing through the chaotic streets of downtown Austin. It's cross-pollination at its best and it's called SXSW. You have to be there to truly understand it.
TelemetryTV and SXSW
This year the SXSW team used TelemetryTV's real time data visualization software to understand and manage the crowds that flowed through the hundreds of events.
In spring of 2013, the TelemetryTV team attended one of the many SXSW tech sessions, only to be serendipitously seated at the same table as the SXSW event crew which handled RFID. If you're not familiar with RFID, it stands for radio frequency identification, and the SXSW crew are using it to authenticate tickets. A couple of festivals earlier, the SXSW crew had some serious ticket forgery issues and paying customers were not able to get into events they had paid for, so they moved to RFID technology.
The conversation started like any other. We met Russel Phillips and Mike Brown who managed the RFID team, and we started to describe what we were doing at the festival and what our new SaaS product TelemetryTV was about. We told Russell and Mike: TelemetryTV allows anyone to integrate their data sources with our API and build real-time, meaningful, data visualizations and dashboards to articulate their metrics that are critical to their operations.
It turned out that the RFID team were looking for ways they could use their RFID data to manage crowd flow. After all, most of their major venues had RFID readers at entrances to authenticate a visitors ticket - but these readers also captured valuable meta data. If that meta data could be referenced to the unique RFID readers, then we could have time series metrics on attendees by venue. The seed was planted and the teams agreed to work together and build a better way to measure and manage crowd flow in real time. James Messer of Venture Beat wrote an interesting article on other possible applications for RFID at SXSW.
How SXWS uses digital signage software
Fast forward to 2014, the SXSW RFID team integrated with TelemetryTV's API and started monitoring RFID metrics via real-time visualizations.
The SXSW RFID team could see when venues were reaching capacity and what ticket holder segments were attending the various events. The RFID team shared their Telemetry boards with their operation teams so they could monitor the ebbs and flows of the crowd against locations and adjust their 'on the ground' support people appropriately. The realtime crowd flow metrics articulated through data visualizations turned out to be a very powerful tool.
Scott Wilcox, the Director of Technology at SXSW:
"Understanding our crowd flows is vital to delivering a successful festival. That is why we use and trust Telemetry to visualize our crowd flow metrics in real-time."
The TelemetryTV team will be attending the next SXSW tech event called SXSW V2V in Las Vegas, this July 13 -16, 2014. Join us there and explore how you can use Telemetry to leverage your data and visual your critical metrics in real time.
Visual Communication. Everywhere.
Get started for free. No credit card required.