Cloud Digital Signage CMS for Quick Service Restaurant Chains
Spend less time managing your digital menus and signage devices remotely with TelemetryTV cloud CMS.
Trusted by Global QSR Chains & Local Cafés
Digital Signage Software that Reduces
Your Restaurant Operating Costs
Even the trivial task of updating your menus' pricing could become a challenge without a proper digital signage CMS. TelemetryTV gives you a cloud toolset to forget about outdated special offers, off-branded content, and USB sticks.
Manage Your Digital Menus and Screens Across 100s of Locations
Upload Your Menu or Build It from Scratch

Upload your video/static menu creations to TelemetryTV, or create them from scratch using our Menu app or built-in Canva editor. Add texts, images, and videos and preview the menu before sending it to screens.

Instantly Update Your Menus with Zero Costs

Remotely update menus in one or across all your locations at once via Cloud. Forget about printing costs, mailing USB sticks with new creations, or bothering your on-location staff.

From One-Screen Menus to Stunning Video Walls

Connect any number of screens to your media player and create a flexible canvas for your multiple-screen menu or stunning video wall with custom aspect ratio and zone grids.
Keep Content On-Brand, Always Fresh, and Interactive
Ensure Content is Brand-Compliant in All Locations

Keeping your content brand-compliant can be challenging, especially for QSR chains with 100s of locations in different regions. TelemetryTV makes it easy, allowing you to set admin approval requirements for user content changes.

Display Highly-Targeted & Always-Fresh Content

Programmatically deliver highly-targeted content to each location. Auto-remove expired special offers from your playlist with user-defined expire dates.

Provide Self-Service Functionality with Digital Kiosks

Let your guests order a burger and fries without saying a word, as research shows fast-casual restaurant guests prefer making orders via digital kiosks in ⅓ of cases.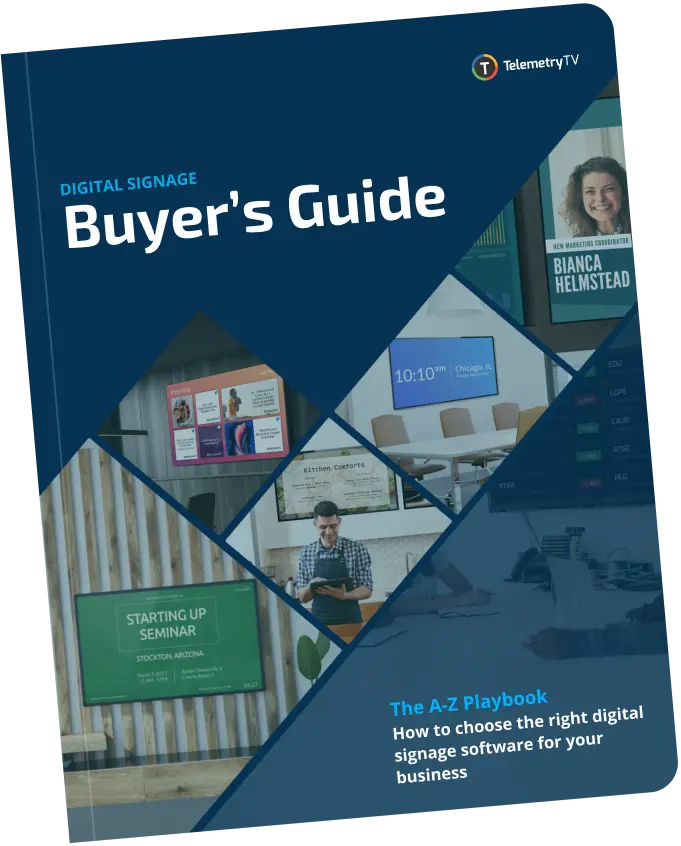 Digital Signage
Buyer's Guide
Designed For No Stress Maintenance and Scaling
Monitor Devices in Real-Time

Configure devices remotely and monitor in real-time their relevant statistics on CPU, cache usage, error logs, etc. Immediately receive email alerts if your devices go offline, ensuring you can respond quickly and reduce interruption.

Cut Down Your Devices' Maintenance Costs

Install any operating system you like or choose TelemetryOS to deploy 1,000s of devices automatically, access remote device management features, and reduce TCO.

Reduce Your Electricity Bills with TelemetryTV

Schedule the hours a device is active and plays content each day. Trigger hardware events to power your screens on/off.
Enterprise-Grade Security, Stability, and Support
Your Data is Safe and Secure

TelemetryTV complies with the highest security standards: AICPA and GDPR regulations. Our platform's data residency zones span across the world, helping you meet your data sovereignty requirements and performance goals.

Global CDN and Device Caching

Ensure the highest performance for media played by a device with a global CDN and on-device dynamic caching.

Backed Up by Award-Winning Support Team

Get fast and professional help from the award-winning support team with a G2 'Quality of Support' score way above the industry average.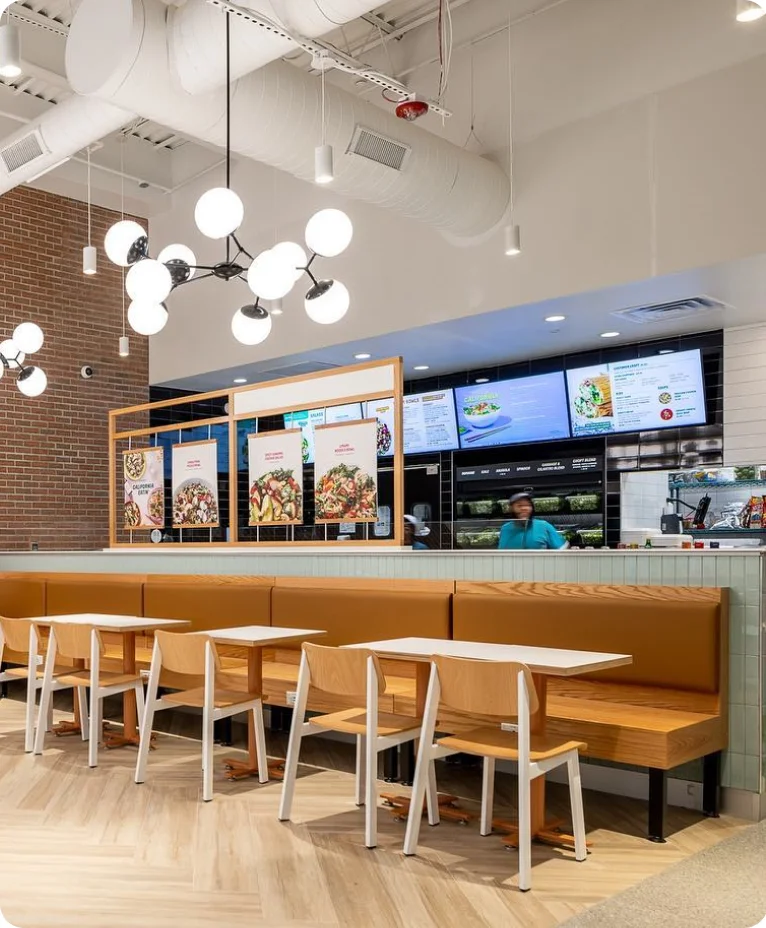 With the cost of doing QSR business that high—with all its rent, food inventory, decoration, advertising, back-of-house maintenance fees, and more, we were happy that TelemetryTV helped us reduce our digital signage system's operating cost by more than 60%. —Kawsu Sillah, Information Technology Specialist at Founders Table Restaurant Group
Features that QSR Chains, Coffee Shops, and Bars Love
Modern and Clean UI

Easily create and manage digital signage content—even when you have just started using our CMS.

70+ Turn-Key Apps

Choose from our growing list of apps that save you time for creating engaging content.

Group Permissions

Distribute specific permissions that limit what features and folders your users can access.

Intelligent Media Folders

Programmatically select video and image content based on predefined rules.

HTML Overlays

Display persistent cross-page content on your screens (e.g., logos, delivery contacts, etc.).

Webapps based on JS/HTML

Improve the guest experience by creating custom apps with self-service functionality and more.
Digital Signage Content Ideas
Display digital menu boards
Getting started is easy
At TelemetryTV, you can easily deploy 10 or 1000s of devices.
People Love TelemetryTV
TelemetryTV's content & device management makes managing and deploying digital signage systems easier than ever before.