Digital Signage for Banks, Credit Unions, and Financial Services
Engage clients and promote services while reducing your digital signage network's total cost of ownership.
Powering 1,000s of Endpoints in Retail Banking
Cloud Digital Signage Solutions for Banks
and Credit Unions with 100s of Branches
TelemetryTV helps large retail banking networks manage signage content, deploy devices, control user permissions, and monitor overall system stability—at scale.
Make Digital Signage a Part of Your Bank Marketing Strategy
Promote Your Financial Services

Display about your new mortgage and loan programs, cashback cards, or saving accounts that your visitors won't miss while waiting in line.

Deliver Highly-Targeted Content to Each Branch

Use tags on content and devices to effortlessly create localized and personalized dynamic playlists that would be relevant to each of your 10s or 100s of branches.

Create and Manage Content Easily

Empower your team to easily create content in the built-in Canva editor, set approval requirements to ensure it is brand compliant, and use auto-scheduling/expiring rules.
Designed For No Stress Maintenance and Scaling
Keep Using Your Existing Devices

Migrating to a modern cloud-based CMS shouldn't require spending 100K of dollars on new hardware. That's why we made TelemetryTV device-agnostic so that you can connect your existing media players, PCs, or tablets.

Save Time on Deployment and Maintenance

Install any operating system you like or choose TelemetryOS to automatically deploy 1,000s of devices and maintain them more efficiently by leveraging GUI and networking features.

Monitor Devices in Real-Time

Monitor devices in real-time and get instant notifications to your email in case of issues; analyze error logs to fix them rapidly. Control statistics on CPU, cache usage, or uptime.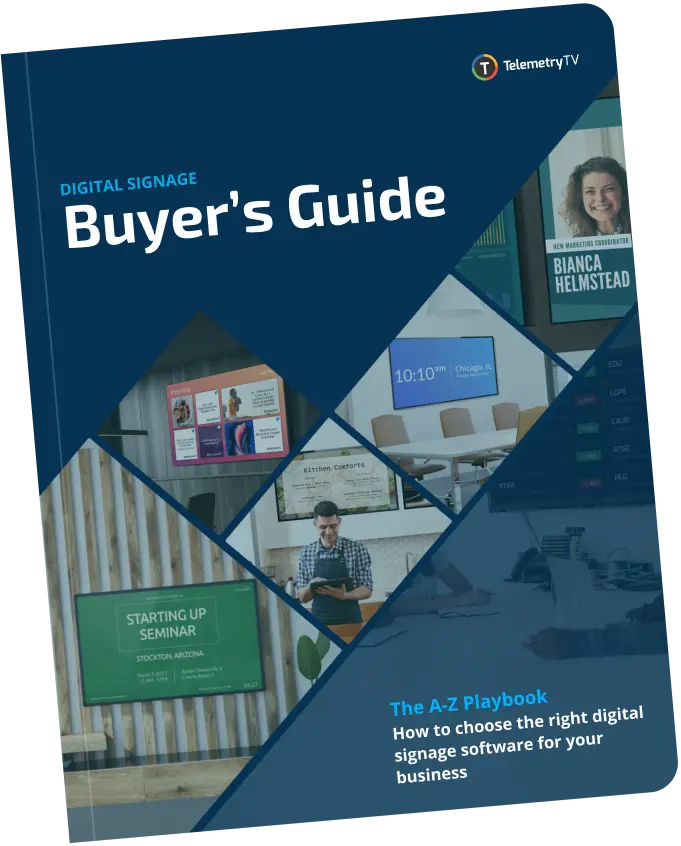 Digital Signage
Buyer's Guide
Create Engaging Experiences
Display Financial Data Charts and Reports

Securely share financial trend charts, reports, and dashboards with your clients and teams—even if those are only available behind the login screen.

Interact With Your Audiences

Display interactive offers to your branch visitors, collect user data to personalize communication or create your custom Git-powered kiosk web apps to provide self-service functionality.

Provide Delightful Personal Experience

Integrate digital signage with your bank's CRM, facial recognition system, and thermal or motion sensors to show dynamic or adaptive content on screens.
Enterprise-Grade Data Protection and Customer Support
Backed Up by Award-Winning Support Team

Get fast and professional help from the award-winning support team with a G2's 'Quality of Support' score way above the industry average.

Your Data is Safe and Secure

TelemetryTV complies with the highest security standards: AICPA and GDPR regulations. Our platform's data residency zones span across the world, helping you meet your data sovereignty requirements and performance goals.

SOC 2 and PCI DSS Audited and Compliant

Ensure your bank or credit union meets the information security compliance requirements, as TelemetryTV is PCI DSS compliant and SOC 2 audited.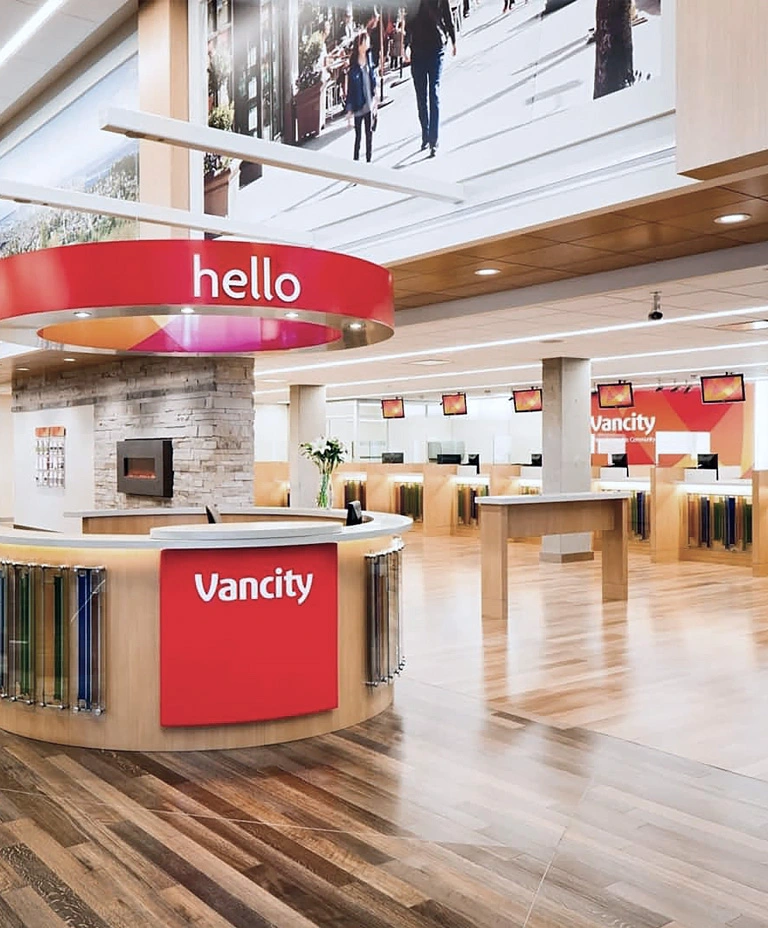 TelemetryTV empowered our marketing team to remotely deliver highly engaging digital signage content to each location. It's allowed us to run far-improved omnichannel marketing campaigns, so we're definitely glad we made the switch. —Vancity Credit Union
TelemetryTV Features That Banks and Credit Leverage
Webshots

Securely display external-hosted or intranet sites, dashboards, and applications on screens.

Video Walls

Use video walls to create elevated and interactive visual experiences for your branch's visitors.

Digital Signage-First OS

Install TelemetryOS to your players for enterprise-grade security, boosted performance, and simplified maintenance.

Playlist Content Approval

Be confident in your live content by requiring admin approval for content updates made by users.

Tag Based Playlists

Use advanced tag filtering rules to distribute relevant content to each branch or even device.

Overrides

Deliver critical safety information to your clients or employees with urgent or scheduled overrides.
Item 1 of 2
Digital Signage Content Ideas for Retail Banking
Product and Services Promotion
Item 1 of 11
Getting started is easy
At TelemetryTV, you can easily deploy 10 or 1000s of devices.
Go Further with Digital Signage
People Love TelemetryTV
TelemetryTV's content & device management makes managing and deploying digital signage systems easier than ever before.