Used by Top Organizations All Over the World
Generate New Ad Revenue
DooH Ad Networks

Our digital advertising software allows you to monetize your fleet of screens through DSP Ad Networks.

Localized Content

Target content to specific areas of your network in order to achieve the most impact.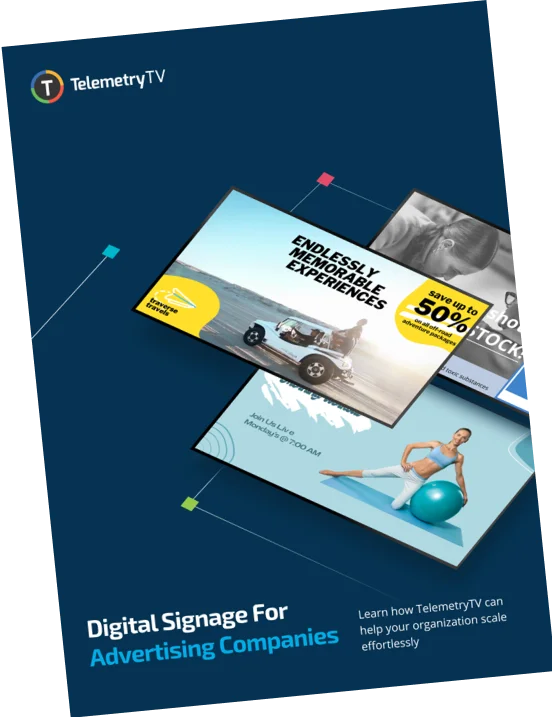 Digital Signage For DOOH
Advertising Companies
Flexible and Scalable Digital Signage Advertising Software
Automatic and Simple Device Provisioning

Whether you're deploying 10 screens or 1000, TelemetryTV's digital advertising software can automatically provision your devices at scale.

Support For Multiple Hardware Options

TelemetryTV deploys on a wide array of hardware options. Our team continually updates the top performing solutions for your organization's needs.

Channel System Integrators

Our global network of channel partners can fulfill and provision hardware, as well as procure and install on-premises displays and hardware.
Powerful Developer Features
Custom App and HTML SDK

Create your custom apps with our Git integration, SDK, and JS libraries, and integrate 3rd-party services using our API. Trigger visuals from your sales CRM, or build an interactive application for your screens.

Remote Screen Control and Management

Control screens on your digital advertising network via RS-232 or USB serial commands.

Full data Exportability

Export activity logs to a CSV file.
Unleash the Power of Programmatic
Leverage Our Powerful API

Unleash the Power of Digital Signage Advertising

Deliver Targeted Content To Your Audience

Use custom tags on content and devices to create localized and personalized dynamic playlists.

Create Adaptive Content & Apps

Build custom apps to create adaptive content, using our HTML5 SDK, that are interactive and work offline.
Design Something Beautiful with Canva
Professionally-Designed & Customizable Layouts

With photos and templates inside our Canva integration, it's easy to create graphics that impress.

Create Striking Video Ads

With simple drag-and-drop tools and free video templates, Canva makes video ad creation intuitive.
Getting started is easy.
At TelemetryTV, you can easily deploy 10 or 1000s of devices.
People Love TelemetryTV
TelemetryTV's content & device management makes managing and deploying digital signage systems easier than ever before.