6 of the Best Screens for Digital Signage in 2022
Updated for 2022 - 6 of the best options for digital signage displays on the market today.
WRITTEN BY: TelemetryTV, 08-27-2019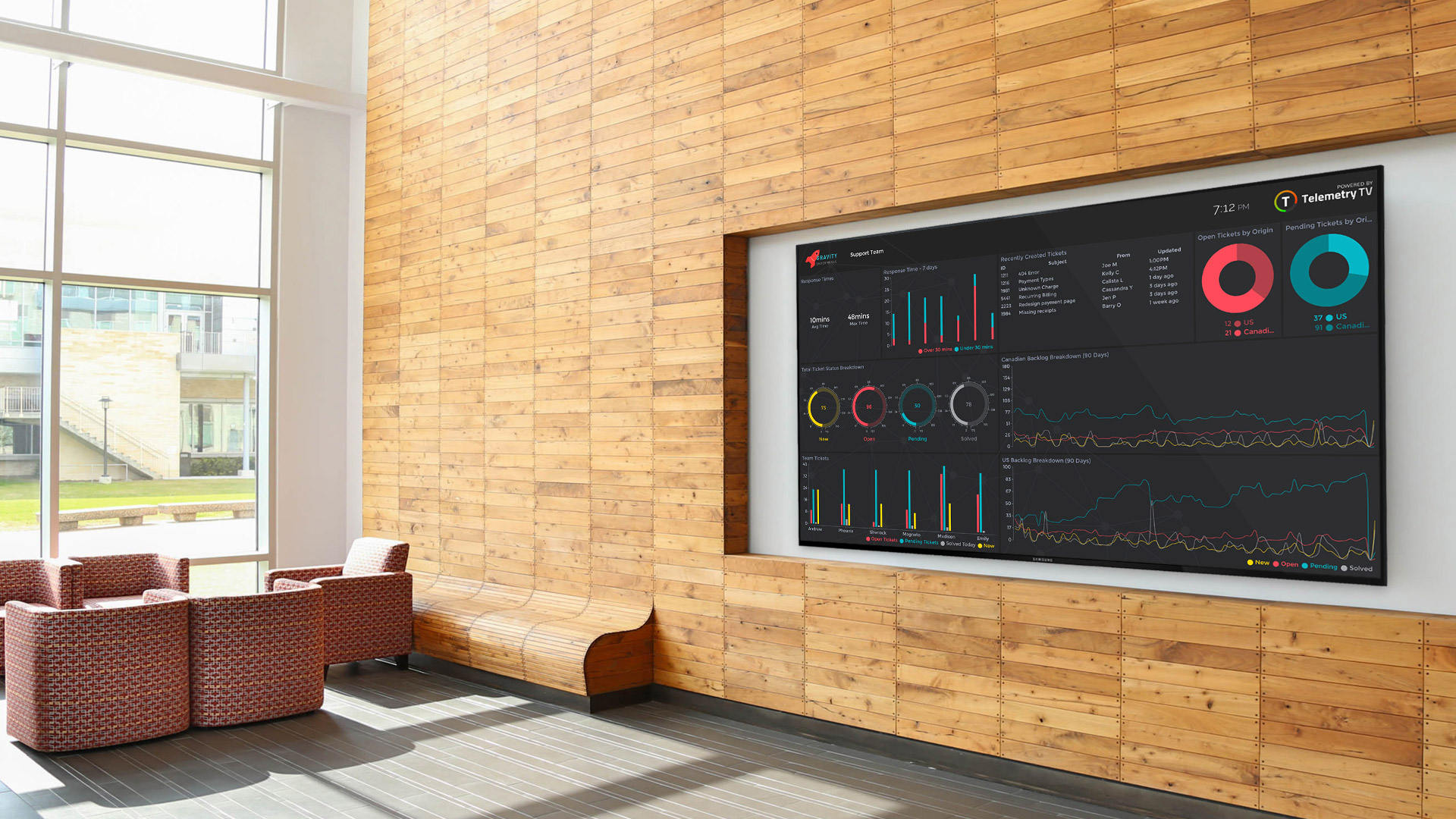 Update:
With employees working from home we are happy to offer our new TelemetryTV desktop app for free - keep remote users in the loop with critical updates, dashboards, announcements, and live streams straight to their desktop monitors. Get started for free here.
Figuring out which screen to use for your digital signage can be overwhelming—there are seemingly endless numbers of brands, sizes, and features, which makes it difficult to determine the option that's right for you.
Whether you're starting from the ground up and just trying to figure out how much digital signage costs, looking to buy 1 display for your small business or 100's for your enterprise, we've got you covered. This article will provide a quick summary with some of the best digital signage displays that we highly recommend - and has been updated to include the newest display options for 2021.
(Note: some displays are available in multiple sizes, we have used 55" examples.)
Consumer Displays
1. 55" Hisense 55H9G Quantum Series
The Hisense H9G is a flagship 4k LED TV that offers impressive performance. It provides good value for its price and competes with many other high-end, more expensive options in 2021. At $699.00 USD this display punches well above its weight class and can compete with displays running into the $2000.00+ price point. The Hisense H9G series is a beautifully crafted TV line that delivers accurate colors, an impressive contrast ratio, and a wealth of Android features for under $1,000.





Key features:
4K
Excellent color quality and contrast ratio
Reasonable price
Lots of Android features
Hands-free voice control
Stylish design
Leverage Your Screens To The Max
TelemetryTV is the only digital signage software you need to drive engagement, productivity and revenue for your business.
Learn More


2. 55" Sony X800H
The Sony X800H is a 4K LED television with HDR and Dolby Vision. It features Sony's Triluminos Display technology for broader and more vibrant colors, along with the X-Reality PRO engine that helps upscale HD content to 4K. The Sony X800H is a nice upgrade over its predecessor. It has an IPS panel with wide viewing angles, making it a great choice for digital signage use. This TV delivers one of the best 4K images you'll find in this price range.





Key features:
4K HDR, Upscale everything you watch to near-4K with 4K X-Reality PRO
Android TV with Google Assistant
HDR and Dolby Vision
MotionFlow XR: Content appears with lifelike motion


Commercial Displays
There are a few key differences when we start looking at commercial digital signage displays vs. consumer displays, including brightness, viewing angle, warranty an additional features. Below are some of our favorite commercial digital signage displays for 2021.


3. 55" Samsung DC-E Series Commercial LED
Simple, reliable, and cost-effective, the Samsung DC-E Series showcases a sleek design and excellent 1080p Full HD image quality. At $805.00 USD the DC-E series is one of the most affordable commercial displays on the market today, offering great value and reliable performance.

Key features:
Slim design with narrow bezels and chassis depth
Direct-lit LED technology provides the image quality and energy saving advantages of LED technology
Samsung's most affordable commercial-grade digital signage
The DC-E-series displays are designed to operate up to 16 hours a day, 7 days a week.
3-year onsite warranty to secure your investment


4. 55" Samsung PM-H Series Commercial LED
The Samsung PM-H Series takes performance up a notch from DC-E series, with a 1080p Full HD display and built for 24/7 run-time the Samsung PM-H Series gets you the connectivity you need and delivers an impressive picture quality. The 60 Hz refresh rate will help smooth out fast-moving video, while the display's 500 cd/m² of brightness and 4000:1 contrast ratio will help your advertisements be seen clearly, even in daylight. Coming in at $1,963.00 USD this 55" display is a great option for your commercial digital signage needs.
Key features:
Slim profile with a mere 1.2" cabinet depth
Up to 15 x 15 video wall capable
Embedded media player for simple content management.
Proven durable with certified dust protection, plus a non-glare panel for improved visibility
The PM-H series displays are designed to operate up to 24 hours a day, 7 days a week


5. 55" Sharp/NEC C551
Create beautiful imagery at a cost-conscious price point with the new fully commercial NEC C Series displays. A modern and contemporary design with a mere 45mm depth and improved visual aesthetics allow for the smooth and stylish integration of these displays into any environment.

Key features:
Handles 24/7 operation
Thin Depth
Anti glare panel allows for less reflectivity and clear and crisp image visibility
400 cd/m2 brightness combined with full HD resolution will capture the attention of audience in almost any situation
Failover Capabilities via Custom Input Detect functionality will allow peace of mind as the display will automatically switch to a secondary or tertiary source if the primary source fails
Model includes anti glare screen allowing customers maximum visibility of the content displayed on the screen
Energy Star 7.0 Certified product.


6. 55" Sharp/NEC E557Q Commercial LED
The 55" NEC E557Q is one of the best digital signage options available. This commercial-grade display is ideal for education, corporate and other digital signage applications. Compared to previous generation displays, this model's 4K UHD resolution and LED direct backlighting allows for higher visual acuity, reduced power consumption and localized dimming that gives a higher dynamic contrast ratio. With a price tag of $1,149.00 USD, this 55" NEC has everything you need in a commercial digital signage display.

Key features:
4K UHD resolution
Built-in USB multimedia player helps simplify digital signage
Additional USB port for 2V / 5A power delivery
Direct LED backlighting reduces power consumption
The thin bezel provides a sleek aesthetic
LED backlighting enables eco-friendly digital signage
Three HDMI ports provide single-cable digital HD connectivity with audio
24-hour on/off timer maintains your power schedule
3-year limited commercial warranty
Getting Started
While there many many brands and models to choose from, these solid options provide all the features you need in a digital signage display and are a good representation of some of the choices available on the market today.
1. Choose some screens and digital signage hardware
Of course, budget and use case will be the key factors in deciding which display is right for you, and the more money you are willing to spend, the more likely you are to find a screen that can be powered for 24 hours a day and is better suited to bright environments.
For more information on this topics, check out this guide:
If you are looking for media players, check out our guide to the best digital signage players for 2021.
Once you have your screen and hardware, it's as easy as that. Simply log in to your TelemetryTV dashboard and pair your device to your screen.
Visual Communication. Everywhere.
Get started for free. No credit card required.