Digital Signage Software for Manufacturing and Production Facilities
Engage your workforce, improve productivity, and communicate safety protocols and alerts.
Trusted by Manufacturing Companies Worldwide
Improve Workplace Productivity with
TelemetryTV's Digital Signage CMS
Build a digital communication bridge between the office and the factory while efficiently managing all your displays and content remotely.
Enhance Workplace Productivity, Performance, and Safety
Display Productivity Goals and KPIs

Empower your team leads to visualize productivity goals relevant to each factory floor or production line.

Broadcast 3rd Party Dashboards to Screens

Display 3rd party dashboards behind your firewall with our Webshots app or create custom charts using our Metrics app.

Keep Your Workforce Informed and Safe

Create a visual counter for the number of days without an accident, and communicate safety protocols and training videos. Trigger screen takeovers using our Overrides feature when emergencies occur.
Create Content Tailored To Your Specific Use Cases
Create Engaging Content in Minutes

Get access to 70+ turnkey apps like Metrics, Countdown, and Calendar or create your own with our DevOps-powered features. Use our integrated Canva editor to curate content or upload your own images, videos, and docs to our repository.

Leverage Microsoft Office and Google Workspace

Seamlessly display content created with Office 365 and Google Workspace. Import media files from OneDrive or Google Drive.

Become an Expert with Ease

Access a library of TelemetryTV tutorial videos and 100s of help documents, talk in real-time with our live chat app, or set an appointment with our award-winning customer support team for custom training.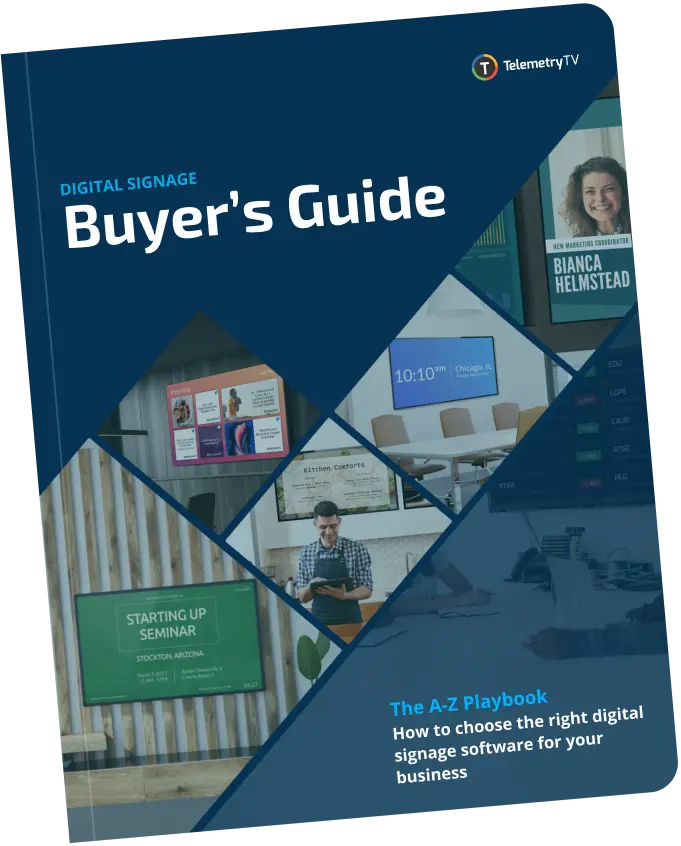 Digital Signage
Buyer's Guide
Manage your Network At Scale
Save Time on Deployment

TelemetryTV is hardware agnostic—download our media player app for TelemetryOS, Android, Windows, ChromeOS, or Linux. Provision, deploy and manage 1,000s of devices easily using TelemetryTV's robust device management capabilities.

Monitor Network Health in Real Time

Monitor devices and network health in real time. Get instant notifications to your inbox or pipe out device data to Amazon Kinesis Firehose to analyze error logs.

Leverage Robust Diagnostic Tools

Use TelemetyTV's comprehensive set of debugging and diagnostics tools to identify issues in the field and quickly resolve them remotely.
Fully Optimized for Enterprise-Grade Production Companies
Simplify User Authentication & Identity Management

TelemetryTV integrates into major federated login systems like Okta, Active Directory, or your own SAML and SCIM systems.

Maintain Brand Integrity with Group Permissions

Set up user groups & permissions to control access to specific features, playlists, devices, content templates, and more.

Enterprise-Grade Data Protection

TelemetryTV is SOC2 audited and compliant. Its services are hosted on Amazon AWS, Netlify, and DigitalOcean.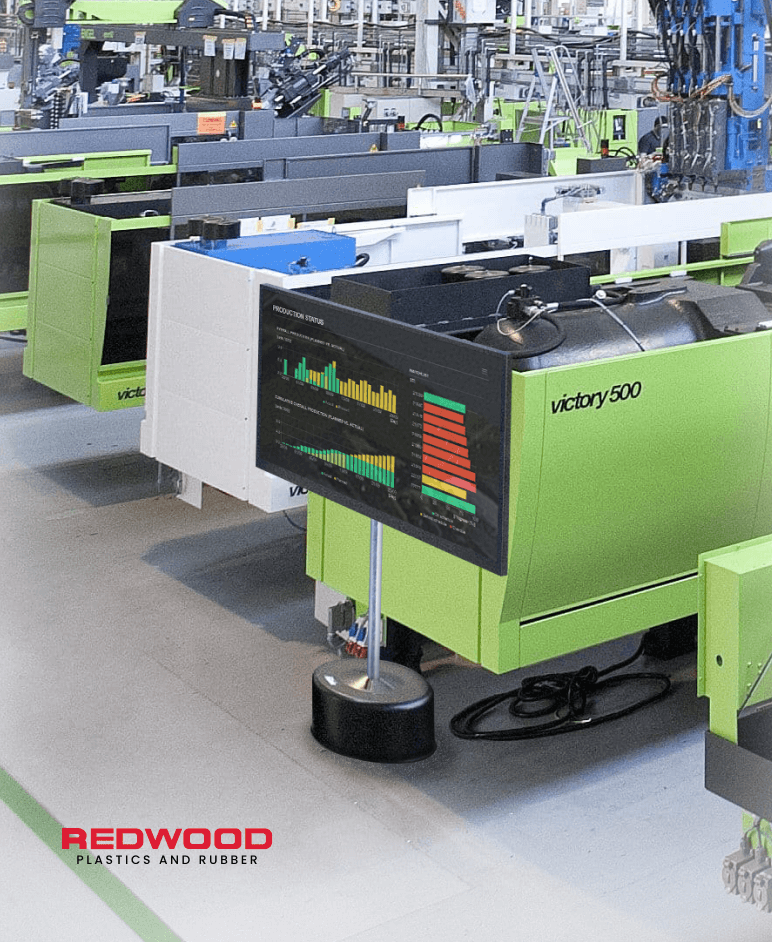 With TelemetryTV, we can communicate in real time through our multi-location manufacturing organization. Their support team is always available to help. —Angela Rodenburgh, Redwood Plastics
Why Manufacturing Companies Choose TelemetryTV
Security Compliance

Choose the region where your data resides to satisfy data sovereignty requirements. TelemetryTV is PCI-DSS, GDPR, and SOC 2 compliant.

Custom SLA & License Terms

Set your license and service level terms to meet your company policies and vendor requirements.

Award-Winning Support Team

Get immediate and professional help from the support team, identified as a 'Leader in Customer Support' by G2 and Capterra.
Digital Signage Content Ideas
Display productivity goals
Item 1 of 10
Getting started is easy
At TelemetryTV, you can easily deploy 10 or 1000s of devices.
People Love TelemetryTV
TelemetryTV's content & device management makes managing and deploying digital signage systems easier than ever before.