Digital Signage for Credit Unions and Banks: The Step-by-Step Startup Guide
Here's everything you need to know in order to get your credit union digital signage solution up and running in no time.
WRITTEN BY: TelemetryTV, 09-29-2022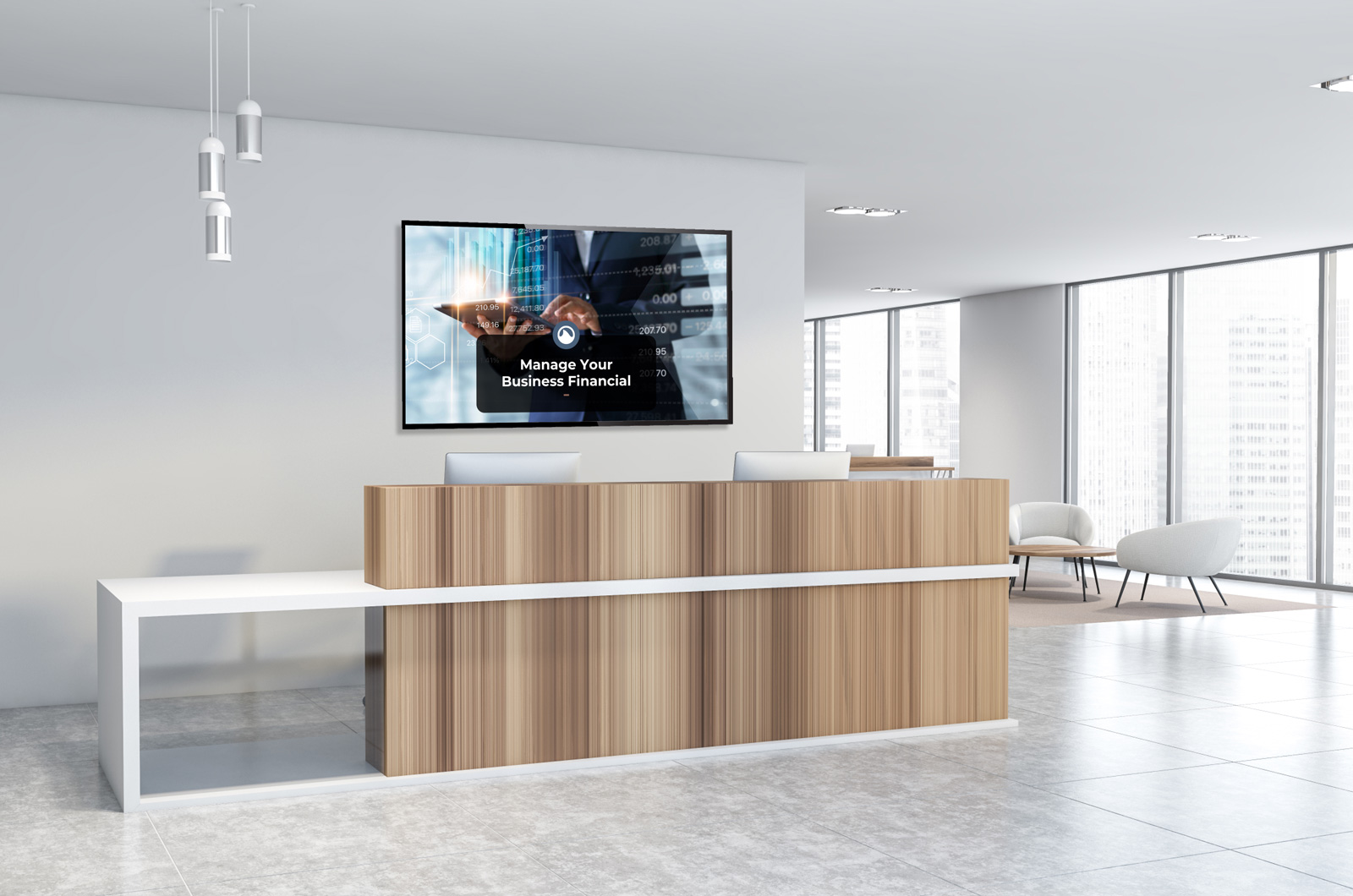 So much of the customer experience at your bank or credit union is visual. From the décor to the architecture, and possibly most important—the visual communications.
That's why adopting a more modern bank digital signage solution to serve a wide variety of purposes is a great investment. You'll be able to reach clients in new and more effective ways.
That way, you can make the most out of each visit to your bank by delivering more and better visual content.
Below is our step by step guide to getting started with banking or credit union digital signage.
Use a Scalable Solution
It's important to keep in mind that your digital signage solution should be scalable. You need something that can grow with your bank as you open new branches and expand existing ones.
This includes everything from personnel, maintenance, and cost of ownership. A flexible digital signage solution will allow you to only pay for what you need, no more, no less.
You should be able to choose the plan that suits you best from a set of pricing tiers. Ideally, your digital signage provider should offer support for as many digital signage systems as you might ever need, but provide service for the approximate amount you will actually use.
Choose the Right Hardware
Displays
These days, the standard for resolution is 4K. There's no reason for you to be using hardware below that if you want to stay ahead of the game.
Marketing is extremely competitive, so the small things matter. Not only that, make sure that if you're buying new displays to upgrade your resolution that you opt for commercial displays.
Unlike your everyday consumer displays, commercial displays provide the longevity, brightness, and durability needed for prolonged use in a variety of settings—including outdoors. They're much better suited for use as digital signage.
Media Players
Media players are what power your digital signage displays. They are basically small computers that run an operating system that then runs your digital signage software.
There is an excellent digital signage specific operating system that is custom built for use with digital signage: Telemetry OS. This streamlines everything, making it extremely straightforward to set up and manage your digital signage system. With Telemetry OS, you can literally plug and play when your hardware arrives.
You can buy your media players pre-loaded with Telemetry OS, or another operating system and then you could simply download and install TelemetryTV digital signage software from your app store, or download and install our APK.
Choose Robust yet User Friendly Software
Making sure you get the right software for your needs is arguably the more important part of getting set up. Lackluster digital signage software will pose a slew of headache-inducing limitations, poor performance, and lack of advantageous functionalities.
On the other hand, excellent digital signage software will make things simple and fast while providing the advanced features needed to get the most out of your digital signage.
Key Digital Signage Software Features
Content Management
Creating and managing playlists should be intuitive, with the tools that make it easy for users to drag and drop media, build professional playlists, and make quick adjustments on the fly.
Canva integration makes creating playlists extremely straightforward. That way, even less experienced staff can put together playlists in minutes.
Playlist content scheduling lets you automate all of your content with exact start and end times and dates. Then you can set your content schedule as far ahead as you want and let it play through.
Once it's set, managers can provide approval before it gets displayed through the playlist content approval feature. The tag-based playlists feature will also help filter content by relevance to assure that nothing will be displayed that's random or unrelated to your bank's signage goals.
And should anything unexpected happen in or around your area, emergency screen overrides can pop up automatically or on command to provide safety instructions, directions to designated exits, and more.
Security & Compliance
And for banking digital signage in particular, security and compliance are crucial. You need a provider that's SOC 2 compliant to protect your data, and offers selectable data regions and GDPR compliance. This will ensure that your data never leaves your region.
For example, a bank located in Germany will have their content stored locally instead of overseas even if their digital signage software provider is based in North America.
Also important for security is SCIM provisioning, SAML authentication, and Okta integration to ensure streamlined and secure logins. Then, data export API and user activity audit logs will document everything that transpires on each user's system profile.
The group permissions feature will allow you to apply restrictions to any profiles you choose for any functions within the app.
These features together provide advanced control and oversight of all actions taking place within your system at all times.
Support & Services
Getting the support you need is essential to keeping things running as they should. This all starts with having the support staff you need on call. A custom SLA will ensure that you have all of the support hours you need, when you need them.
Additionally, a dedicated customer success manager who knows your bank's specific needs well is a huge bonus. That way you never have to keep explaining your situation over and over to new staff.
Next, having the developer features necessary to build your own custom apps without a hassle is a must. Then, you can simply create new functionality yourself if and when the need ever arises for new features that weren't offered when you initially adopted your digital signage solution.
Having your digital signage software cloud-based adds a level of flexibility that can save lots of time. Plus, all of your resources will be accessible from anywhere to anyone you choose.
Lastly, help and API documentation should all be accessible to you whenever you need it. Having the answers to your questions already written out and presented clearly will be extremely helpful when troubleshooting or setting up.
Digital Signage Software for Banks, Credit Unions, and Financial Services
Engage clients and promote financial services while reducing your digital signage network's total cost of ownership.
Learn More
Try a Free Trial of TelemetryTV Digital Signage Software
TelemetryTV provides all of the most essential things you need for effective bank digital signage and more. We offer all of the features listed in each of the categories above.
Our award-winning digital signage software will allow your staff to create and deploy professional grade playlists with limited training, which is included.
Since our intuitive interface is designed with first-time users in mind, its easy to simply open the app, create a new playlist, and deploy it to your screens within a matter of minutes.
Sign up for a 14-day trial now and try out TelemetryTV digital signage software with no strings attached.
Request a demo for free and let us walk you through the ins and outs of using TelemetryTV and how to best use it for your specific credit union digital signage needs.
Visual Communication. Everywhere.
Get started for free. No credit card required.