Bus Stop Digital Signage: How it Works
Digital signage in bus stops boosts the commuter experience while also making bus stops run much more efficiently. Here's how bus stop digital signage works.
WRITTEN BY: TelemetryTV, 01-26-2022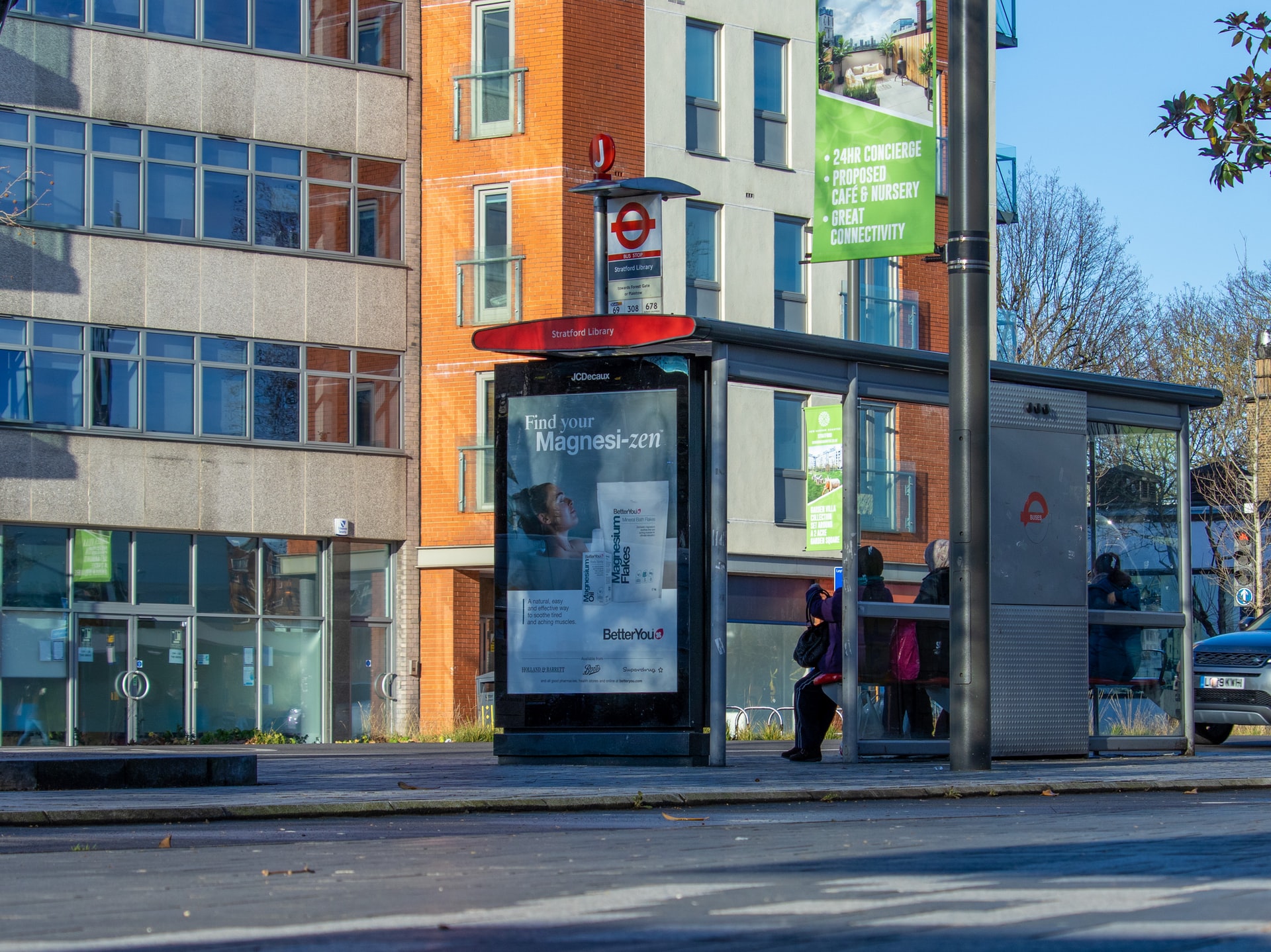 In recent years, there's been a rapid rise in the use of digital signage in the transportation industry. Today, not just airports and major metro stations are using digital signage. Bus stops are now getting into the digital signage game as well.
The reason more and more bus stations are adopting digital signage is quite simple: it's the perfect tool to inform and entertain commuters, bringing order to an otherwise chaotic environment.
Benefits of bus stop digital signage
Digital signage is a highly valuable tool in bus stops because having a network of screens in bus stations and at stops gives commuters the information they need. It helps them get where they are going without any unnecessary headaches.
With that said, here are the best use cases for digital signage in bus stops.
1. Display bus schedules and terminal info
The most obvious use for bus stop digital signage is using your screens to display bus schedules including arrival and departure times as well as terminal information. This lets commuters quickly find the time their bus is arriving and departing and where they need to go to find it.
2. Send out notifications about bus schedule changes
Buses don't always run on time. Unexpected things come up that can lead to delays. In these scenarios, bus stops need to provide commuters with peace of mind by sending out schedule updates and changes as well as things like on-screen bus delay notifications.
3. Eliminate printing costs
Printing out bus schedules on traditional signage can be extremely costly and time-consuming. With digital signage at bus stops, bus schedules can quickly be updated should an arrival or departure be delayed, with just a few clicks of a mouse. No need to spend tons of money printing new bus schedules every few days. So not only are you keeping commuters in the know, you're also saving a busload of cash.
4. Use wayfinding to help commuters navigate
In large bus stations, it's vital that commuters can find their way around and get to their bus on time without getting lost in the process. Because of this, large bus stations should consider installing digital wayfinding systems. Digital signage wayfinding gives commuters tools like maps and interactive directions to help navigate your bus station—making it much easier for them to not get lost while at your bus station.
5. Show local news and infotainment
Bus stops are also places where people commonly sit and wait for extended periods of time. So instead of making them sit there twiddling their thumbs to pass the time, give them something to watch on your bus stop screens like local news coverage, live TV streaming, community event notifications, and other useful information like weather updates.
6. Generate additional revenue with ads
It's common for hundreds of people to pour through bus stops every day. For this reason, advertising space in bus stops is a hot commodity. So if you're looking for another source of revenue for your bus stop, then consider selling the ad space on your screens to local businesses looking to promote their goods and services throughout the community.
How bus stop digital signage helps commuters
Digital signage improves the entire commuting experience for those passing through your bus stop. It gives them the information they need, while also making the time they spend in your bus stop a whole lot more bearable.
At the end of the day, investing in digital signage for bus stops is a win-win for both commuters and those working behind the scenes, because it makes bus stops work more efficiently and easier to navigate.
TelemetryTV solutions for bus stop digital signage
Getting started with digital signage for bus stops isn't an overly complicated process. Put simply, all you need is a screen, media device, and digital signage software.
TelemetryTV offers an all-in-one digital signage platform with numerous features, templates, and tools that make creating and deploying content a breeze.
Here are the top TelemetryTV app features for bus stop digital signage:
Scheduled content and playlists
Easy content updates
Content targeting and localization
Live TV
Screen-specific notifications and alerts
DooH ad networks
Easy screen set up and device provisioning
4K video streaming
70+ other apps and integrations
To learn more about how TelemetryTV's digital signage solution can help your bus stop operate more smoothly, try a free digital signage demo today.
Visual Communication. Everywhere.
Get started for free. No credit card required.