Used by Top Organizations All Over the World
Why TelemetryTV for PoC
Digital Signage (in 2 mins)
Learn how TelemetryTV can help your PoC company
Scale display network

Boost engagement

Create transparency
TelemetryTV Benefits for Point Of Care Communications
Meet POC3 Guidelines
Advanced Ad Campaign Management

Create custom campaign reports to track ad plays across multiple devices, locations, and playlists.

Maintain Your Uptime Obligations

View the percentage uptime of all your devices at a glance to help identify problems in advance.

Detailed Logs & Reporting

Capture detailed proof of play logs and export them via CSV or Amazon Kinesis Firehose.
Unleash the Power of Programmatic
Leverage Our Powerful API

Integrate your DOOH Ad Network, 3rd party apps, or use custom scripts to create programmatic content or ad insertions based on your ruleset with TelemetryTV's API.

Deliver Targeted Content To Your Audience

Use custom tags on content and devices to create localized and personalized dynamic playlists.

Create Adaptive Content & Apps

Build custom apps to create adaptive content using our HTML5 SDK, that are interactive and work offline.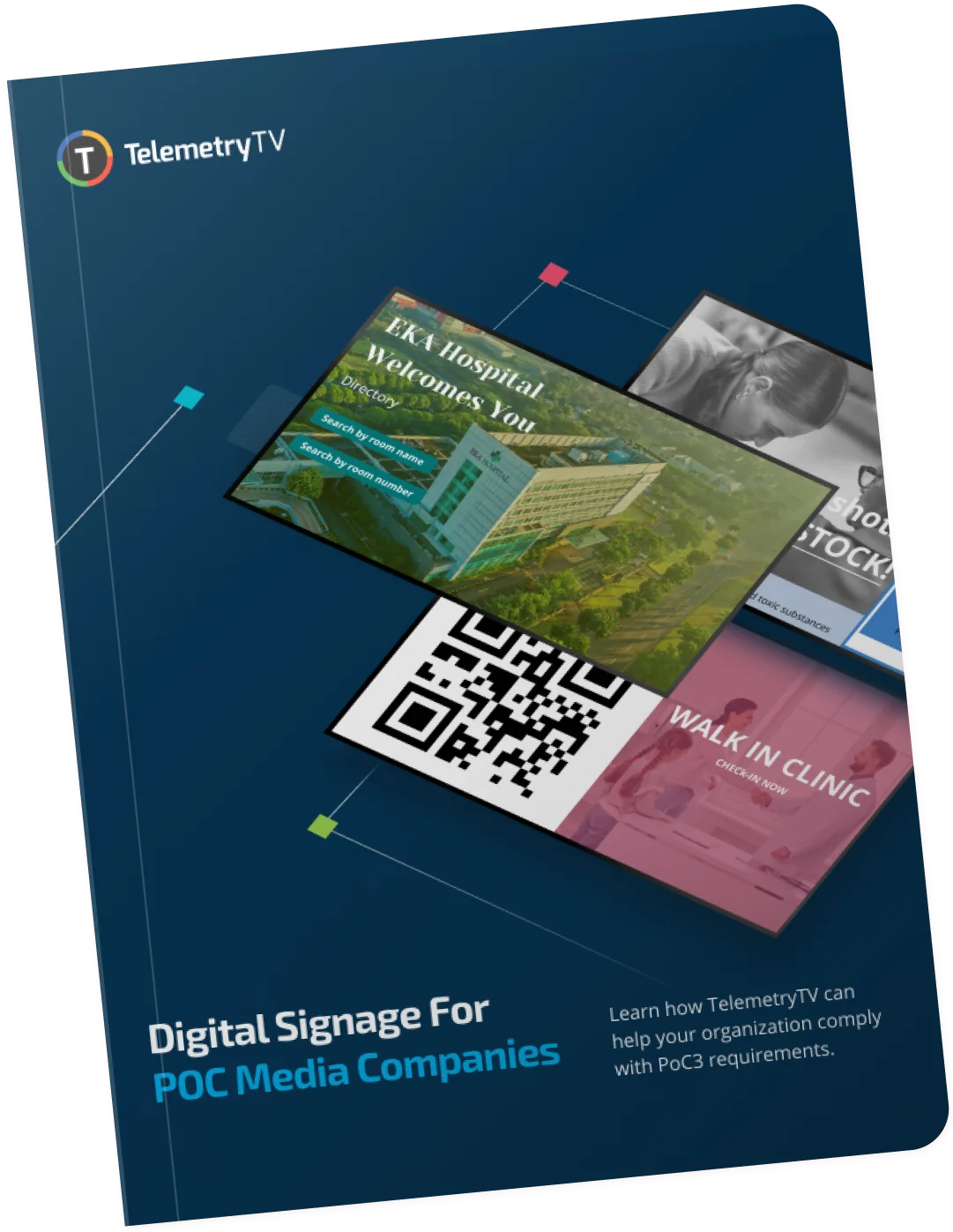 Digital Signage For
POC Media Companies
Interact With Audiences
Customize How Viewers Interact With Content

Integrate touch screen interactivity into your playlists. Cycle through content to draw users in, then leverage interactivity to further engage your audience.

Create Interactive Experiences

Integrate digital signage with peripherals such as facial recognition, thermal sensors, motion sensors to trigger dynamic or adaptive content.
Enterprise-Grade Data Protection
SOC2 Audited and Compliant

TelemetryTV services are hosted with Amazon AWS and Digital Ocean both SOC 2 compliant.

Your Data is Safe and Secure

TelemetryTV complies with the highest security standards like AICPA, SOC 2, and GDPR regulations.

Custom Data Residency

TelemetryTV's data residency zones span across the world, helping you meet your data sovereignty requirements and performance goals.
Designed For Scale
Automatic & Rapid Provisioning

Whether you're deploying 500 or 5000+ devices, TelemetryTV can automatically provision your devices at scale.

Centralized Content Management

Share content to unique audience groups through a centralized CMS.

Works Offline

Cache content to your local device to improve playback performance.
Software Flexibility & Customization
Integrate Custom Software

Leverage TelemetryTV's API to integrate software integral to your business operations.

Outbound Data Streaming

Stream your data via Kinesis Firehose to third-party data stores & analytic tools.

Create Custom Apps

Leverage TelemetryTV's SDK to create custom apps and overlays that have the device's contextual information applied.
Getting started is easy.
At TelemetryTV, you can easily deploy 10 or 1000s of devices.
People Love TelemetryTV
TelemetryTV's content & device management makes managing and deploying digital signage systems easier than ever before.