Digital Signage CMS for Point of Care Marketing & Advertising Agencies
Manage highly-targeted advertising campaigns running on 1,000s of displays and easily meet POCMA guidelines with TelemetryTV's cloud-based platform.
Powering 10,000s of Advertising Displays in Waiting Rooms, Doctor Offices, and Pharmacies
Build Clientele While Easily Scaling
Your Point-of-Care Display Network
Meet POCMA Guidelines
Capture Ad Campaign Metrics in Real-Time

Create custom campaign reports to let your clients track advertisement plays, impressions, and other attributes across multiple playlists, locations, or devices.

Export Precise Proof of Play Reports

Build transparent relationships with your advertising partners by gathering detailed proof of play reports and sharing them in a convenient .CSV format.

Maintain Your Uptime Obligations

Get instant notifications to your email in case of issues. Send out device data and user audit logs to Amazon Kinesis Firehose to analyze error logs, troubleshoot issues, and fix them rapidly.
Unleash the Power of Programmatic
Insert Ads and Content Programmatically via API

Integrate your OOH signage network with 3rd party advertising networks like Place Exchange, or use custom scripts to create programmatic ad and content insertions based on your ruleset with TelemetryTV's API.

Deliver Targeted Content To Your Audience

Use custom tags on content and devices to deliver localized and personalized content to every doctor's office or pharmacy.

Set Playlist Content Scheduling and Auto-Removal

Set rules to determine when and where specific content is displayed; automatically remove it from the playlist with user-defined expiration dates based on advertising terms.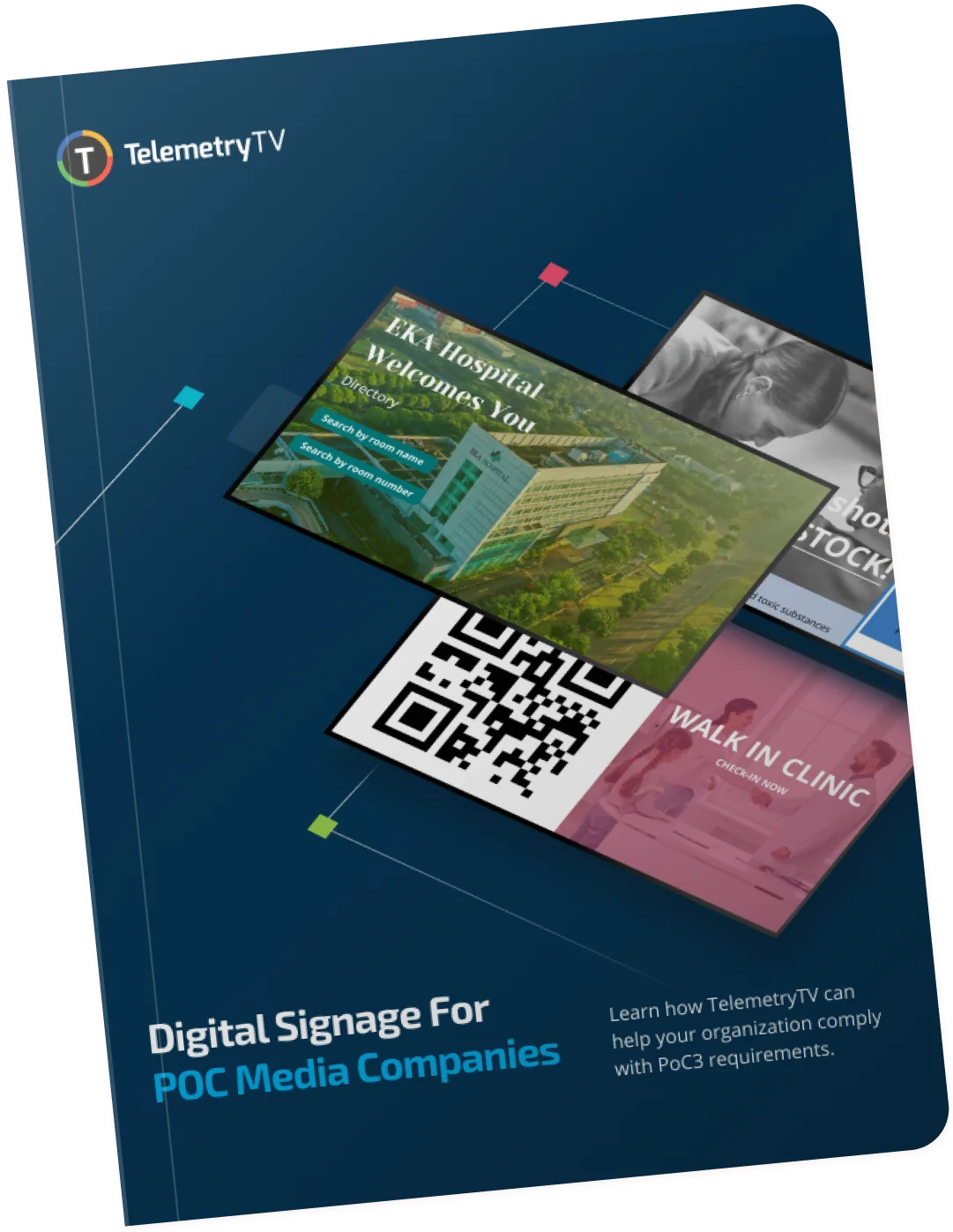 Digital Signage For
POC Media Companies
Let Your Advertising Partners Interact With Their Audiences
Engage Patients with Interactive Apps

Informs patients and reduces perceived wait times by creating custom apps based on JS/HTML/CSS with hooks into DevOps workflows through Git, SDK, and JS libraries.

Customize How Viewers Interact With Content

Integrate touchscreen interaction into your playlists. Cycle through content to draw users in, leveraging interactivity to engage your audience further.

Create Personalized Experiences

Integrate digital signage with software essential to your business operations or peripherals, such as facial recognition and thermal or motion sensors, to trigger dynamic and adaptive content that WOWs.
Manage Your Display Network at Scale While Reducing Its TCO
Save Time on Deployment and Maintenance

TelemetryTV is hardware agnostic—download our media player app for TelemetryOS, Android, Windows, ChromeOS, or Linux. Provision and deploy 1,000s of devices quickly using the robust device management capabilities of TelemetryTV.

Ensure Premium Playback Performance

Play lag-free high-resolution content with offline support using TelemetryTV's advanced encoding, caching technology, and infrastructure built on AWS and DigitalOcean.

Be Sure Your Data is Safe and Secure

TelemetryTV complies with the highest security standards like AICPA, SOC 2, and GDPR. Our data residency zones span the world, helping you meet data sovereignty requirements and performance goals.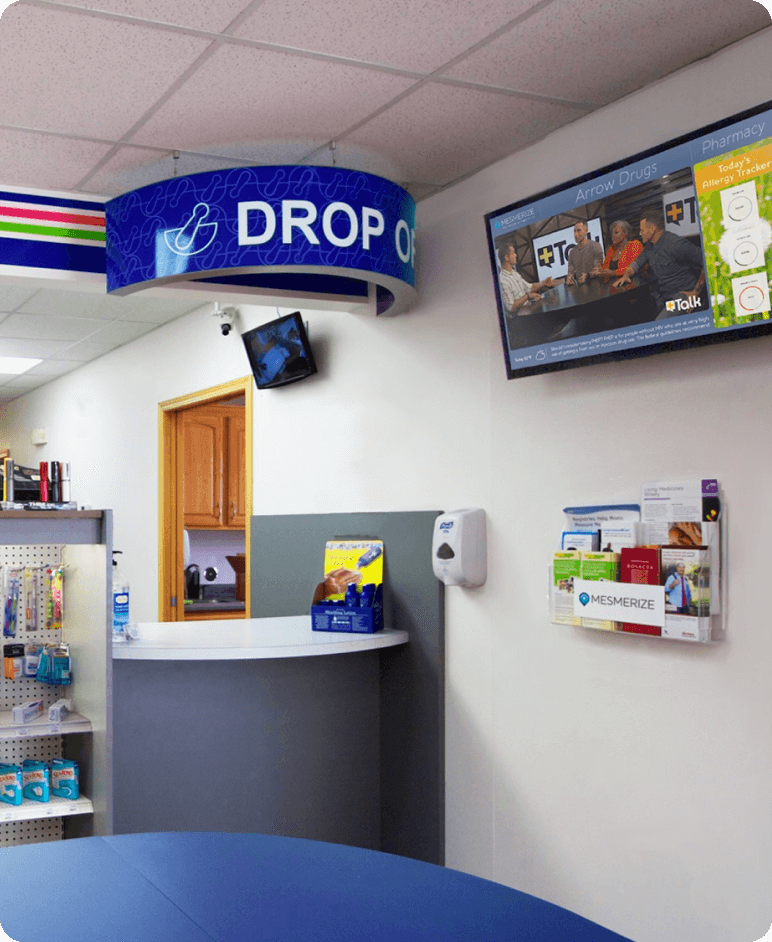 The digital signage CMS we used before TTV required lots of manual work, negatively affecting our screen network's scaling. This prompted us to look for a more programmatic solution that leverages workflow automation. —Michael Morgan, Mesmerize
Why Choose TelemetryTV
for PoC Digital Signage?
Watch this 2-minute video to learn how TelemetryTV Digital Signage Platform can help your Point of Care media company
Easily meet POCMA guidelines

Scale signage display network faster

Build trusted relations with partners
Why Choose TelemetryTV for PoC Digital Signage?
Tailored Programs for Enterprise-Grade Projects

Enjoy our complimentary POC programs, get expert assistance with deployment and transition planning, and access hardware partners/system integrators.

Industry-Leading Customer Service

Get rapid assistance from our award-winning support team. Request priority help for custom training or escalated issues via audio/video call or live chat.

Custom Service Level Agreement and License Terms

Get custom licensing terms that suit your business's requirements, and be assured you're getting the best service. Gain access to custom professional services.
PoC Signage Content Ideas
Divide screens into zones
Item 1 of 10
Getting started is easy
At TelemetryTV, you can easily deploy 10 or 1000s of devices.
Go Further with Digital Signage
People Love TelemetryTV
TelemetryTV's content & device management makes managing and deploying digital signage systems easier than ever before.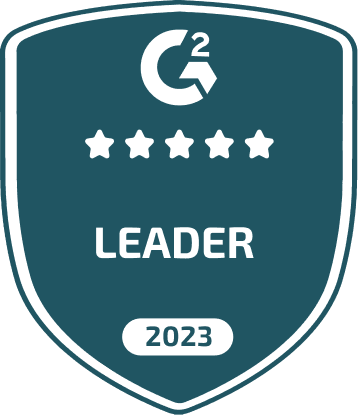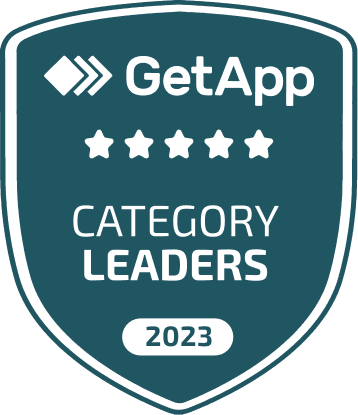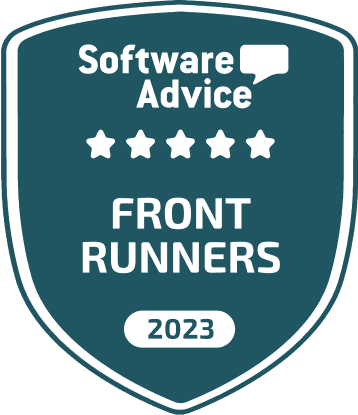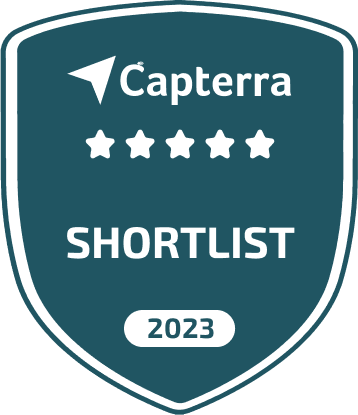 Frequently Asked Questions