5 Ways Churches Can Use Digital Signage
Churches can utilize digital signage for a very wide variety of things. Here are some of the most useful ways to implement digital signage in places of worship.
WRITTEN BY: TelemetryTV, 11-28-2019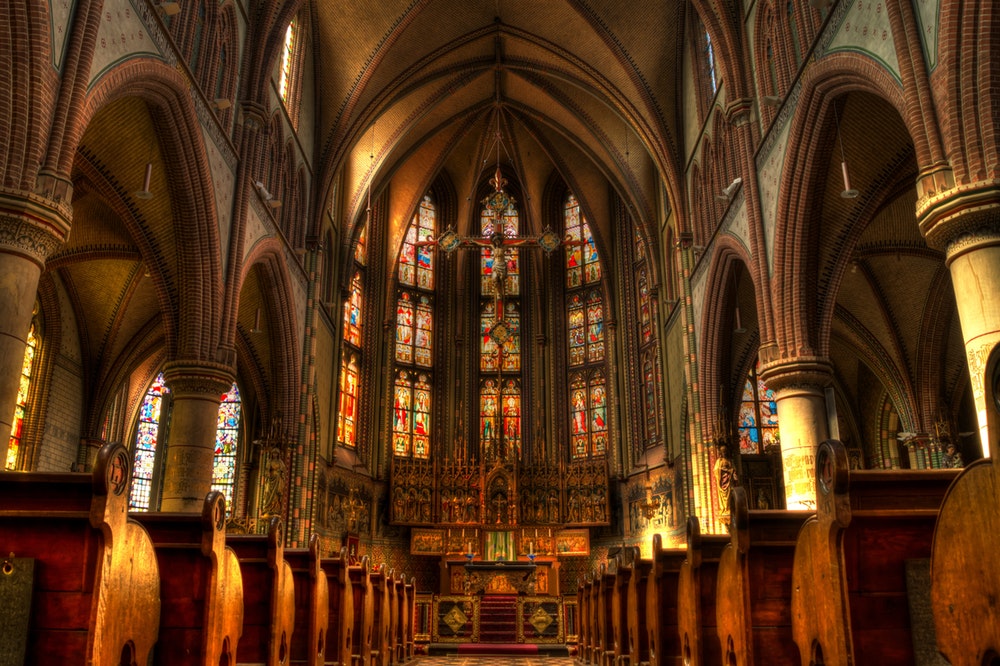 Whether you preside over a modern mega-church or a small house of worship with just a few dozen followers, digital signage can help in a variety of ways.
First and foremost, a network of digital displays can help you better connect with your audience. They can also help your church generate more charitable donations, build a stronger community, and provide an all-around more pleasant worship experience.
But before you can reap those valuable benefits, you first need to know the best ways that churches can leverage digital signage.
5 ways churches can use digital signage
Just as churches—old and new—had to adapt to the internet and social media when they first burst onto the scene, now places of worship should also consider making the jump to digital signage or risk falling behind the times. Here's how they can do it.
1. Digital sermon boards
Churches oftentimes host a variety of different sermons or guest speakers throughout the week, and installing digital sermon boards or video walls can be a great way to promote them.
Unlike traditional static posters, digital displays advertising sermons can wow your congregation with dynamic, moving images, or simple yet crisp titles on your visually-stunning screens. That's not to mention that traditional posters have to be replaced and updated frequently, which takes significant time and manpower.
Digital sermon boards, on the other hand, can be easily updated at the tap of a finger.
2. Directories and wayfinding
For large-scale churches serving massive congregations, it's a great idea to implement some form of wayfinding and directory kiosks on your premises—preferably in lobbies and high-traffic areas.
In short, wayfinding screens will allow users to quickly and easily find their way around your church complex with the help of interactive maps. Similarly, digital directories will allow your congregates to view office numbers, contact information, or other information on specific people working inside your building.
With digital directories and interactive wayfinding, the days of visitors getting lost in your church will be long gone.
3. Digital noticeboards
Just about every church always has a lot going on—from upcoming events and fundraisers to special prayer sessions. Digital noticeboards placed in lobbies, entrances, and popular meeting points can keep all your church's followers in the loop of everything going on.
On top of that, important announcements and any changes to regular service times can be easily updated and displayed on your screens for all your church members to see. Tedious print-outs every week or sending hundreds of emails that'll more than likely end up in the deleted folder can be a thing of the past.
Plus, by routinely giving congregates all the information they need to stay acutely involved with your church's offerings, there will no doubt be a much stronger sense of community among your place of worship's followers. And that strong sense of community will surely lead to more followers.
4. Donor boards
Churches spend a whole lot of their time asking for donations, both big and small. With digital signage for churches, you can now encourage donations by showing existing donors how much their charitable giving means to you and your church.
The best way to do this is by installing digital donor boards that show thanks. For example, you could simply broadcast a scrolling list of recent donors. Or perhaps you could spotlight specific large donors with a special profile the features their picture and bio. People appreciate their kindness being recognized. Let them see it on your digital signage.
You could also launch campaigns on your screens that highlight donor drives or fundraisers to improve your church or—better yet—that give your church the funds to do something good in the world, such as a mission to a third-world country or a day feeding the homeless.
5. Get Inventive
Church digital signage doesn't need to go by the script. In fact, it's highly recommended that churches get a little creative when implementing digital signage.
For example, think about your church's ultimate goal: to get the word out, inform, and educate people about whatever your particular religion or sect happens to be. With digital screens, this can be done in innovative ways. One way you could do it is by placing digital signs across your building that rotate a playlist of popular bible verses or cogent scripture excerpts.
Also, let's consider the fact that actual live services only take place a few times a week in most churches. Rather than wait until those specific times to preach the gospel to your followers, why not broadcast highlights of past services to passersby so they not only can see what your church is like during Sunday service, but also learn a thing or two on the way.
Lastly, you could also use your digital displays to target young worshippers. These could use artistic videos to tell youths in your building about popular bible stories or the power of prayer in an immersive and fun way. The engaging, eye-catching nature of digital signs makes them a great tool for capturing children's attention.
Initially, some people might have shied away from the idea of putting high-tech screens across their church. Churches are considered traditional places, after all.
But digital signage in churches doesn't have to be bulky, distracting, or disruptive these days. On the contrary, digital signs strategically deployed across churches can absolutely add to the overall ambiance, while allowing churches to gain numerous benefits along the way.
Try a 14-day free trial of TelemetryTV's powerful all-in-one cloud-based digital signage solution today.
Visual Communication. Everywhere.
Get started for free. No credit card required.