10 Examples of Creative Digital Signage Content
10 of the world's most creative digital signage examples.
WRITTEN BY: TelemetryTV, 11-05-2019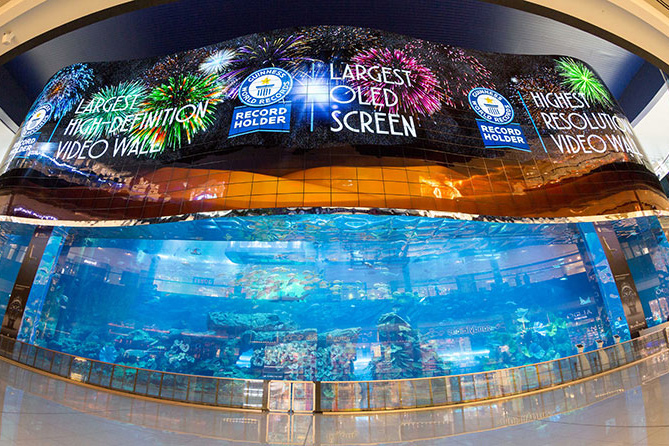 Digital signage software has given organizations new and creative ways to express their corporate communications strategy to their customers, and marketers are quickly realizing the power of creating digital signage content for an interactive and exciting experience for their audience.
Digital signage content has proven to be so engaging that a recent study from Arbitron showed that nearly half (47%) of those who have seen digital signage content in the past month specifically recall seeing an ad. It's no surprise that some marketing teams have spared no expense to build the most creative and impressive digital signage displays and video walls that will make a lasting impression on their audience.
Update:
With the recent rise in employees working from home we have just released our new TelemetryTV Desktop Appfor free. Built for remote teams, the new app makes it easy to keep employees connected with critical updates, dashboards, announcements, and live streams via their desktop computer. To get started for free click here.
Emerging technologies such as human motion tracking, gesture and facial recognition, augmented reality and new display technology have allowed teams to create amazing interactive content, mind blowing effects and wildly successful marketing campaigns. The following is a list of some of the best digital signage design we've seen.
1. British Airways - #lookup
Starting off our list is the classic British Airways digital sign board. This genius ad for British Airways got attention all over the world for it's creativity, by connecting to live flight information, British Airways was able to show an ad of child pointing up to the sky as a plane flew above him. This was clever in itself, but the advert then displayed the flight number and destination of the plane. This is an excellent example of combining digital signage design with the latest technology to create a great marketing campaign.


2. Victoria and Albert Museum Digital Signage Ticketing Displays
In 2017 London's Victoria and Albert museum unveiled their new £55 million Exhibition Road Quarter, designed by AL_A.
V&A Exhibition Road Quarter, designed by AL_A (Photo: Hufton+Crow)
Leverage Your Screens To The Max
TelemetryTV is the only digital signage software you need to drive engagement, productivity and revenue for your business.
Learn More
Along with a new courtyard and the 11,100 SQ M Sainsbury Gallery, came a state of the art digital signage design that allowed visitors to purchase their own tickets. The digital sign board is made up of eight 55" screens and supports independent touch. Visitors can learn more about specific exhibitions or events and purchase tickets on screen.
V&A Self ticketing screens
3. The Highest Goal by Adidas
The Highest Goal was an interactive projection displayed 200m off the ground in Tokyo during the World Cup qualifier in Japan. Participants were able to throw a football onto the pitch by downloading an app, and then see it displayed on the screen. There were over 11 000 possible combinations of actions based on throwing speed and aim. The campaign united people across the city and was covered by media outlets across the world.


4. Microsoft's Digital Signage Video Wall, New York
Microsoft's flagship street front store in New York features an impressive digital signage video wall that appears as an extension of the buildings facade. The video wall uses optical illusions to create an interactive connection with the world outside with digital signage content.


5. The Center Bar, SLS Las Vegas
The Center Bar is located inside the SLS Resort in Las Vegas, after undergoing renovations the SLS opened mid 2018 with a series of new restaurant digital signage displays, including the 4 sided 3-D display hanging from the ceiling above The Center Bar. The display is made using 2.1 million multicolor LEDs placed in a box structure to create a three-dimensional appearance when viewed from just the right angle. Created by display engineering firm Daktronics, the LED-laden structure measures 32 feet long by 18 feet wide, and extends 4 feet deep, it's the perfect example of digital signage content meeting the restaurant industry and creating an amazing product.


6. Pepsi Max Bus Stop
In 2014 Pepsi's marketing team made headlines with their incredible augmented reality bus shelter on New Oxford Street in London. The Pepsi Max team used 3-D rendering and depth mapping to share the brands message "Live For Now".
While waiting passengers sat looking through what they thought was a clear piece of glass, a series of unbelievable events were brought to life using cameras and the latest AR technology. The campaign went viral with 3 million online views in just 5 days and world-wide press coverage reaching over 385 million people.


7. Apolosophy Shampoo Digital Kiosk
This creative ad for a shampoo company surprised commuters by bringing a seemingly normal subway poster of a model to life. Using ultrasonic sensors the digital billboard was able to sense arriving trains, which would then trigger the start of the digital signage content.
As a train whooshes past, the model in the poster's hair flies up as though she's been hit by a gust of wind. The girl in the advert then runs her fingers through her hair, smiles, and returns to her original straight-faced pose.


8. Bristol Airport Digital Signage Video Wall


An awesome example of a video wall at work can be seen at the UK's Bristol Airport, the eye catching display has been integrated into terminal walls and is hard to miss at a massive 14m x2.5m. The custom installation by LED company Infileduses the flight of a paper plane to weave the images together. As the video wall cycles though footage of iconic locations in the South West, Bristol Airport's tagline 'Amazing Journeys Start Here', is used to connect passengers with members of the local community via videos.
The 5 million pixel LED video wall also incorporates live data, such as local weather and time specific to the destinations and with imagery relevant to the time of day. Flight path animations are also being used to visually represent the geographical element to travel.
Bristol Airport Video Wall (Photo: Infiled)


9. The Dubai Aquarium Video Wall
Never to be outdone, the Dubai Aquarium holds world records for
The highest resolution video wall

largest OLED screen and,

largest high definition video wall
Dubai Aquarium video wall (Photo: Guinness World Records)
The curved video wall sitting above the aquarium tank measures in at 700 square meters with 1.7 billion pixels on 820 OLED displays, the 50 meter wide wall stands 2 storeys high and is fully visible from the ground floor at the Dubai Mall (which is also the world's most visited mall). The digital signage design was created to promote the aquarium and underwater zoo and their ongoing strategy to provide world-class edutainment using innovative platforms.


10. Coca Cola's Digital Sign Board
In 2017 Coca Cola released the world's first and largest robotic sign in Times Square, this amazing sign features 1,760 independently moving LED screens, choreographed to the content on display – creating a multi-sensory experience for the 300,000 people who pass through the busy Manhattan intersection each day.


Digital Signage Design - How to Get Started
As you can see, digital signage content has endless creative uses. While you may not be creating a huge billboard in Times Square or the world's biggest video wall, you can still take advantage of all the features that digital signage offers. TelemetryTV's powerful features allow you to design creative digital signage content and broadcast your message to your audience. To get started with TelemetryTV sign up a free 14 day trial today.
Visual Communication. Everywhere.
Get started for free. No credit card required.