Digital Marketing Dashboards with Digital Signage
Big data is the future. Learn how digital marketing dashboards and digital signage work hand-in-hand to create a highly effective organization.
WRITTEN BY: TelemetryTV, 03-18-2020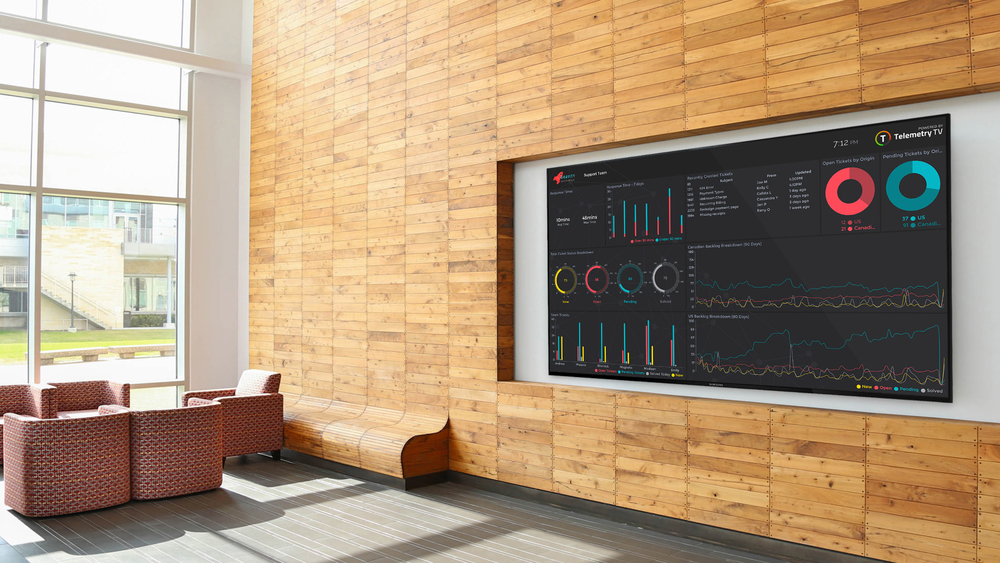 Most businesses these days are flush with enormous amounts of data. Oftentimes, though, that data is either siloed away in areas where employees can't easily access it—or it's simply too much and leads to overload.
But what if we told you all that once cordoned off, data could be displayed in eye-catching and highly readable fashion on screens around your workplace for all to see, understand, and use to their benefit?
That's where digital marketing dashboards step in. They enable you to track and analyze the effectiveness and ROI of your digital marketing campaigns. And as a result, your teams and departments can always stay on the same page and heading towards their goals.
What are digital marketing dashboards?
Marketing dashboards are undoubtedly super useful. The main reason why is that they give businesses the ability to consolidate all of their data into one convenient place—where it is easily visible and updated in real-time.
Pair marketing dashboards with digital signage and you have a total game-changer. You'll be able to display a wide range of key performance indicators (KPIs) and other valuable data points on digital displays around your office. That way, everyone knows how your marketing campaigns are performing and—most importantly—how and where they need to improve. That information will all be presented in easily digestible and dynamic data visualizations—from heat maps, graphs, and charts to pie charts and text.
The benefits of digital marketing dashboards


1. Quickly visualize important data
As just mentioned, digital marketing dashboards offer a lot of interesting ways for your employees to visualize important marketing analytics, KPIs, and other various metrics in real-time. That's nothing short of a massive win for your ad company.
But that data is only useful if it's readily accessible to those who need it at all times. With digital signage, your dashboards can be viewed by employees with merely a simple glance up at a screen, which puts the data they need at their fingertips whenever and wherever they need it.
2. Educate management and clients
It's not just your marketing teams that need to be kept in the loop about marketing campaigns, it's also upper management and your numerous clients.
Marketing dashboards enable your teams to bring important progress updates and performance numbers to management, who can then relay that valuable information to clients. That way, management can make sure everything is going according to plan and clients can know that their money is being well-spent.
3. Motivate your teams
Keeping your teams motivated and aligned with their overall goals is one of the biggest keys to success in digital marketing. By constantly tracking, updating, and displaying KPIs on your office's digital signage, your teams will be better informed on their performance and how to alter course if necessary.
Digital display board features like countdown clocks for deadlines, milestones, and recognition of exceptional team and employee achievements can also be incorporated into your digital marketing dashboards and on your screens.
4. Keep all your data in one place
Having all your data in one easy-to-locate place is a godsend for digital marketing companies that are constantly overwhelmed with the gigantic amounts of customer information.
A digital marketing dashboard broadcast on a digital display board puts all this data on display for everyone to quickly take in and use to their advantage. Put simply, it'll make your business run much more smoothly when everyone from the top-down can use it to make more strategic decisions.
5. Share real-time information
One of the best things about digital marketing dashboards is that they are able to pull in information in real-time from multiple different sources. This gives everyone from your management and team leaders to low-level workers access to the latest numbers they need to make educated decisions. That way, they'll be based on actual numbers and data—not guesswork.
When combined with digital signage, that wealth of data—organized in a streamlined manner—allows your teams to make sure that all your marketing campaigns are on track to hit their targets.
6. Securely display data
Many marketing companies want to share dynamic data on their digital display but don't want to use a public URL, which could fall into a competitor's hands. Or they don't want to be limited to logging in every single day to display data on their digital display.
That's why it's important to find both a cloud-based digital signage solutionand digital marketing dashboard that is able to display data securely and is user friendly, while still being scalable.
7. Customize your data
Most digital marketing dashboards easily let you tailor data visualizations in a way that best suits each of your departments and their top priorities. This is usually done through intuitive drag-and-drop interfaces.
Digital dashboards that don't support these easily customizable templates should be avoided at all costs.
On top of that, any reasonably good marketing dashboard will also allow you to pull data from a wide range of sources and support dozens of APIs.
Using digital marketing dashboards with digital signage


Need some ideas on how to get the most out of combining your digital marketing dashboards with your digital signage? Here are our top use cases:
1. SEO
Search engine optimization dashboards allow you to regularly monitor the performance of specific marketing campaigns using SEO metrics and KPIs. This includes webpage performance, top keyword conversions, and areas of a client's website that are underperforming in terms of SEO.
2. Social media
Social media marketing dashboards give organizations the huge advantage of being able to manage all of their social media channels in one place. Not only that, but they also provide the ability to track important social media metrics tied to ad campaigns like follows, shares, likes, and other engagement indicators.
3. Sales and e-commerce
Sales dashboards are a great way for e-commerce businesses to display sales figures that can be automated to always stay up to date. That, in turn, allows sales teams to constantly see what campaigns and strategies are working and which are underperforming—knowledge that is invaluable when it comes to boosting sales. All they need to do is look up at a digital display board.
4. Performance metrics
KPI dashboards are essentially used to give highly targeted performance indicators to the teams and employees who need them in your building, in a highly digestible format. That way, they can use those key insights to make smarter business decisions going forward.
5. Web analytics
A web analytics dashboard will make your marketing manager's life much, much easier. Basically, these types of digital dashboards allow your marketing team to monitor marketing campaigns across a variety of different channels. Meanwhile, it lets them track traffic sources, website behavior, new or unique visitors, page views per visitor, online conversions, and much more.
What types of information can you display on digital marketing dashboards
Revenue (by channels)
Source tracking (organic, email, social, paid content)
Sales pipeline
Geographic data
Demographic trends
Conversions
Engagement indicators (click-throughs, bounce rate, view duration, etc.)
Digital attribution
Customer account value
Monthly recurring revenue (MRR)
KPIs
Getting started with digital marketing dashboards
If you want a network of digital display boards showing highly informative and engaging marketing dashboards to everyone in your business, then now is the perfect time. TelemetryTV's all-in-one digital signage platform comes with full integration of Grafana, a powerful and intuitive digital dashboard software.
Create a digital marketing dashboard for your digital signage with Grafana today by signing up for TelemetryTV's completely free 14-day trial.
Visual Communication. Everywhere.
Get started for free. No credit card required.