How Conference Room Digital Signage Is Assisting the World's Top Businesses
Meeting room signage can help you build an internal communication strategy and increase your efficiency. Find out how you can get started and what some of the benefits are.
WRITTEN BY: TelemetryTV, 02-03-2020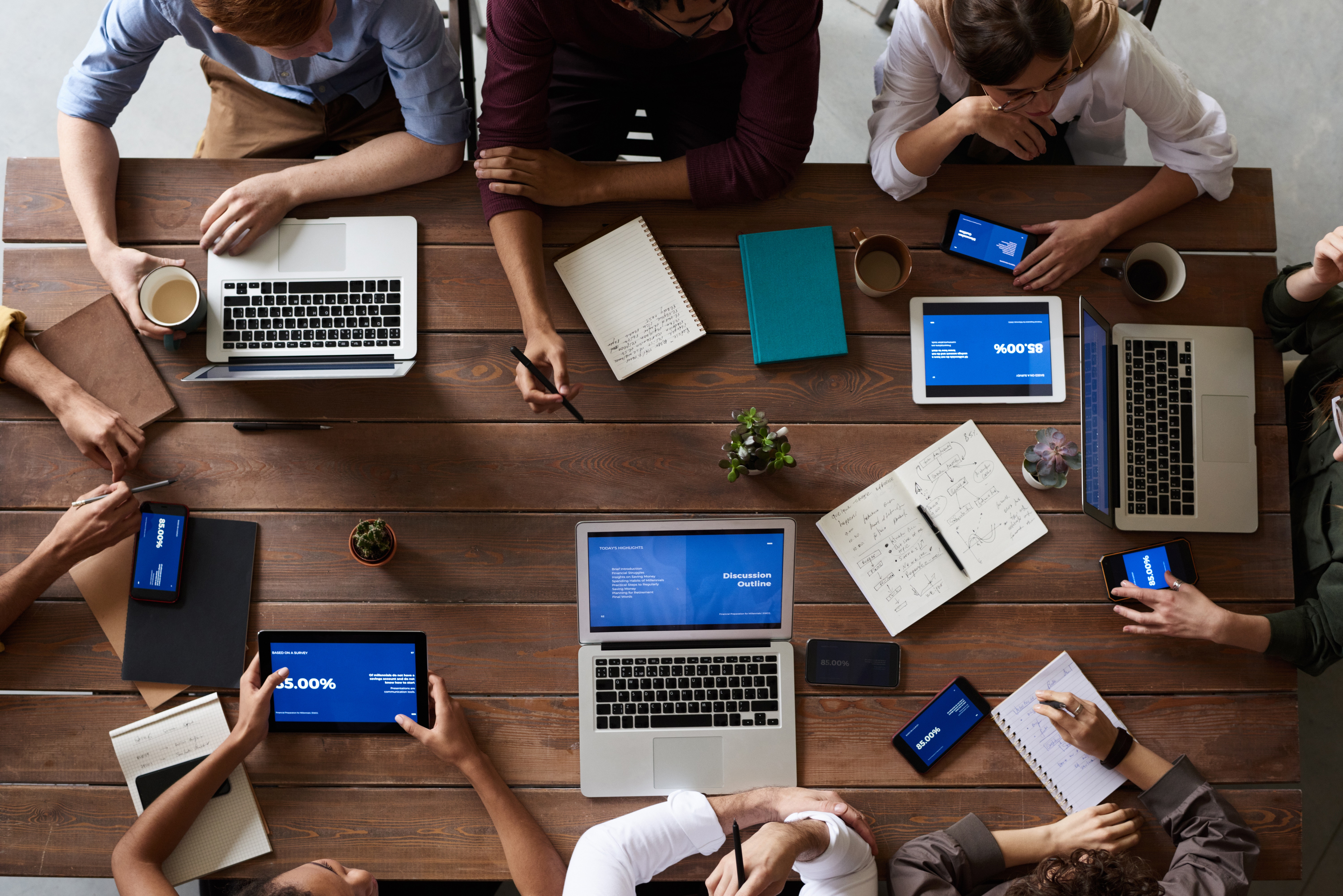 Digital signage has a myriad of use cases in the corporate environment, but perhaps one of the best is using conference room scheduling to get the most out of your meeting rooms.
Let's be honest, managing conference rooms can be a huge hassle—and often even waste a lot of time. In a given workweek, your employees could be spending numerous hours arranging and scheduling conferences in meeting rooms. That's why businesses looking for ways to improve efficiency at all levels should consider conference room schedule displays.


Conference room digital signage and your internal communication strategy
Conference room digital signs come in several forms, from wall-mounted touch screen displays to interactive touch screen kiosks that accommodate collaborate use. They're incredibly dynamic tools that can be a real game-changer for the way you plan, approach, and execute your internal communication strategy--not to mention that they make a big impression on potential clients.
Software for these digital screens can be totally customized, allowing you to incorporate unique commands that suit the needs of your meeting perfectly.
Leverage Your Screens To The Max
TelemetryTV is the only digital signage software you need to drive engagement, productivity and revenue for your business.
Learn More
Why use conference room digital signage
There are numerous reasons why conference room digital signage works. Like we mentioned before, it saves time and compliments your internal communication strategy boosting productivity by allowing your employees to focus their efforts on other matters, rather than being bogged down by the endless monotony of meeting room management.
More than that though, meeting room digital signage easily allows meeting times to be displayed, scheduled, re-scheduled, and canceled on the fly, giving your business a much more streamlined booking process and far less scheduling errors.
Outside of simply managing your conference room scheduling, displays inside your meeting rooms will also help your company execute communication best practices much more effectively between both employees and clients. Think about it. Impressive corporate signage displays will be able to show huge amounts of different content, from company culture quotes to charts, slideshows and videos.
Around 65% of people are visual learners, so throw any super important information on your conference room display and it'll surely be retained.
Benefits of conference room digital signage
Streamline conference room scheduling
By using conference room scheduling software, employees and their teams can easily schedule meeting rooms without having to go through a third-party. Simply walk up, view available time slots, and book a meeting room. It's that simple.
And if that's not simple enough, most corporate signage solutions integrate with calendar apps so it can all be automated.
Meeting room availability
Displays placed outside your conference rooms can also be used to show the status of a given conference room, i.e. if it is busy or open. This will lead to fewer instances of an interrupted meeting that throws everyone off their game.
It's also great for occasions when meetings end early and a subsequent booked meeting wants to get a head-start on things.
Increase productivity
Every corporate enterprise wants its operations to flow smoothly. And good thing for you, conference room digital signage can play a key role in helping your business and internal communication strategy run like a well-oiled machine.
The primary reason being that automated conference room management saves massive amounts of time—precious time that can then be re-routed to work that is much more productive. But don't forget that the screens inside your meeting rooms will help your employees collaborate in more effective ways, also driving productivity.
Boost employee engagement
More than most things in the workplace, teamwork leads to engagement. That's why a huge part of effective corporate digital signage use is fostering a culture of collaboration that works toward certain company goals.
Meeting room signage should also promote this productive workplace culture at every turn. Great ways to do this with your meeting room signage is by highlighting goals, progress towards those goals, and displaying areas that need improving. That way, your teams are always on the same page and everyone knows their roles in achieving your company's goals.
Highlight vital information
This one might be super obvious, but it doesn't make it any less important. Displays inside your conference rooms are going to have your employees' attention much more than a display in one of your hallways—or an email for that matter. Use meeting room signage to get highly important information to your workers while they are talking shop and in the zone. That way, it'll stick.
Control remotely
Since your meeting room booking system is connected to the cloud, it can be controlled remotely to make any necessary changes or updates to your internal communication strategy. Examples include updating your content playlist, the time of a meeting, adding more clients or visitors to the meeting list, or switching the meeting to a larger or smaller meeting room.
TelemetryTV Desktop
The TelemetryTV desktop app is another great way to keep your remote employees engaged. The desktop player makes managing distributed teams easy by keeping your office and remote teams informed and engaged wherever they are. Basically, it makes all the corporate communicationsbroadcast on your digital signage screens inside your office available to your remote teams on their laptops or desktop computers.
All they have to do is download the TelemetryTV app. Then they access all the valuable resources displayed on your screens, from workplace policy notifications and data-driven digital dashboards to your Slack wall or company calendar.
What types of content can you display
With meeting room signage, there is a wide variety of useful content that you can show, including:
Google apps like Sheets, Docs, and Slides
RSS feeds
Social media
Web content
Video
Calendars
Notices
Emergency alerts
Contact information
Directory profiles
Slack
TelemetryTV solutions
Any digital signage software you choose should come with apps designed specifically as a meeting room booking system. TelemetryTV's digital signage platform comes with two such solutions.
The first is SmartRoom for Digital Signage. It allows companies to display meeting schedules, room availabilities, room status, and quickly book conference rooms. All you need to do is connect the TelemetryTV app to your Google Calendar, Office 365, or 25Live account. Then you can easily pair the room with your calendar.
TelemetryTV also has built-in support of the Teem Finder app by WeWork. The app gives users the ability to launch the intuitive Teem Finder map on digital displays. Once the map is opened, employees can view available meeting spaces, book rooms, or use the map to find their next meeting.
How to get started
Outside of purchasing the necessary digital signage hardware, getting started with conference room digital signage is as simple as signing up for TelemetryTV's 14-day free trial.
Visual Communication. Everywhere.
Get started for free. No credit card required.