Beyond the Digital Menu Board: 8 Clever Ways Restaurants Can Use Digital Signage
Digital menus are just the beginning, here are 8 ways to create an amazing customer experience in your restaurant with digital signage.
WRITTEN BY: TelemetryTV, 10-31-2019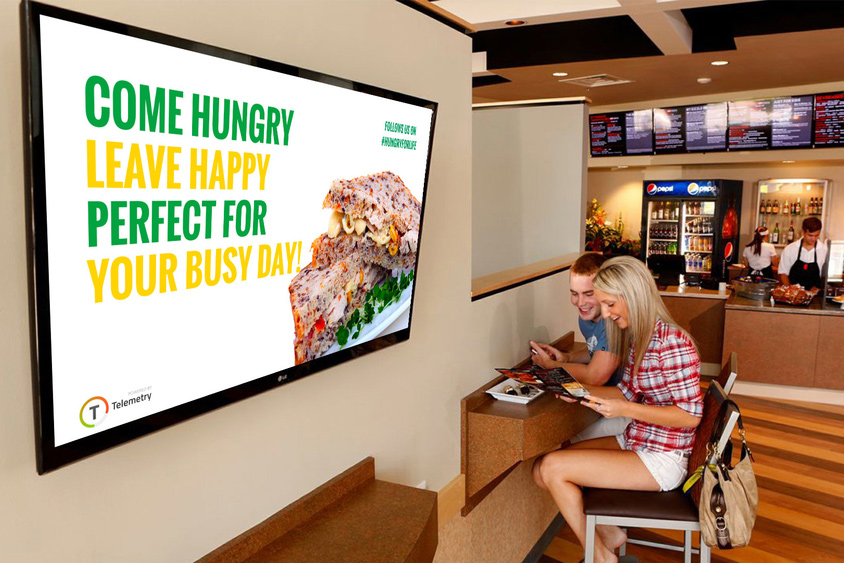 Restaurants all over the world are adopting digital signage hardware in a variety of ways. With a digital signage player and digital display screens they are able to create stunning digital menus. And they aren't just turning to digital menu boards to have a more convenient and easily updatable menu platform because there's a wide range of other ways restaurants can use digital display screens to great effect too.
Here are a few ways that restaurants are using digital signage to create a more memorable restaurant experience, boost sales, and reduce wait times.
1. Digital menu boards
Digital menu boards are one of the first use cases that come to mind for restaurant digital display screens and for good reason. From coffee shop menu boards to tap-houses, they allow restaurants to create a dynamic digital menu that can be centrally controlled and provide an immersive experience to customers by showing them not only the description but images of the restaurants products.
Using TelemetryTV's digital menu board app makes setting this up a menu board quick and easy.
Leverage Your Screens To The Max
Manage your digital menu boards and signage remotely across all your locations.
Learn More


2. Drive sales of your daily specials
Constantly updating and promoting daily specials in restaurants can be a huge drag on your restaurant—not only does it cost you money, but it also takes up valuable time and labor.
With a digital menu board you can easily update and display your daily specials across your digital menus to boost sales. More than that though, you can also push your daily specials on your restaurant's other digital screens in eye-catching fashion. That way, you'll be more likely to pique your customer's interest in whatever your special dish of the day happens to be.
On top of that, if your restaurant has a consistent, ever-rotating lineup of daily specials throughout the week, you can set your digital menu software to automatically display on both menu boards and signs rather than taking the time out of your day to manually update them.


3. Create urgency during happy hour and last call
One of the key elements in marketing is calls-to-action. The goal of a call-to-action is to create a sense of urgency and scarcity that moves a given customer to take a desired action.
If there's anything that can drive people to take action it's the fear of missing out, and in your restaurant, you can do this by displaying your happy hour times and last call time. Chances are, this will make customers more inclined to see that they are about to miss an opportunity for a bargain or their last cocktail, and jump to make a purchase.
Your electronic menu board could ratchet that feeling up even higher by displaying an actual countdown clock using our countdown timer appfor when happy hour is starting and ending as well as for last call.
4. Build a social media following
Any businesses trying to get the most out of their digital signage should always ask themselves, "How can this boost our brand recognition?" Restaurants included.
One of the simplest ways your restaurant can raise brand awareness is by integrating social media apps into its digital restaurant menu. Easy-to-use apps can allow your screens to display Twitter walls, Instagram highlights, or even your Facebook business page.
Needless to say, this can go a long way in building more meaningful interactions with customers and, as a result, a more loyal consumer base.


5. Collect reviews at scale
If you are confident in the products your restaurant is selling, which we are going to go ahead and assume you are, then using digital signs to solicit reviews from customers is a great idea.
Why? The next time potential customers are Googling the best restaurants in a certain area or asking Yelp for the best restaurant sorted by cuisine type, chances are your restaurant will be in that list, maybe even near the top. And that's a huge, huge plus in this day and age when reviews either make or break businesses—especially restaurants.
But remember to make it super easy and intuitive for customers to quickly rate your restaurant on your screens. The last thing you want to do is inconvenience them and leave a bad taste in their mouth.
6. Show off your rave reviews
On the same note, once you've collected a whole bunch of awesome reviews from customers, there's no reason not to flaunt them on you digital displays for all to see.
By using easily-updatable playlists you can scroll your top reviews to everyone in eye's sight of your restaurant's screens. Of course, if people see that others are absolutely loving your restaurant, then they'll be much more inclined to come back and try a different dish you have on offer.
7. Tell your story
We already mentioned how important brand building is to any type of business—including restaurants. Another way you can raise your brand's profile is by using storytelling across your screens to rope in customers and show them the personal side of your business.
When it comes to telling your brand's story though, video should be the medium of choice. I think we can all agree it reigns supreme over other types of content in this day and age. So start by creating a flashy video that gives customers a better sense of your business. But don't stop there.
Your restaurant's story won't land unless it comes off as personable and authentic to customers. An extremely easy way of doing this is by showcasing staff profiles on your screens. Or perhaps even better, you could highlight the ways your restaurant has given back to the local community.
Basically, make sure you show off the human and relatable side of your business when telling your brand's story.
8. Show the right content at the right time
Depending on the specific time of day, customers might be in need of different types of information. This is where dynamic content scheduling comes into play. In other words, your restaurant digital signage should rotate specific content based on what time a customer is visiting.
The most obvious way to do this is by having your electronic menu board automatically change from breakfast, to lunch, to dinner at certain preset times. Content could also be triggered based on other factors as well—not just time. For example, employee inputs could trigger queue numbers to display on your screens once a customer's food order is up and ready to be served.
Sure, digital menu boards are all the craze right now in the restaurant industry, but TV menu boards have a lot more on offer than just that. In fact, with thoughtful implementation and the innovative use of digital signage apps, digital signage can boost your restaurant in a wide variety of ways.
Ready to get started with digital signage for your restaurant? Sign up for your 14 day free trial of TelemetryTV.
Visual Communication. Everywhere.
Get started for free. No credit card required.