Nvidia Shield for Digital Signage: Everything You Need to Know
The Nvidia Shield is one of the most exciting Android TV devices to hit the market. Here's a definitive guide to getting started.
WRITTEN BY: TelemetryTV, 11-13-2019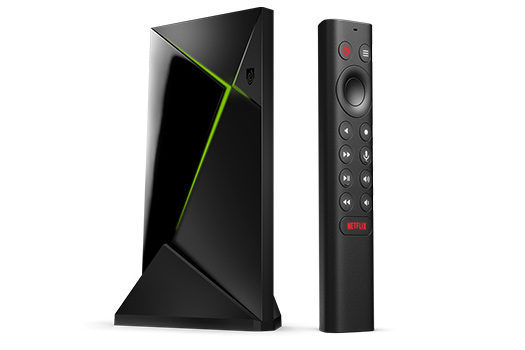 In today's day and age, leveraging the power of digital signage doesn't just have to be reserved for businesses with a boatload of resources on their hands. In fact, businesses of all sizes can now get in on the action and reap the numerous benefits that come along with it.
Recent advancements in computing and technology as a whole have led to an onslaught of affordable devices that can power an entire digital signage network. So whether you have a mom and pop shop or a standalone brick-and-mortar retail store, you can finally start reaping the rewards of digital signage.
Of all the relatively inexpensive devices to hit the market, the 2019 Nvidia Shield TV is making the most waves. It's nothing short of a game-changer, thanks to its significant advantages over similar competitors such as the Amazon Fire Stick and Google Chromebit.
Update: With the release of our new TelemetryOS we are now recommending TelemetryOS devices as the primary choice for new digital signage deployments.


TelemetryOS is our proprietary operating system and the TelemetryTV media player is a secured, optimized and customized platform. TelemetryOS is easy to use, manage, and scale. This will be our primary platform going forward and will receive the most features and attention.
With TelemetryOS we have taken all of the best features from Chrome, Android, Windows and Linux and combined them into one digital signage platform. We believe TelemetryOS will be the most sophisticated digital signage platform on the market.
Key Features of TelemetryOS
Kiosk mode
Serial port commands
4k support
4 screen video wall support
USB provisioning
5 yr lifespan
$0 annual costs
Electron app build
Static IP
Remote management
Leverage Your Screens To The Max
TelemetryTV is the only digital signage software you need to drive engagement, productivity and revenue for your business.
Learn More
What is the Nvidia Shield and what does it do?
The Nvidia Shield TV and Shield TV Pro are portable Android digital signage media players that can stream content to digital displays. When it comes to performance, the Nvidia Shield TV and Shield TV Pro are pretty similar.
The Nvidia Shield Pro does come with storage and slightly more RAM than the standard model, however. On top of that, the Shield TV Pro has two USB sockets that allow you to automatically provision screens with TelemetryTV's USB provisioning feature. The regular version of the Shield TV has none, which means you will be required to pair each screen to your devices manually.
The Nvidia Shield TV is a true plug-and-play device. It's small enough to fit in your pocket and the stick design plugs right into your display's HDMI port without being noticeable. Alternatively, the Shield TV Pro is a small box that connects to your screen through an HDMI cable.
The Nvidia Shield TV comes in at $149.99, while the Shield TV Pro will run you $199.99.
The Nvidia Shield TV


Why we like the Nvidia Shield
In general, AndroidTV media players reign supreme over other media players because they are:
Easy to get
Cost Effective
High performance
Easy to setup
Unlike most Android digital signage media players, that can vary widely in quality, reliability and performance, the NVidia Shield is a stable and proven device that consistently performs and is backed by a major manufacturer.
Not only is the Nvidia Shield extremely cost-effective, it also has sufficient processing power to handle digital signage content better than any other Android media device. Even better, the Shield provides a buttery-smooth video experience, which is an absolute must in today's digital signage market.
When you weigh all the factors, the 2019 Shield TV and Shield TV Pro drastically outperformboth the 2017 Shield model and its main Android competitors, the Amazon Fire TV Cube and Fire Stick. The 2019 Shield devices have faster processors than their 2017 versions. They also have significantly better media storage capabilities than Fire devices.
What can you do with Nvidia Shield?
The Nvidia Shield has a wide variety of use cases for both commercial and consumer purposes:
Gaming
The Nvidia shield has enough processing power to run games that are in the Android ecosystem. While it doesn't hold a candle to a dedicated game video game console like the the Xbox or Playstation, it can hold its own for most games on the Google Play Store.
Google Assistant
Built-in Google Assistant allows users to accomplish a wide array of tasks with their Nvidia Shield from launching streaming apps and searching for movies with their voice to controlling smart devices for their home that can regulate things like lights and thermostats.
Link with Netflix
The Nvidia Shield allows users to connect their Netflix account and stream their favorite TV shows and movies. The Shield was also designed to stream crisp 4K content without any hiccups, so you can view top Netflix titles at their highest resolution.
Use it for digital signage
The Nvidia Shield isn't just for the consumer market. It's also capable of powering complicated and scalable digital signage solutions that boost businesses in a wide variety of ways. And since it's the ideal streaming device for 4K content, your customers will no doubt be wowed by your beautiful screens.
Listen to music
Music aficionados can also stream their favorite songs and bands using the Nvidia Shield, thanks to the fact that it supports a wealth of music apps such as Spotify, Amazon Music, and Pandora. The 2019 Shield also features Dolby Atmos, which can significantly improve the sound quality of your display.
Stream content
Nvidia Shield users have access to the Google Play Store and its 5,000-plus apps. Among these are, of course, the top apps for streaming content—think Netflix, Amazon Video, Hulu, Youtube, Twitch, and HBO Now.



Where can I buy the Nvidia Shield?
How do I set up an Nvidia Shield?
Setting up an Nvidia Shield is quite easy compared to other media streaming devices. Here's how:
Connect your Shield to your digital display using a high-speed HDMI 2.0 cable.
Connect your Shield to an electrical outlet using the power cord—your Shield will automatically turn on when connected to a power source as well as automatically enter sleep mode when not in use.
Turn on your screen and switch to the correct HDMI input.
Press the "Select" button to start using your Shield remote—it comes automatically paired.
Connect to the internet by either plugging in an ethernet cord or by signing into your WiFi.


How do I set up an Nvidia Shield for digital signage use?
If you wish to use your Nvidia for digital signage, then just a few more simple steps are required after initial set up:
1.Create a free account with TelemetryTV to gain access to a myriad of robust digital signage features.
2. Install the TelemetryTV app from the Google Play Store.
3. Enter the pairing code to connect your account and device.
4. Create highly engaging content to run on your screens with the help of TelemetryTV's easy-to-use digital signage apps and templates.
Whether you're looking to get into digital signage or simply want a reliable device to stream content at home, the Nvidia Shield and Nvidia Shield Pro are both extremely solid choices—worth every penny.
Visual Communication. Everywhere.
Get started for free. No credit card required.