How to Keep Your Sales Team on Track With Digital Signage
More and more companies are turning to digital signage as a way to boost the performance of their sales teams. And it's not hard to see why.
WRITTEN BY: TelemetryTV, 04-01-2020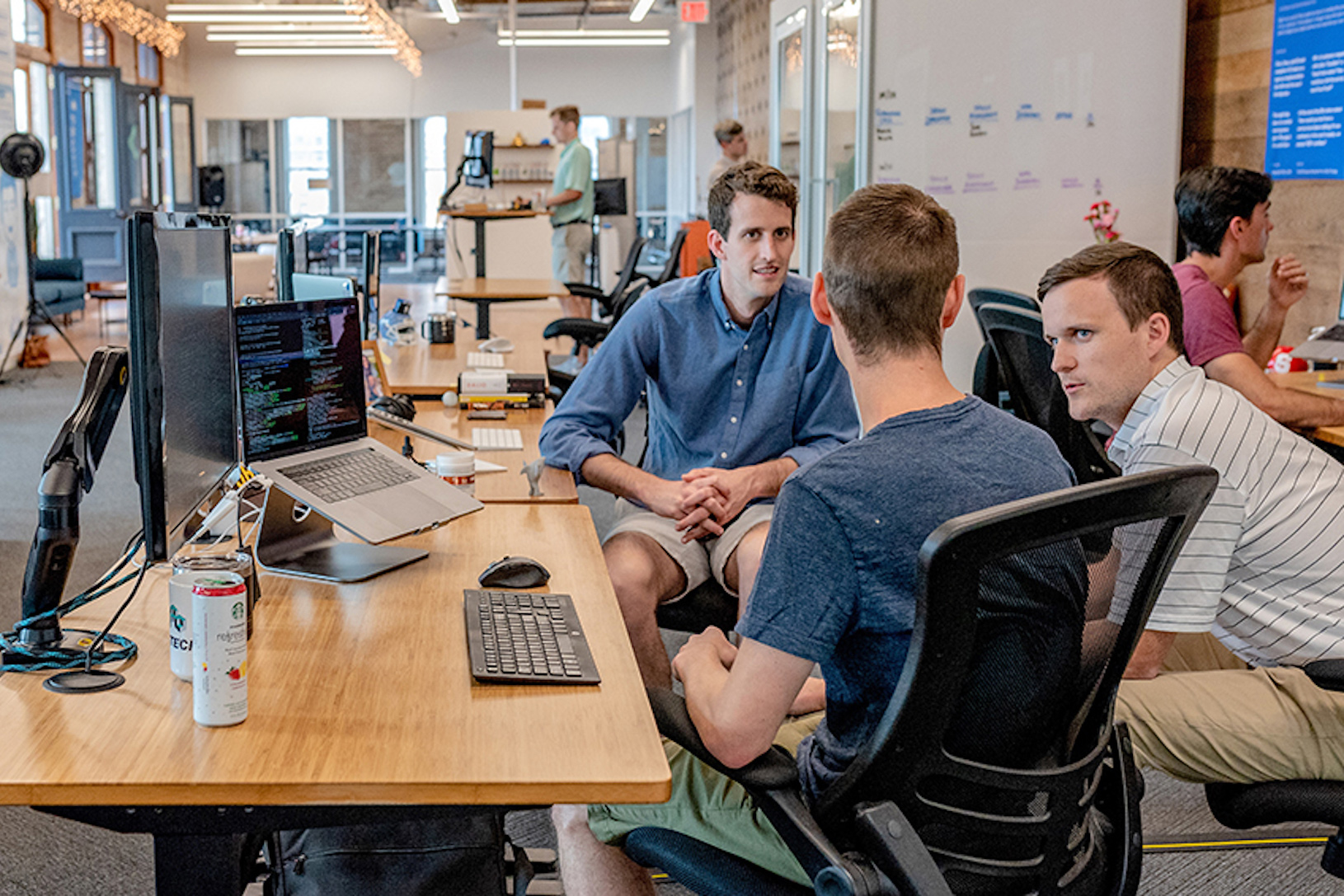 More and more companies are turning to digital signage as a way to boost the performance of their sales teams. And it's not hard to see why.
In short, digital signage—when utilized correctly—can serve as the proverbial North Star for your sales teams. When they look up at your screens for guidance, what they'll see is all they'll need to stay motivated and on the right path to their objectives.
What is sales team digital signage?
Digital signage is the use of screens or digital displays to give valuable information to those who need it, when and where they need it.
In the sales world, this means transmitting informative data points and key performance indicators (KPIs) to employees using digital sales dashboards. That way, your sales teams stay acutely aware of their current performance and their future sales targets.
But sales team digital signage goes further than sales dashboards and isn't limited to only cold-hard numbers. Other types of digital signage content can also be displayed on screens to get the most out of your sales teams and to keep them in the loop.
Why are sales teams using digital signage?
There are countless reasons why businesses are investing in digital signage hardware and digital displays to drive the performance of their sales teams like never before. But there is one overarching reason driving the digital signage trend in sales.
Put simply, digital signage gives sales companies the ability to house the huge amounts of data they pull in into one convenient place, which can then be broadcast to all of your office's screens with a few clicks of a button. Without a cloud-based digital signage platform, much of that same data undoubtedly gets either neglected or lost in the ether.
Those digital signage sales dashboards allow your teams to quickly view and take in helpful information with a simple glance at one of your displays. What's even better: placing all that data on high-resolution screens in an eye-catching, real-time, dynamic, and highly digestible package is the best guarantee you'll get that it'll be capitalized on.
At the end of the day, digital signage displays give your sales team all the data they need, right at their fingertips. In turn, they'll be much more likely to hit—or perhaps even exceed—their sales targets.
Top benefits of digital signage for sales teams


1. Motivate employees
Being successful in sales isn't all about employee motivation—but it's undeniably a massive part of the equation. Companies that aren't constantly motivating their sales teams to perform at high levels will fall to the wayside.
With digital signage, you can make sure your sales teams always stay motivated by using digital sales dashboards to constantly update them on their progress toward specific sales goals. More than that, you can also use your screens to showcase sales milestones, sales leaderboards, upcoming sales deadlines, and other metrics that promote a healthy competition among your employees.
All of these things play an integral role in keeping your sales teams motivated and their eyes on the ball.
2. Employee recognition
On that same note, it's always important to show your employees and sales teams that their hard work is being recognized and appreciated. Not only will this keep them even more motivated, but it will also show them you care.
Things like sales achievements, employees of the month, top sellers, and other recognition of team-wide or individual accomplishments can go a long way at driving sales performance inside your office.
On top of that, you can also display more personal life achievements rather than just work-related accomplishments such as congratulations on marriages, birthdays, or new births.
3. Track competitors
Knowing what your competitors are up to is a huge part of winning in the sales world. Because let's be honest, the last thing you want is for your competition to get a leg up on you and your sales teams without you even knowing it.
That's why displaying sales industry news and your competitor's social media feeds on your digital signage network is always a smart decision. That way, you'll always know the current trends driving the industry and the areas your sales teams need to step up their games, and where they are doing just fine.
All you need is a digital signage solution that supports social media and RSS feed integrations.
4. Refocus sales team objectives
When you launch a sales campaign, you always hope that the initial game-plan works out to a tee. But that is rarely the case. In reality, campaigns are constantly being tweaked from the moment they leave the box to the moment they finish.
Digital sales dashboards come in handy when it comes to altering course quickly or refocusing resources to areas where sales are underperforming. For example, say your campaign isn't generating enough leads. By simply looking up at your digital signage displays, a team manager will be able to spot this and make the necessary changes to bring it up to snuff.
5. Enhanced communications
Like we mentioned before, the content you run on your sales team displays shouldn't be limited to only sales numbers and other metrics. Instead, you should also treat it as valuable real-estate to get other relevant information to your employees.
Needs some ideas? Well, first off, rather than bombarding employees' email inboxes with company policy updates and other company-wide announcements, why not just broadcast important notifications on your sales teams' screens, which are much less likely to be ignored. Or perhaps you could use it to promote a positive workplace culture.
Whatever the case, effective and clear communications have been shown to go a long, long way in boosting employee engagement and productivity—and digital signage can certainly help.
What types of data can you display on digital sales dashboards?
Revenue (total and by channel)
Monthly sales
Monthly new leads
Leads by source
Sales targets
Sales growth
Sales by campaign
Market penetration
Sales pipelines
Upsell and cross-sell rates
Customer churn rate
Customer lifetime value
Win/loss rate
Demographic and geographic trends
Getting started with digital sales dashboards
Installing a digital signage network for your sales teams has never been easier or more affordable. If you're interested in deploying digital signage in your sales office, then all you need is a screen, a media player, and a cloud-based digital signage solution.
TelemetryTV's all-in-one digital signage platform supports Grafana, a robust and easy-to-use digital dashboard software.
Create a digital sales dashboard for your sales teams today by signing up for a 14-day free trial of TelemetryTV.
Visual Communication. Everywhere.
Get started for free. No credit card required.