Building your Internal Communication Strategy with Corporate Signage
Considering corporate digital signage for your organization? Here are 6 important features to be aware of before you make the leap.
WRITTEN BY: TelemetryTV, 01-08-2020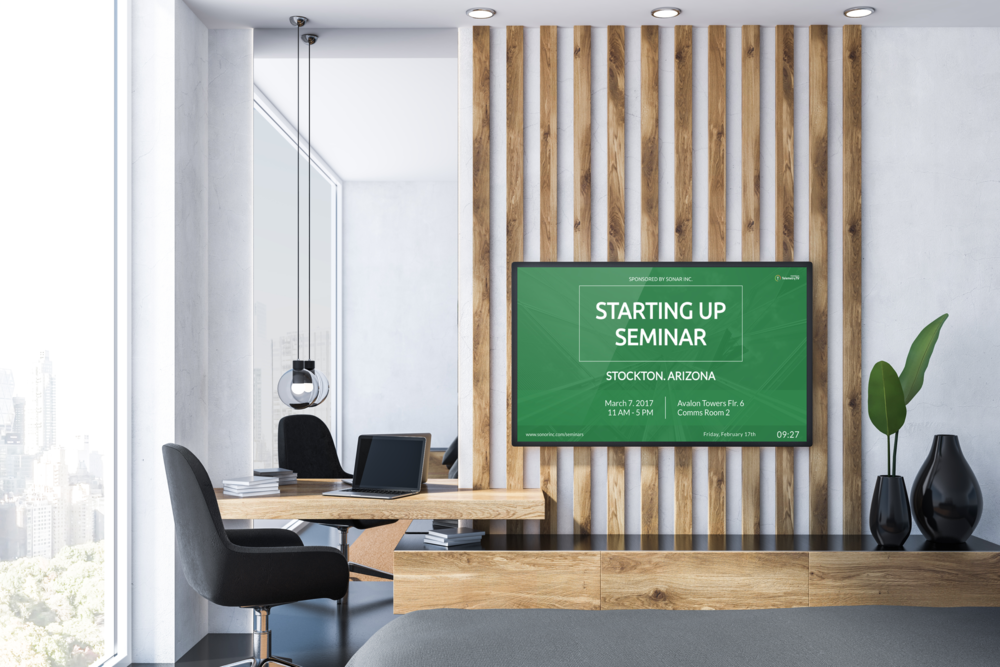 Lets face it, email communication already consumes a lot of your organization's time, and email overload affects an organization's productivity in a big way. Not only are group emails an unproductive internal communication strategy, but they can easily be missed, mis-read or forgotten about, internal communications are key to an efficient organization so what's another option for communication?
Today corporate signage software allows corporations to control branding and messaging from a central location. Organizations now have the ability to consistently and effectively communicate with employees regardless of office size or number of locations.
This allows them to
Align employees, increasing productivity
Create a visceral vision of who their company is and what it believes in
Save staff and visitors time
Increase sales
Update:
Our new free TelemetryTV desktop app for remote teams is now live. Easily communicate with remote workers and keep users aligned and informed with critical updates, dashboards, announcements, and live streams via their desktop computer.
6 ways to implement corporate signage into your environment
More and more organizations are turning to cloud-based digital signage solutions to provide seamless communication with staff and visitors. With a corporate signage solution in place, organizations are able to work collaboratively to create and share information with ease, here are some of the best reasons to get started.
1. Internal communication strategy
Let's face it, meeting room signage is one of the best use cases, it helps organizations communicate and stay on track, and this couldn't be more important than in your internal communication strategy
These days the way an internal communication strategy interacts with staff and visitors is increasingly changing to a digital format. If organizations want to take advantage of effective communication in the workplace they need to embrace what corporate signage can do to help connect their company. Currently up to 56% of corporate communication strategys are considering increasing their use of meeting room digital signage. Why? Because they understand it is the most effective way to communicate with staff and visitors in the workplace.
Some information you might want to share on your digital signage includes:


Meeting room schedules
Inter office communication
Important Dates and deadlines
Calendar and holidays
Conferences and special speakers
Upcoming team events
Social media wall
Employee recognition
Motivational quotes for employees
Leverage Your Screens To The Max
TelemetryTV is the only digital signage software you need to drive engagement, productivity and revenue for your business.
Learn More
2. Access awesome features and apps
One of the most valuable aspects of using corporate digital signage is the built-in features and apps that are offered. Utilizing features like Slack, Twitter and company culture quotes can help you open up your communication channels and be as efficient as possible.
While features like content scheduling, playlists, display overrides and display zones allow organizations to be creative and make the most out of their internal communication strategy.
3. A corporate signage network is easy to scale and control remotely
One of the best features of a corporate digital signage network is the ease of controlling your content from a remote location. Have a message you want to share on your meeting room signage with your team in a different city? No problem. Want to display a welcome message on your outdoor digital signage and run business dashboards in the office? Digital signage can do all that from any computer, anywhere.
Even if you decide to add a few more screens, you can provision 100's of digital signage players to your network at the same time from anywhere.
Since everything can be controlled remotely users are also able to make any updates without physically going to each location, which is great if you have locations city or country-wide.
4. Corporate signage integrates with existing solutions
Many corporate signage solutions are able to integrate with multiple platforms, and the best software choice is always going to be the one that integrates easily with the systems you're already using. This integration makes it easy to set up and transfer any existing content, device groups and users between platforms.
5. You can display real-time digital marketing dashboards
A digital marketing dashboard is an information management tool that is used to track KPIs, metrics, and other key data points relevant to a business, department, or specific process. Through the use of data visualizations, dashboards simplify complex data sets to provide users with at a glance awareness of current performance.
Real time dashboards are a powerful tool to maintain communication and increase productivity within your organization. Effective digital marketing dashboard integration with corporate digital signage use can have a dramatic impact on business performance.
Dashboards keep everyone on the same page and put the most important facts about your business where they can have most impact.
Dashboards allow organizations to
Get more value out of their data

Consolidate and automate data points

Align employees
By utilizing corporate signage software your organization will be able to distribute key data into areas where it will be the most relevant. The power to display and update data and metrics in real time, along with configure custom layouts and dashboard views in real time from a centralized location is a great feature corporate organizations can take advantage of.
6. You can build kick-ass video walls
One of the most exciting ways to take advantage of digital signage is to set up a digital signage video wall. A video wall consists of multiple screens placed together and operating as one large display. Digital signage video walls look awesome and are a great way to display large scale content and impress your visitors and staff.
With digital signage video walls your content can be displayed at much higher resolutions than any individual displays. They can achieve enormous display size, retaining message clarity from almost any distance.


Corporate digital signage - best practices
Acknowledge your audience
Corporate signage is very easy to customize. That means you can cater content to your audience depending on their location and age group with little to no effort. Employee recognition has been linked to better morale, productivity and retention, so if you're using digital bulletin boards for internal communications, create content that recognizes team members who go above and beyond or have something to celebrate. A simple Teacher of the Month award or a happy birthday message can go a long way.
If you have several displays in multiple places, create content that's unique to each location, both in terms of graphics and text, to avoid a generic feel. Consider using your organizations colours to tie all of the displays together.
When developing your content, think about the screen it'll be displayed on. Where is the screen located? Who will be looking at it? What will they be doing while they look at it? For example meeting room digital signage will typically carry different content than outdoor digital signage. The answers to these questions will determine the length and substance of your content.
Content that is text-heavy and takes more than a few seconds to read is best reserved for common areas or waiting areas. Leave shorter content for high traffic areas, like hallways. Content may be king, but when it comes to digital signage, context is crucial, too.
Integrate your favorite pieces of social media into your messaging, display social feeds and keep your audience engaged in your content.
Your biggest advantage is your ability to display dynamic digital signage content—videos, animations, RSS feeds—because it captures the attention of viewers, keeps them interested, and sticks with them. Your audience is ten times more likely to engage with dynamic content than static messages.
Your organization could get started using digital bulletin boards today with some basic hardware.


Getting started
Getting started with TelemetryTV is easy as signing up for your free 14 day trial!
As you can see, digital signage applications in corporate communications are only limited by the users imagination. Communication moves at a rapid pace and using digital signage allows corporations to keep up. By deploying a digital signage software that is intuitive organizations will be able to communicate key updates to their staff which will increase their productivity and lower their costs.
To find out more about TelemetryTV, visit our features for corporate communications page
Visual Communication. Everywhere.
Get started for free. No credit card required.