How To Create an Effective Digital Bulletin Board
Creating a digital bulletin board will help your organization get the most out of their digital signage.
WRITTEN BY: TelemetryTV, 10-24-2019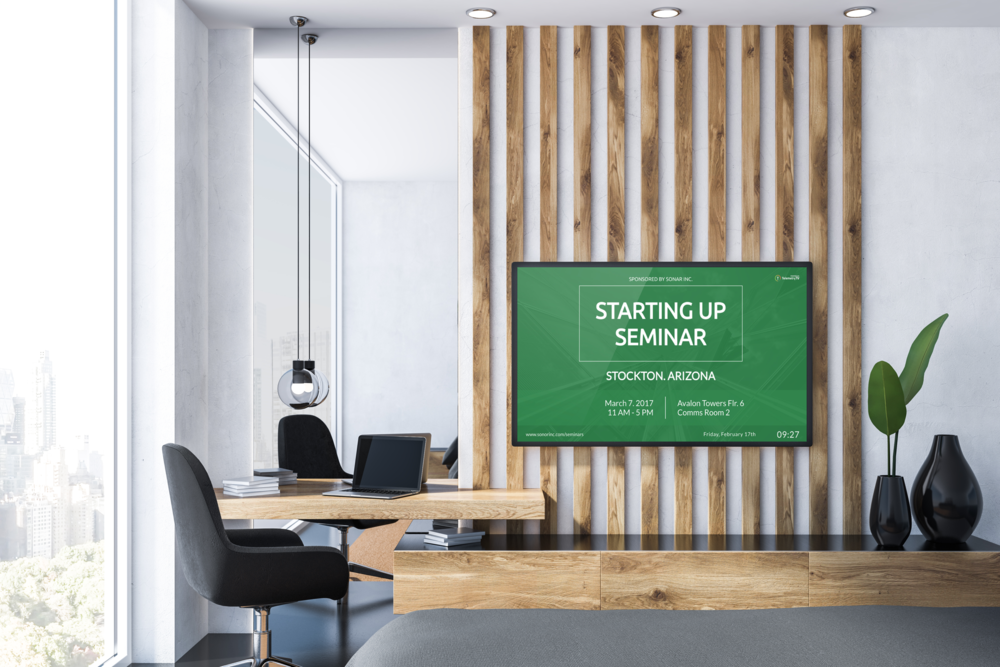 Transforming internal communications with digital bulletin boards
What comes to mind when you think about corporate internal communications? Passive aggressive emails, unnecessarily long meetings, and sticky notes galore?
Over the last 20 years, this recipe has largely remained unchanged, but digital signage is paving the way for a much needed transformation. As organizations begin to understand that internal communications are integral to their success, digital signage, and digital bulletin boards in particular, are becoming more popular.
Studies have consistently shown that employee engagement is a critical factor of business success in today's economy and that engaged employees work harder, are more loyal, and are more likely to go the "extra mile" for the corporation.
Digital bulletin boards make it easy to engage with employees, share important information, and foster a sense of community.
Update:
We've been hard at work to release the free TelemetryTV desktop app for remote teams. The new app helps organizations keep their remote workers aligned and informed with critical updates, dashboards, announcements, and live streams pushed straight to their desktop displays. Get started for free here.
The many uses of digital bulletin boards
You know that effective communication and employee engagement are critical to your organization, but you're still not sure how digital signage fits in. Here are some examples of how digital bulletin boards can empower you to achieve both:
Share time sensitive information with staff and visitors
Animate your organization's vision and make its identity more tangible
Communicate with parents and students about upcoming school events
Keep employees engaged in your company culture
Welcome guests and visitors with customized messages
Foster a sense of community with social media
Leverage Your Screens To The Max
TelemetryTV is the only digital signage software you need to drive engagement, productivity and revenue for your business.
Learn More


Bountiful benefits
If you're feeling skeptical and still need some convincing, let's talk about the benefits of getting your organization's tech on track.


Budget friendly
Setting up a digital bulletin board can be done for only a few hundred dollars and you'll forever be able to share an unlimited number of notices.
Go green
Save on paper printouts and reduce your footprint by going digital.
Hassle free updates
Digital bulletin boards can be updated in seconds, without waiting for printers or designers.
Engaging and entertaining
Using dynamic graphic design, colourful photos, and vibrant text is more engaging than a paper printout could ever be.


Getting started with digital bulletin boards
1. Choose your screen and digital signage hardware
For more information on these topics, check out our posts:
Once you have your screen and hardware, it's as easy as that. Simply log in to your TelemetryTV dashboard and pair your device to your screen.
3. Craft your messages
There are a number of different apps that you can use to share your messages on a digital bulletin board:
Notice is an app that is formatted to quickly create eye-catching, text-based digital signage. You can use the app to create a single notice or to create several messages for the app to rotate through. You can pair your notice with graphics from our library or your own custom backgrounds to make your signage even more engaging.
The Events app is the easiest way to broadcast event info across your entire organization. You can add event info manually or connect the app to any online calendar you already use and get all of your events sent straight to your displays automatically.

Google slides is another simple way to broadcast your messages to your digital bulletin board. Simply link to your published Google Slides presentation to have it loop on your displays. Your presentation will update automatically when changes are made to the document. This includes interactive functions such as slide playback control, notes, and a virtual laser pointer.


Scheduling your messages
You may want to display different messages depending on the day of the week, the time of day, or the location—this is where content scheduling comes in handy. Having a tailored system to display messages can save you time and increase efficiency.
Using playlists
Playlists allow you to control what gets displayed before and after your messages and the length of time that they're displayed. With a playlist, you can cycle your messages on a loop or add visual content between your messages to keep things fresh and engaging.
Best practices for using digital bulletin boards
Acknowledge your audience
Digital bulletin boards are easy to customize. That means you can cater content to your audience depending on their location and age group with little to no effort. Employee recognition has been linked to better morale, productivity and retention, so if you're using digital bulletin boards for internal communications, create content that recognizes team members who go above and beyond or have something to celebrate. A simple Teacher of the Month award or a happy birthday message can go a long way.
Localize
If you have several displays in multiple locations, create content that's unique to each location, both in terms of graphics and text, to avoid a generic feel. Consider using your organizations colours to tie all of the displays together.
Add context
When developing your content, think about the screen it'll be displayed on. Where is the screen located? Who will be looking at it? What will they be doing while they look at it? The answers to these questions will determine the length and substance of your content.
Content that is text-heavy and takes more than a few seconds to read is best reserved for common areas or waiting areas. Leave shorter content for high traffic areas, like hallways. Content may be king, but when it comes to digital signage, context is crucial, too.
Leverage social apps
Integrate your favorite pieces of social media into your messaging and display social feeds to keep your audience engaged.
Keep it fresh
The biggest advantage to using digital signage is your ability to display dynamic content—videos, animations, RSS feeds—because it captures the attention of viewers, keeps them interested, and sticks with them. Your audience is ten times more likely to engage with dynamic content than static messages.
Your organization can start using digital bulletin boards today! Just get the basic hardware and start your free trial of TelemetryTV to begin creating content right away.
Visual Communication. Everywhere.
Get started for free. No credit card required.