6 Tips for Evaluating the Best Digital Signage Player Hardware Options
Updated for 2021 - A guide to evaluating the best digital signage hardware options.
WRITTEN BY: TelemetryTV, 08-20-2019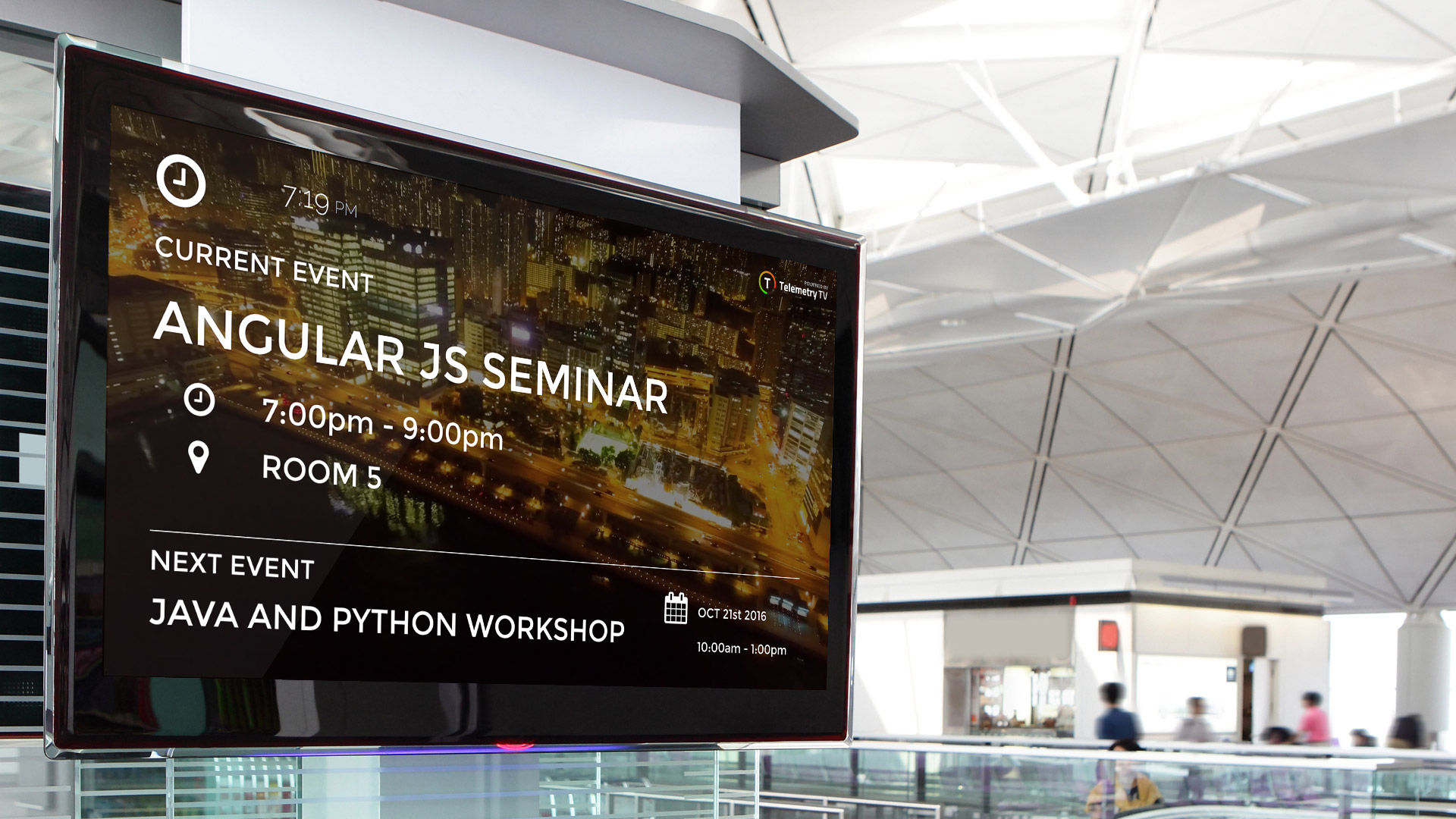 Choosing the best hardware for your digital signage solution can be an overwhelming process, whether you use your digital signage to empower an educational environment, communicate with your team, or power a retail campaign, there is an abundance of hardware options on the market that claim to fulfill your every need.
In this article we break down some of the most important components of digital signage hardware, and how to choose which ones are most relevant to you so that you can get started with an estimate of how much digital signage costs.
1. Define your goal
Before choosing your required hardware be clear what your goal is. A few things you should consider when choosing digital signage hardware:
How many devices are you deploying?
Where will you place the large digital signage displays?
What type of content will you display?
Can your new hardware integrate with your existing infrastructure?
Leverage Your Screens To The Max
TelemetryTV is the only digital signage software you need to drive engagement, productivity and revenue for your business.
Learn More
2. Choosing the right digital signage player
The media player is the brain behind your digital signage and one of the most important parts to run your system flawlessly. Typically you will need one media player per display unless you are using a video splitter to build a video wall.
Media players can generally be broken down into three types:
Boxes
Sticks
All-in-one solutions
The main difference between these players is factors like size, processing power, memory, storage and price.
Media boxes are preferable if you are prioritizing processing power, storage, and durability, while plug-and-play sticks are great for those looking for an inexpensive, on-the-fly option. All-in-one digital signage solutions are built directly into the display and don't require further hardware. These typically don't function at as high of a level as external media players, however.
Knowing what your goal is will help you choose the type that will best suit your needs.
TelemetryTV deploys on a huge range of available hardware. From Windows PC to Android and ChromeOS devices, you can choose based on your organizational experience, capabilities, and needs.
Media Boxes
Media boxes are the original type of player built for digital signage. Usually about 5X7" in size they typically run a variety of operating systems such as Windows, Chrome and Android.
The price of a digital signage player will vary based on your use case. Here are our top recommended digital signage for some popular operating systems.
Update: With the release of our new TelemetryOS we are now recommending TelemetryOS devices as the primary choice for new digital signage deployments.
TelemetryOS is our proprietary operating system and the TelemetryTV media player is a secured, optimized and customized platform. TelemetryOS is easy to use, manage, and scale. This will be our primary platform going forward and will receive the most features and attention.
With TelemetryOS we have taken all of the best features from Chrome, Android, Windows and Linux and combined them into one digital signage platform. We believe TelemetryOS will be the most sophisticated digital signage platform on the market.
Key Features of TelemetryOS
Kiosk mode

Serial port commands

4k support

4 screen video wall support

USB provisioning

5 yr lifespan

$0 annual costs

Electron app build

Static IP

Remote management
Chrome:
CTL Chromebox CBX2 - One of the most flexible Chromeboxes on the market, while providing for a cost effective deployment. This is generally the best device to deploy TelemetryTV with the ChromeOS platform. Supports dual 4k displays.
Android:
Ugoos Am6 Pro or Plus - The Ugoos AM6 Pro is a strong Android device option. The device for digital signage has high functionality such as automatic app updates and Kiosk mode. This device has 32GB of capacity, 4GB RAM for faster performance. Dual-band Wifi with 2X2 MIMO means that this powerful device also features robust internet connectivity for streaming.
Windows:
Minix NEO J50C-4 Plus- A high performance device running Windows 10 this has it all. 4GB of memory and 64GB of storage supporting true 4k with multiple displays. Although like all Windows 10 devices this will not be as easy to manage at scale as ChromeOS.
In general, Android media players reign supreme over other media players because they are:
Easy to get
Cost Effective
High performance
Easy to setup
Media Sticks
Media sticks are typically the most inexpensive way to deploy but they have performance and storage limitations, along with less output ports. Stick media players are not usually considered enterprise grade solutions: most are made of plastic and won't be as durable in a commercial environment.


All-in-one Solutions
All-in-solutions are streamlined and convenient with the media player integrated into the display. They are appealing due to convenience and price as you typically won't need to buy a display and media player separately. Setup is also simple, just plug in, connect to wifi and play.
If you need an all-in-one TV and device solution the Sony Bravia AndroidTVis a good option for users with a limited budget.
Click here to see our complete list of recommended digital signage players and hardware for every platform.
3. Choosing your display type
Since there are many options available for display screens, this article provides a quick breakdown of different display types.
To learn more about display options, check out our more in depth article on choosing the right display for digital signage.
LED
LED screens are a popular option for digital signage use due to their flexibility in large scale settings, contrast level and ability to display rich color in both indoor and outdoor settings.
LCD
LCD screens are the most affordable and lightweight option. If your viewers are going to be up close and personal with your screens you will probably want to go with an LCD display; however, they are limited in their brightness, contrast levels and viewing angle which makes them unsuitable for bright, outdoor settings.
OLED
OLED is the new kid on the block, offering infinite contrast, extremely high resolution, low weight and high energy efficiency. Because they don't require a backlight these displays are also incredibly thin. While much brighter than LCD displays they are still best suited for indoor environments. They are also the most expensive option.
Consumer vs. commercial displays
You'll also want to consider the difference between consumer and commercial grade displays when selecting your digital signage hardware. In short, we suggest commercial displays because of their durability, processing power, lifespan and warranty.
Choosing between some of the best digital signage displays is an important decision as it represents a large part of the investment in digital signage hardware.
4. Mounting systems
Choosing a mount depends on your budget and the location of your screens. Thankfully choosing a mounting system is a lot more straightforward then choosing your screen and media player. Here are a few of the most common options.
Flush:
The simplest type of mount. These position your screen on the wall so its back is parallel to the wall. These are useful in hallways or meeting rooms.
Tilt:
This type mounts your screen at an angle. This is especially useful if your screen is located above eye level, such as with a digital menu board in your cafeteria.
Articulating:
Articulating mounts place a screen at the end of an arm so the angle and direction it's facing can be changed.
Ceiling:
Rather than hanging from the wall, some screens dangle from above thanks to ceiling mounts.
Pedestal:
Pedestal mounts rise from the floor. In a large space with walls that are far away, and especially with interactive screens, these can be practical.
Again, we suggest opting for commercial-grade mounts even if the initial price is a bit higher. Why? Put simply, the build quality is a lot better, which means you won't have to worry about durability
5. Integration
Digital signage has come a long way from simply displaying the time and weather in a given location. Now, organizations can engage with students, staff, and guests using customizable, dynamic apps to display social media feeds, instant alerts, interactive campus maps, and so much more.
Being able to use your favorite apps and have hardware that integrates with your current workflow is an important point to consider.
Not only will you be able to engage your audience, but you will create a more productive environment for your staff, as they will be able to continue using the apps they are already comfortable with.
6. Total Cost of Ownership
The total digital signage cost extends beyond the upfront cost of displays, digital signage players, and the recurring cost of software.
The most commonly overlooked cost?
The IT resources required to implement and maintain the digital signage system.
While there are some extremely low cost or even free software systems on the market, they often require IT departments to maintain them and they turn out to be a false economy.
Choosing a signage platform that can automatically provision and update devices can save both time and money and provides a more reliable setup.
Wrapping it up
As you can see, there are a lot of considerations to take into account when choosing your digital signage hardware.
TelemetryTV is being used by dozens of organizations around the world and has built specific widgets and dashboards for campuses. If you'd like to learn more about our system and to try it, sign up here for a free trial.
Visual Communication. Everywhere.
Get started for free. No credit card required.