How Digital Message Boards are Becoming the Future of Communication
Digital signage message boards are revolutionizing how organizations communicate. Here are the benefits and statistics you need to know.
WRITTEN BY: TelemetryTV, 06-01-2020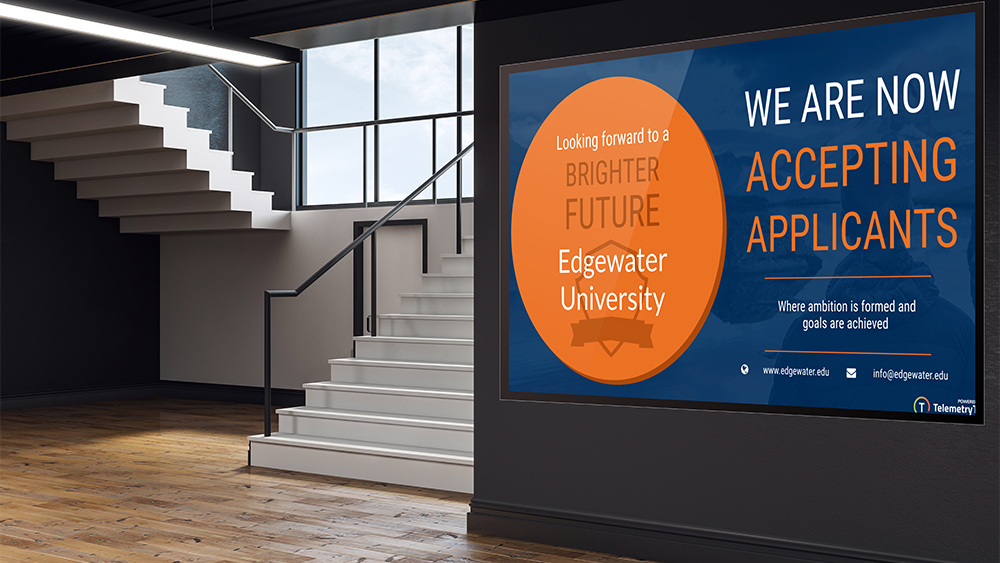 The days of static noticeboards are over. Because let's be honest, that jumbled mess of paper announcements pinned to a wall just isn't cutting it anymore. Nowadays, there's a much better option for your organization: digital message boards.
In short, digital message boards trump traditional noticeboards because they are dynamic, eye-catching, easily updatable, engaging, and can showcase a wide range of content that people need to see. Which is why it's no surprise that digital message boards are catching on like wildfire in almost every major industry—from hospitality, retail, education, healthcare, and corporate to everything in between.
What is a digital message board?
As you probably already guessed, digital display boards are the modern equivalent to the paper-filled, old school corkboards you might've run into on a university campus or in an office.
But instead of being lined with a hodgepodge of paper notices and announcements that aren't legible at all at a glance, digital message boards use high-resolution displays to communicate information in a clear, concise, and easily digestible manner.


The benefits of digital message boards
1. Improved communications
As we just alluded to, digital display boards give a lot more bang for your buck when it comes to getting information to those in need of it. The main reason being that digital signage is much more effective, due to its dynamic and visually appealing nature. It's simply more interesting to look at when compared to static signage.
And once you pair it with clean, fresh, and varied content, there's no way people will be able to ignore it.
Leverage Your Screens To The Max
TelemetryTV is the only digital signage software you need to drive engagement, productivity and revenue for your business.
Learn More
2. Cost-effective and hassle-free
Electronic bulletin boards are also way less time consuming and costly than traditional noticeboards—especially in the long run. The main reason being that content on a digital message board is infinitely easier to update. Sure, this means you might spend more installing digital signage upfront, but over time you'll save potentially hundreds of hours of maintenance and thousands of dollars in printing costs.
3. Eco-friendly
Going digital isn't only easy on your wallet and time, it's also pretty good for the environment, thanks to eliminating the need to print out a bunch of posters or paper announcements ever again. So why not go green?
4. Automated messages
One of the best things about digital sign boards—and digital signage generally—is the ability to push out automated messages through the use of scheduled content, custom playlists, or emergency messaging systems. Not only will it allow you and your staff to focus on more important matters, but it will also give you the peace of mind that if something goes wrong, emergency alerts can be sent out at a moment's notice, which could save lives.
5. Remote management
Cloud-based digital signage software also features remote management capabilities. Basically, this means that you can change or update your digital signs or bulletin boards on the fly, no matter where you are—as long as you have an internet connection, of course.
Workplace bulletin board ideas




1. Share upcoming events
The ability to share upcoming events on electronic bulletin boards can't be overstated. In the retail sector, this could mean using your electronic bulletin boards to showcase upcoming in-store promotions to drive traffic and sales. On a university campus, they could be used to increase participation in school events. In an office setting, digital display boards could be used to notify employees about work gatherings that can build teamwork and collaboration.
With electronic bulletin boards, the options are almost endless.




2. Share time-sensitive information with staff and visitors
Sometimes information needs to be seen fast—whether it be an emergency or a change of time for an important meeting. Whatever the case, digital message boards in high-traffic areas are a great way to send out vital information at a moment's notice. That way, everyone in your building stays in the loop.




3. Animate your organization's vision and make its identity more tangible
The most successful organizations all have one thing in common: a strong identity and vision. Creating and fostering these two things doesn't happen overnight, it requires years of shaping. By placing digital display boards across your workspace, you can further instill your company's guiding principles, its backstory, its goals, and its overarching vision to everyone in the workplace.
That way, all your employees will know exactly what is expected of them on a day-to-day basis. On top of that, they'll know they are part of something bigger and more meaningful than their basic tasks.




4. Build a sense of community and positivity with social media
Establishing a strong company culture is only half the battle. You also should look to build a sense of community and positivity inside of your workplace, school campus, or organization's headquarters. The best way to do this is by integrating social media into your digital bulletin boards, by either displaying full social media walls on your screens or by highlighting individual posts.
Did your company make headlines for a huge achievement? Showcase the social media buzz by highlighting popular tweets. Did one of your sales teams hit an important milestone? Give them some employee recognition on both display boards and social media in one go. Does your school have a big pep rally coming up? Let everyone on your campus and on social media know in one fell swoop.
Getting started with digital message boards
Assuming you've already purchased and installed a TV display and media player, it's time to create content for your virtual bulletin board, which is easier than ever these days thanks to free software like Canva.
All that's left after the content phase is picking a cloud-based digital signage solution. If you'd like to try TelemetryTV's all-in-one content management system (CMS), sign up today for a free 14-day trial.
Visual Communication. Everywhere.
Get started for free. No credit card required.