Digital Signage in the Transportation Industry
Digital signage has changed the landscape of the transportation industry drastically. Here are all the benefits it offers to travelers, commuters, and organizations involved with transportation.
WRITTEN BY: TelemetryTV, 09-14-2021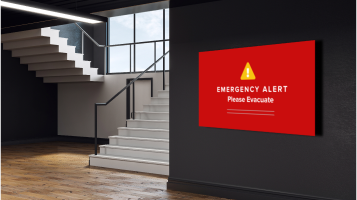 In the past decade, digital signage has become a mainstay in the transportation industry. Whether you go to an airport, bus stop, or subway station, you're very likely to run into a handful of screens providing valuable, real-time information to travelers and commuters alike.
In addition to giving people highly relevant information, digital signage in transit hubs also makes getting from one place to another a smoother, more pleasant, and more streamlined process. And thanks to the leaps and bounds digital signage tech has made in recent years, it's now easier and cheaper than ever to install digital signage and reap its many benefits.
What is digital signage?
Digital signage is the use of digital displays in the effort to communicate information to people who come in sight of it. In the context of transportation, this refers to the numerous screens you'd see scattered throughout an airport, train station, or another transit hub.
Effective digital signage comes with a wide range of benefits, such as:
Stronger engagement
Better recall and retention rates
Improved customer experience
Lower costs compared to traditional signage
More accurate audience targeting
Additional avenues for revenue (ex. advertising)
Cohesive branding
Decreased labor costs and higher employee productivity
The ability to update content in real-time
Easy tracking of metrics and KPIs
And much more…
Needless to say, the far-reaching benefits digital signage provides makes it an effective solution for numerous industries, including transportation.
How to use digital signage in the transportation industry


1. Scheduling information
The most obvious use case for digital signage for transportation is, of course, scheduling information. The moment you walk into any transit hub fitted with digital signage, you'll no doubt see the eye-catching screens highlighting schedule information.
In airports, train stations, and bus terminals this means showcasing arrival and departure times. For intercity transportation, this could be in-depth daily transit schedules or digital displays showing the ETA for the next bus or train. This also means notifying travelers of any delays, gate changes, or other vital travel updates that may arise.
2. Waiting area content
Informative digital signage content is great, but sometimes content needs to do more than just inform. In areas of transportation hubs where people spend time waiting, content on screens can be used to entertain or make wait times seem shorter.
For example, showing ETAs for the next bus or train—as we mentioned above—can give reassurance to waiting passengers that their transport is on the way and arriving soon. This can calm the nerves of travelers who might be in a hurry or who simply don't like being left to wonder on their own. It's a nice touch that people will surely appreciate.
3. Advertising
Digital signage offers the perfect opportunity for organizations to add additional revenue by selling the ad space on their screensto local businesses and marketing agencies. And this is especially true in the transportation industry where screens are placed in high-traffic transit hubs filled with potentially thousands of people each day.
Since ads are placed on screens that also display important travel information, marketers can pretty much guarantee that their ad campaigns will be seen, making your digital displays very valuable real estate.
4. Wayfinding
Digital displays placed in transit hubs can also be used to help travelers and commuters get from point A to point B in a timely manner. Digital wayfindingtypically consists of things like interactive maps, overhead displays, digital directories, and digital signs highlighting important landmarks such as gate numbers.
And the best thing about digital wayfinding systems is that they free up your staff to take care of more important tasks rather than having to constantly help travelers navigate your building.
5. Digital menus
Digital menus are also a great use case for digital signage in transportation hubs with cafes and restaurants. Digital menus not only eliminate many of the costs involved with printing and updating traditional menus, but they also showcase your food or beverages in a high-definition, mouth-watering fashion that is sure to boost sales.
On top of that, digital menu boards can also be used to show off promotions or daily specials to passersby, enticing them to choose your restaurant over the competition.
6. Emergency messaging
Finally, digital signage in transit hubs should be used as a line of defense should an emergency situation arise. With emergency messaging, you can send out automated notifications or alerts in seconds that let passengers know about things such as inclement weather, chemical spills, active shooters, or any other emergency situation.
This is hugely important in transportation hubs that are very often crowded with thousands of people at a time. If chaos ensues, emergency messaging makes sure everyone knows how to react responsibly to the unfolding situation.
Getting started with digital signage for transportation
As you can see, digital signage—when deployed in a thoughtful manner—is a wildly useful tool in the transportation industry. This is why it's no wonder that so many transit hubs have screens in almost every direction you look.
If digital signage sounds right for your organization, why not try out the TelemetryTV digital signage app? The first 14 days are completely free—no credit card required.
Visual Communication. Everywhere.
Get started for free. No credit card required.