5 Ways to Use Digital Signage to Share the Latest Healthcare News
Digital signage can be a valuable tool for distributing up-to-the-minute healthcare news to those who need it. Here's how.
WRITTEN BY: TelemetryTV, 05-19-2020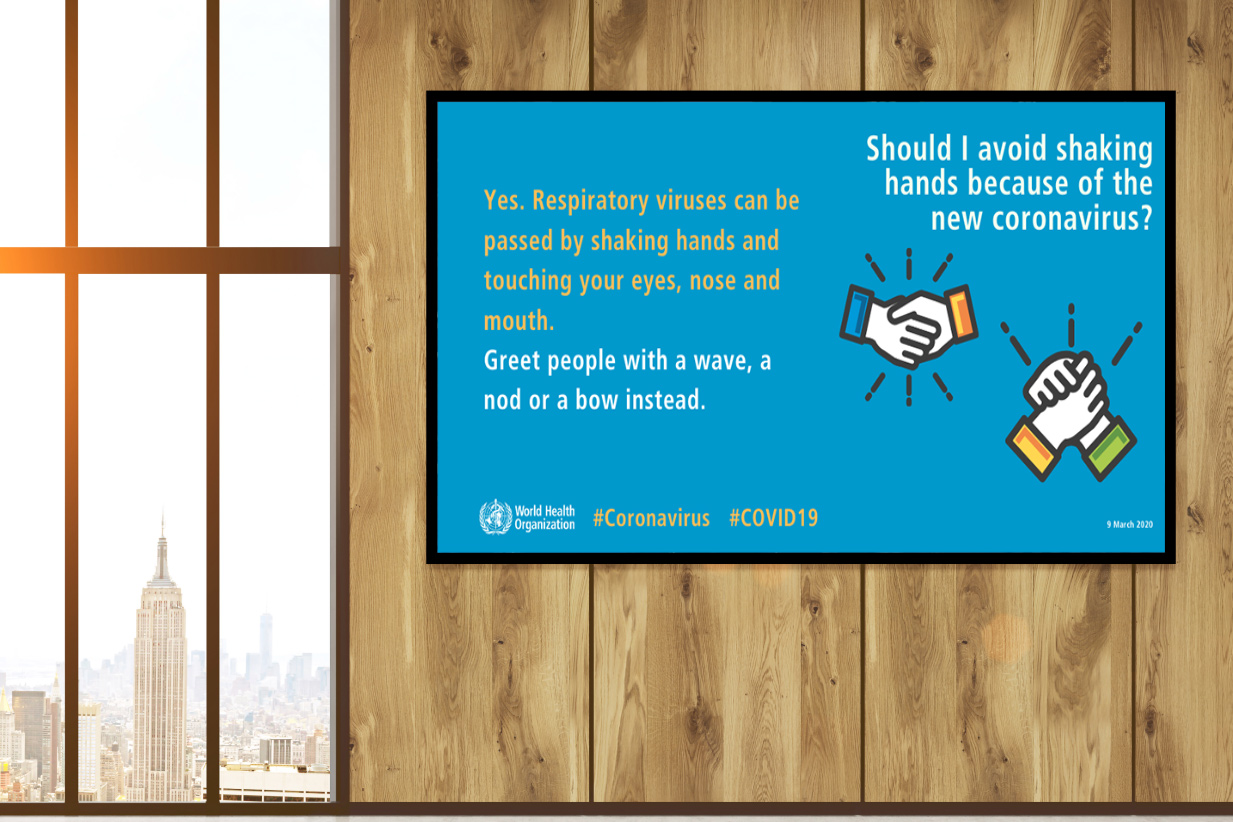 In these uncertain times due to COVID-19, it goes without saying that being able to share the latest healthcare news and guidelines to everyone on your premises is a massive plus. And that's exactly what digital signage can do.
With a visual communications network, your organization or business can share vital healthcare information with those who need it, when they need it, ensuring their health and safety. This also lends your business some much-needed credibility in the process by highlighting reputable and trustworthy healthcare information.
Needless to say, that's a huge weight off everyone's shoulders.
Of course, hospitals and other healthcare facilities offer the most obvious use case for sharing up-to-date healthcare news, tips, alerts, policies, and guidelines using digital signage. But that's definitely not the only place that it's useful, as the current coronavirus pandemic is shining a light on.
Brick-and-mortar retailers, schools and universities, hotels, malls, corporate offices, restaurants, and other high-traffic establishments are all having to take a hard look at instituting healthcare preparedness tools due to the current coronavirus pandemic.
That being said, here's how your organization can leverage digital signage to keep your employees, guests, students, customers, or patients in the loop with the latest healthcare news.
Top digital signage tools to share the latest healthcare news
1. Youtube channels
TelemetryTV's digital signage solution comes with a built-in Youtube app, making it simple to broadcast the latest healthcare news and updates across your displays. Whether you want to stream breaking healthcare news or more educational content is up to you.
Just make sure you always pull content from the most reputable healthcare sources and media outlets.
Resources:


2. RSS feeds
The TelemetryTV digital signage app also supports numerous RSS feeds that can gather and display the top healthcare headlines straight to your network of screens.
You can view TelemetryTV's extensive list of RSS feed options and other useful apps here.
3. Upload content to your displays
Perhaps the best and easiest way to display valuable healthcare news is to use the free resources constantly being released by leading healthcare institutions such as the WHO and CDC. Signs and posters from their websites can be uploaded straight to your screens via the TelemetryTV dashboard.
Resources:
This is also a great way to find and showcase COVID-related content that encourages people to wear masks, follow proper hygiene standards, or maintain appropriate social distancing.
4. Twitter healthcare feeds
In times like these, healthcare news is constantly changing at a lightning-fast pace. That's why it's important to create a custom Twitter feed showcasing the latest tweets on your screens from the most trusted healthcare news outlets and organizations in the world.
Fortunately, TelemetryTV's built-in Twitter app allows you do create a curate feed of numerous healthcare sources in mere minutes.
Resources:
5. Design custom digital signage bulletin boards
Sometimes you need to create your own healthcare content. That's where TelemetryTV's library of apps and free web tools come in to play. Don't worry, creating digital signage content these days is easier than ever.
To create eye-catching healthcare digital signage bulletin boards, we recommend using Canva—a free tool for creating digital signage graphics—or the built-in TelemetryTV Notice app. There's almost no learning curve whatsoever and graphics can be crafted in no time.
How to get started with healthcare digital signage
Keeping up to date with the latest news is essential nowadays, and digital signage is the best way to keep large numbers of people informed on a daily basis. All you need is the hardware and a service provider to supply the necessary software and keep things running smoothly. TelemetryTV can provide you with everything you need to display healthcare content and news on a network of digital screens.
Interested in sharing the latest healthcare updates to your employees, patients, guests, students, or customers? Simply sign up today for TelemetryTV's cloud-based app and receive a 14-day free trial.
Visual Communication. Everywhere.
Get started for free. No credit card required.