Using Google Apps for Education with Digital Signage
Google is making its mark on the education industry with Google apps for education. Learn how you can leverage digital signage to make the most out of these apps.
WRITTEN BY: TelemetryTV, 03-04-2020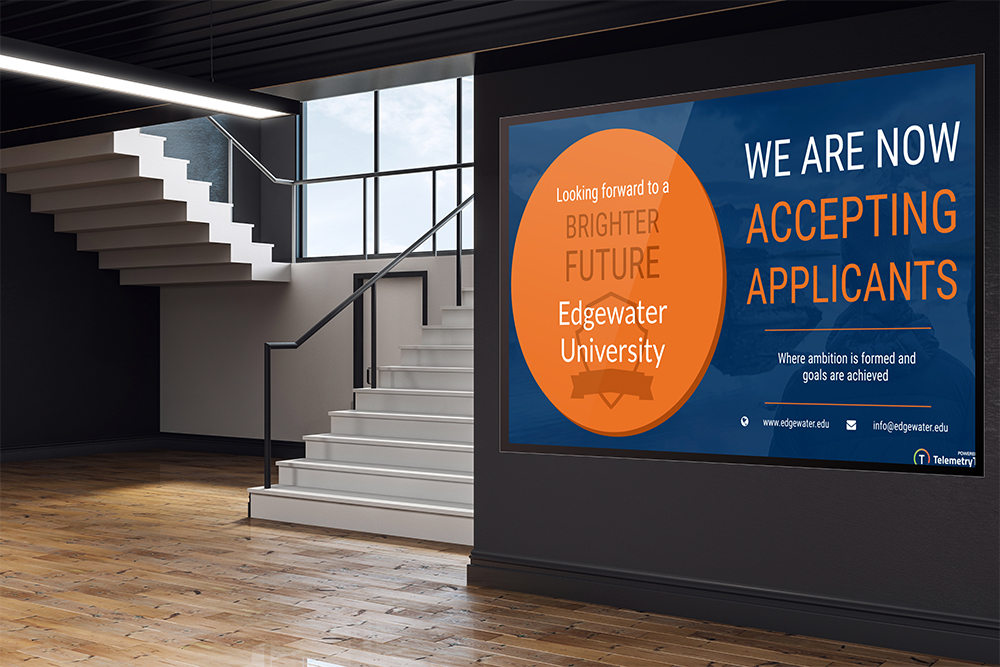 Google apps for education are becoming a mainstay in most classrooms these days. In fact, more than half of all high school, middle school, and elementary school students are using Google education apps such as Gmail, Docs, Sheets, Slides, and Google Classroom. And, Chromebooks account for over half of all devices shipped to schools.
The main reasons why Google apps for education have caught on so much in schools and universities in recent years is threefold: they streamline the entire learning and teaching process, they offer nearly limitless tools for both students and teachers, and they—most importantly—are free to download and use.
And schools aren't stopping at just Google apps, either. More and more are looking to revolutionize classrooms by combining Google apps with digital signage. This allows teachers to educate students in more modern and effective ways. Schools that embrace the technology will be equipped with dynamic new learning tools that students are more likely to respond to.
Think about it. Students these days are accustomed to looking at digital screens virtually all day long, whether it be their smart phones, TV screens, computer screens, or digital signs at the various places they often go to.
But what exactly is digital signage?
Digital signage for education is essentially the use of screens and other digital displays to broadcast information to students, staff, and visitors on a school or university campus. Some examples of digital signage for schools include digital wayfinding maps,digital bulletin boards, emergency messaging systems, social media feeds, and meeting room booking kiosks.
Leverage Your Screens To The Max
TelemetryTV is the only digital signage software you need to drive engagement, productivity and revenue for your business.
Learn More
What are the benefits of Google apps for education?
Put simply, students who use Google apps are more organized, informed, collaborative, productive, and engaged than those who don't. And they also make the jobs of teachers significantly easier by allowing them to communicate with students much more effectively and conveniently.
Why combine digital signage and Google apps for education?
Schools and universities are increasingly integrating Google apps and digital signage for one simple reason: both offer a wide array of exceptional benefits when it comes to education. When paired together, they become a game-changer for classrooms and campuses.
More specifically, at its core digital signage is inherently a visual medium, combining both static text and dynamic images. That's why digital signs in classrooms are not only eye-catching and hard for your students to ignore, but are also accommodating to all types of learners.
How to use Google apps with digital signage
Getting started with digital signage and using educational apps for elementary schools, middle schools, high schools, and universities doesn't have to be a huge challenge. It simply requires a few steps and a tad bit of research—all of which we are going to help you with here.
Of course, before you go downloading educational apps to use on your digital signage, you'll first need just that—digital signage. Put simply, to set up digital signage you'll need to purchase three things:
The next step is downloading the Google apps you want to use for school or classrooms. These can all be downloaded from the Google Play Store. Here are some of the top Google apps for education:
Gmail
Classroom
Forms
Jamboard
Sites
Hangouts
Groups
Vault
Drive
TelemetryTV's platform offers a huge advantage over other cloud-based digital signage solutions because it comes with built-in support of a variety of Google apps and other educational apps. This makes it super quick and easy for teachers to launch them on their classroom's screens.
Other TelemetryTV education apps for digital signage
Like we just mentioned, TelemetryTV also comes with several other apps and templates designed specifically for schools and other educational institutions. Here are a few of the best:
SmartRoom: Connect with Google Calendar to simplify booking and managing meeting rooms and classrooms.
TITAN Menu: Allows schools to easily create beautiful lunchroom or cafeteria menus that can be updated in real-time.
Notice App: Quickly create and deploy valuable notifications so your students always stay in the loop.
Events App: Merge your Google Calendar with the Events App to let students know when school events, holidays, test dates, or other important events are on the horizon.
Website App: Display and navigate through any website on your classroom screens in full HD quality.
Get started with TelemetryTV
Digital signage for education has a proven track record of engaging studentsand making teachers' jobs much easier—as do Google apps for education. That's why the two make a perfect pair for schools and universities.
Those looking to unlock the benefits of both digital signage and apps for education should head over to TelemetryTV and sign up today to get started for free.
Visual Communication. Everywhere.
Get started for free. No credit card required.