Positive Workplace Culture with Digital Signage
Creating a positive workplace culture is of foremost importance for many employers. Learn how to leverage digital signage technology to help you reach that goal.
WRITTEN BY: TelemetryTV, 03-01-2020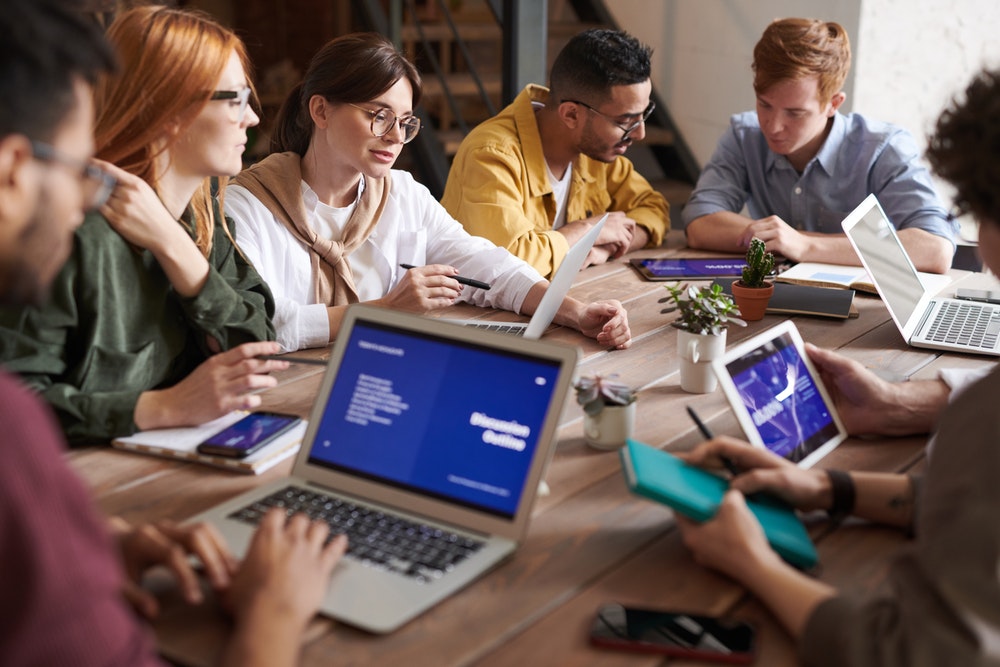 Businesses these days are constantly looking for ways to foster a positive workplace culture because—put simply—it makes a world of difference. It leads to happier and more productive workers, more effective workplace communication and engagement, and better employee retention rates.
The problem is that there's no clear formula for building and maintaining a positive workplace culture. This leads many companies on a wild goose chase for ways to generate positive vibes in their building—usually to no avail.
Luckily though, technology is changing the ways that companies can create positive workplace environments. In short, digital signage is making it a whole lot easier for businesses to improve their workplace culture so everyone involved stays in good spirits.
What is digital signage?
Digital signage is the use of screens and other digital displays to deploy valuable messaging in strategic areas. It is used across nearly every industry including healthcare, hospitality, food and beverage, corporate, education, and more.
Workplace digital signage is primarily used to send employee communications in order to achieve a variety of goals.
Benefits of workplace digital signage
As we alluded to before, promoting a positive workplace culture leads to numerous can't-miss benefits for companies:
Improved internal communications
Better employee retention
Higher workplace engagement
How? Well, utilizing digital signage displays in your company's offices can allow you to communicate with employees more effectively. Unlike other forms of internal communications, digital signage isn't intrusive, and thanks to its flashy nature, isn't easily ignored.
Put simply, you'll be much better off creating visually appealing digital signage content that draws the eyes of your employees to the information they need rather than sending them a barrage of annoying emails.
Digital signage benefits statistics speak for themselves.
Using digital signage to create a positive workplace culture
When it comes to creating a positive workplace culture with digital signage, content that shows your employees how much you value all of their hard work is the top priority.
In addition to that though, effective workplace digital signage promotes healthy and ethical workplace habits, recognizes the value of diversity, encourages teamwork and collaboration, and generally makes workers feel more involved in the goals of the company.
That way, your employees will always know their contributions are valued and will feel more invested and engaged in your company's overall success. At the end of the day, happy workers are better workers.
Examples of workplace digital signage
When choosing a digital signage platform to power your network of workplace screens, it's important to pick one with a wide variety of apps and templates designed for businesses. TelemetryTV has a whole suite of easy-to-use workplace apps to choose from—all that can go a long way at creating and sustaining a positive workplace culture.
Here are some of the best:
Events app
Bring your employees together and increase participation and camaraderie by highlighting workplace events on your screens. You can also connect the Events appto any online calendar.
Notice app
Keep all your workers in the loop with easily deployable announcements to your screens with the Notice app. Alerts and notifications can be sent to individual screens or to all your company's displays simultaneously.
Slack app
The popular workplace app Slack comes built into Telemetry TV's cloud-based digital signage solution. Not only will displaying Slack communicationsdrive workplace productivity, but it will also keep all your workers on the same page and on the right path to their goals.
Google apps
TelemetryTV also comes with the full suite of Google apps, which is great for businesses looking for a variety of intuitive apps to aid in streamlining their operations. Google apps such as Calendar, Sheets, Docs, and the Google Slides App make it super easy to create useful content for your workplace screens.
Profile app
The TelemetryTV Profile app gives businesses an easy way to show appreciation for specific employees and their hard work—whether it be to highlight a promotion, a birthday, the Employee of the Month, or a sales achievement.
Countdown app
Have an important company milestone or deadline coming up? If so, the Countdown app will let your business showcase it for all your employees to keep track of. For milestones, a countdown will garner anticipation and excitement, while a deadline will keep your workers firing on all cylinders until they reach the finish line.
Quote app
Motivational quotes are a great way to lift spirits and boost productivity in the workplace. With the Quote app, your company can quickly display famous or custom quotes across your screens in order to drive positive thinking among your workers.
Calendar app
TelemetryTV's Calendar app allows businesses to input and display any of their online calendars so employees can always know what events or important dates are coming up.
Twitter Feed app
TelemetryTV also supports numerous social media apps—most notably with its Twitter Feed app. The Twitter Feed app can show your business' feed, a competitor's feed, or a custom Twitter list.
How to get started with workplace digital signage
Companies looking to improve their workplace culture with digital signage first need to invest in a digital display, a media player, and a digital signage solution.
Need help finding the right digital signage hardware? Check out:
Outside of purchasing the necessary digital signage hardware, getting started with digital signage is as simple as signing up for TelemetryTV's 14-day free trial.
Visual Communication. Everywhere.
Get started for free. No credit card required.