TelemetryTV Has Been Selected as a DIZZIE Awards Finalist
We are excited to be a finalist in the Healthcare Environments category with our Mesmerize and Constant Media projects.
WRITTEN BY: TelemetryTV, 09-28-2022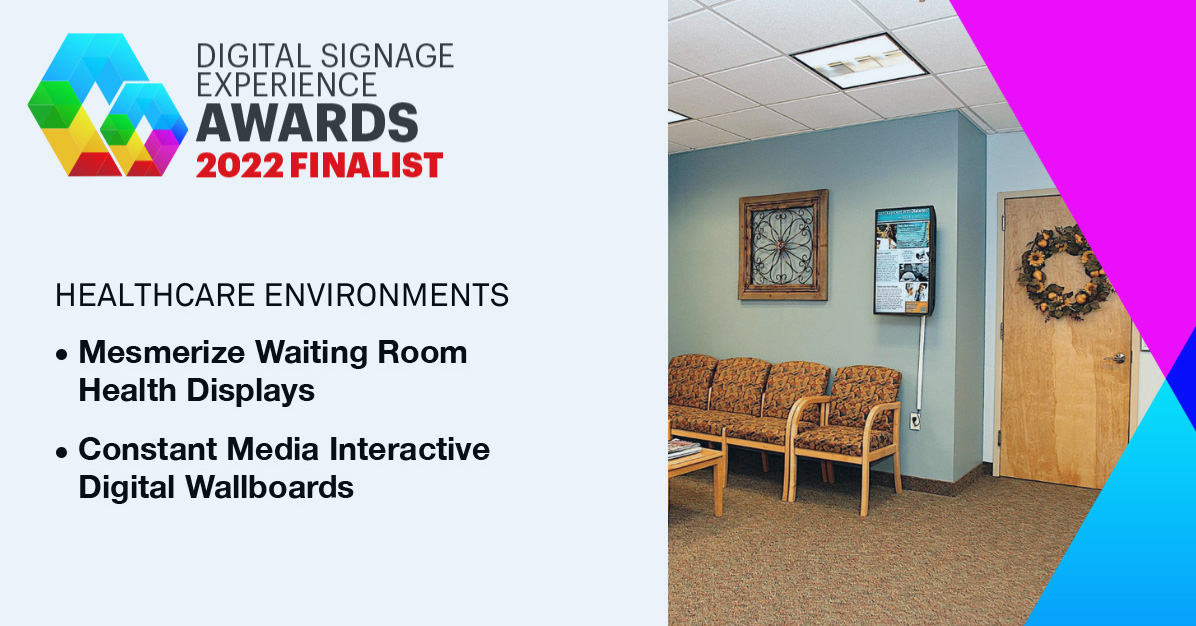 We are excited to be a Digital Signage Experience (DIZZIE) Awards 2022 Finalist with two projects in the Healthcare Environments category.
1. Mesmerize Waiting Room Health Displays
Mesmerize uses TelemetryTV advertising features to help brands around the world run ads on screens in 1000s of waiting rooms, exam rooms, and pharmacies through highly targeted campaigns.
2. Constant Media Interactive Digital Wallboards
By leveraging TelemetryTV, Constant Media helps brands run high-impact and ROI-positive media campaigns by positioning their ad creatives within the right offices at the right moment of each patient's health journey.
The event will take place in Las Vegas on November 17–19. Make sure you keep your fingers crossed for TelemetryTV!
Interested in attending the event? Use code AWARDS20 for 20% off a Conference Pass or a FREE Expo Pass. digitalsignageexperience.com
Digital Signage Experience
Digital Signage Experience explores every digital and interactive display technology aspect, from concept and design to content and analytics. DSE provides companies of all shapes and verticals access to hundreds of leading vendors of digital display, interactive technology, and content solutions.
Constant Media
Constant Media's point-of-care footprint presently extends to more than 20,000 physicians across 26 specialties. Their patient volume represents millions of patient visits monthly through their network. The company aims to connect advertisers with patients, sharing informative health content and promoting healthy lifestyle changes.
Mesmerize
Mesmerize has been a leader in out-of-home advertising since 2006. They are dedicated to connecting people with valuable information, resources, and tools through no-cost custom digital screens. Mesmerize partners with advertisers to display content that is relevant to each practice's patients.
Visual Communication. Everywhere.
Get started for free. No credit card required.