9 Examples of How to Use Digital Signage in Medical Offices and Clinics
Learn how to use digital signage in your hospital, medical clinic, or doctor's office to reap numerous game-changing benefits.
WRITTEN BY: TelemetryTV, 06-11-2021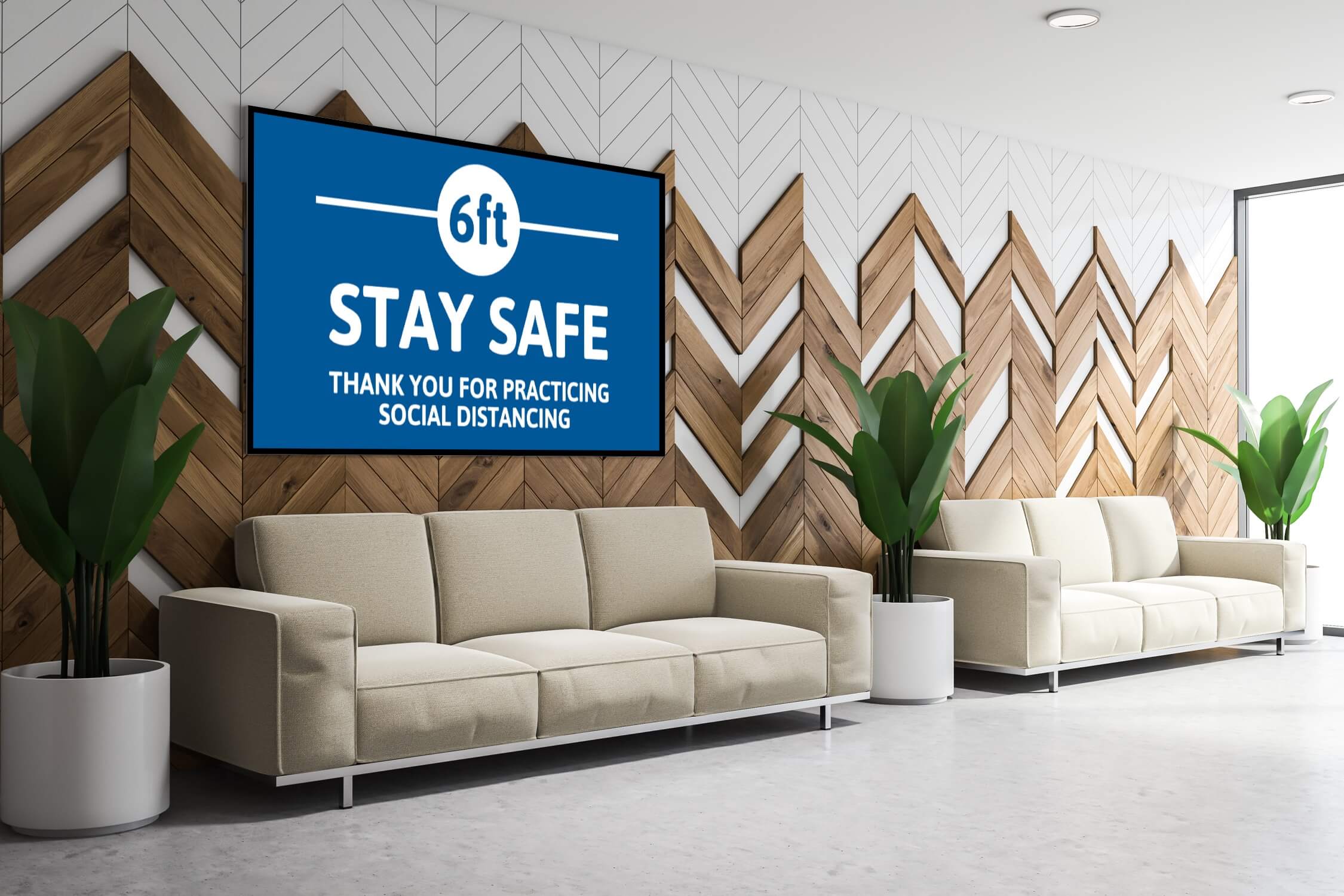 In the past decade, digital signage has come to play a major role in the healthcare industry. This is most apparent in larger medical facilities like hospitals, where patients and visitors routinely interact with digital signage installations. Digital wayfinding and directories, self-service check-in kiosks, and waiting room signage are saving staff bandwidth while being a big help to patients and visitors.
Thanks to the now lower initial costs of digital signage software and hardware, smaller healthcare practices are boosting their visual communications too. In turn, they're gaining numerous benefits.
By adopting a digital signage system, you can expect more positive experiences for your patients and visitors, and more streamlined operations for your doctors, nurses, and common staff.
9 examples of how to use digital signage for medical offices
1. Patient education
The number one priority for any medical practice is to treat and help cure or heal patients. Sure, a lot of that boils down to the quality of care your patients receive from your trained healthcare professionals. But preventative care is also extremely important. That's why you should use your medical office's screens to educate patients so they know how to better take care of themselves at home when doctors and nurses aren't around.
Dietary recommendations, health tips, drug facts, and symptoms management are just a few things you can educate patients on with digital signs.
2. Waiting room entertainment
Sometimes long waits are inevitable when visiting the doctor. Even with robust schedule management, some appointments take more time than others, creating a logjam. For this reason, doctor's offices and other medical facilities should always have entertainment on hand to distract patients and visitors while they wait. Digital signage can do just that.
Instead of letting them sit there and watch the time tick by, you can stream entertaining content over your screens to help reduce their perceived wait time. This translates to a greatly improved waiting room experience.
You can also display queue numbers on your screens to give patients a sense of when their name might be called, which should help reduce any built-up anxiety.
3. Share patient testimonials
One of the main goals healthcare practices have is to earn the trust of their patients. This helps to ease any nervousness they might have during their visit. Of course, the best way to do this is by ensuring that your doctors and nurses always provide high-quality care. But for the most part, that only works for patients who have experienced that firsthand already.
For patients who aren't yet familiar with your practice, sharing positive patient testimonials on your medical office's digital displays is a great way to start building trust as soon as they arrive.
4. Show off your team
On that same note, giving patients and visitors background information about your doctors, nurses, and staff goes a long way. The best ways to do this are by including qualifications and certifications in your on-screen digital directories. You could also create and incorporate static or interactive doctor profiles into your scheduled digital signage playlists.
It's best to make sure your patients and visitors get familiarized with your team and its accolades well before their appointment starts.
5. Patient self-service
Self-service kiosks are one of the best ways for medical offices to improve operations. Instead of staff doing monotonous tasks like entering patient details, data can be streamlined by letting patients do it themselves with interactive tablets or touchscreens. That way, staff can focus on more productive tasks.
On top of that, by displaying digital directories and wayfinding maps, you can make sure your reception staff isn't bogged down answering simple questions. Digital signage allows patients to get the answers they need as soon as they set foot in your medical facility.
6. Employee-facing communications
Digital signage content for medical offices doesn't just have to be aimed externally at patients and visitors. Employee-facing screens can broadcast helpful information to your staff, such as new policy announcements, daily reminders, patient schedules, and your medical practice's guiding values.
Digital displays can also be used to aid in the training and onboarding of new employees. This can include customized interactive software to help streamline and expedite the process.
7. Emergency messaging
Having a network of screens spread throughout your medical offices can also be incredibly useful should an emergency situation arise. With screen overrides and emergency messaging for digital signage, you can quickly dispatch system-wide alerts across your displays that will inform staff, patients, and visitors on how to stay safe or evacuate the building.
Put simply, it's an element of digital signage that keeps everyone's mind at ease.
8. Ad space for local businesses
Digital signage provides another revenue stream opportunity for medical offices through ad space. Consider this: you have dozens of patients and visitors walking through your building and coming into contact with your screens each day. That is valuable advertising real estate for local businesses—one that should be capitalized on in a variety of settings.
If you are going to run ads for local businesses, just remember to not go overboard with it or you run the risk of annoying patients and visitors, and possibly losing credibility.
9. Eliminate the downsides of traditional signage
The use of traditional signage such as posters comes with a lot of downsides for medical offices, to say the least. It's costly in the long run due to printing costs and offers little-to-no flexibility because it's not easily updatable.
Digital signage for medical offices, on the other hand, can be updated in an instant. Once installed, there are very few costs involved to keep it up and running. And when you factor in the business-boosting benefits that digital signage brings, the initial investment pays for itself in a very short time.
Getting started with digital signage for medical offices
Interested in finding out how digital signage can help your healthcare practice? Visit TelemetryTV today and try out a 14-day free trial of our cloud-based digital signage solution.
Visual Communication. Everywhere.
Get started for free. No credit card required.