Casino Digital Signage Software & Solutions — TelemetryTV
Digital signage goes a long way toward improving the guest experience at any casino. Here are some of the best use cases and how it all works
WRITTEN BY: TelemetryTV, 03-17-2022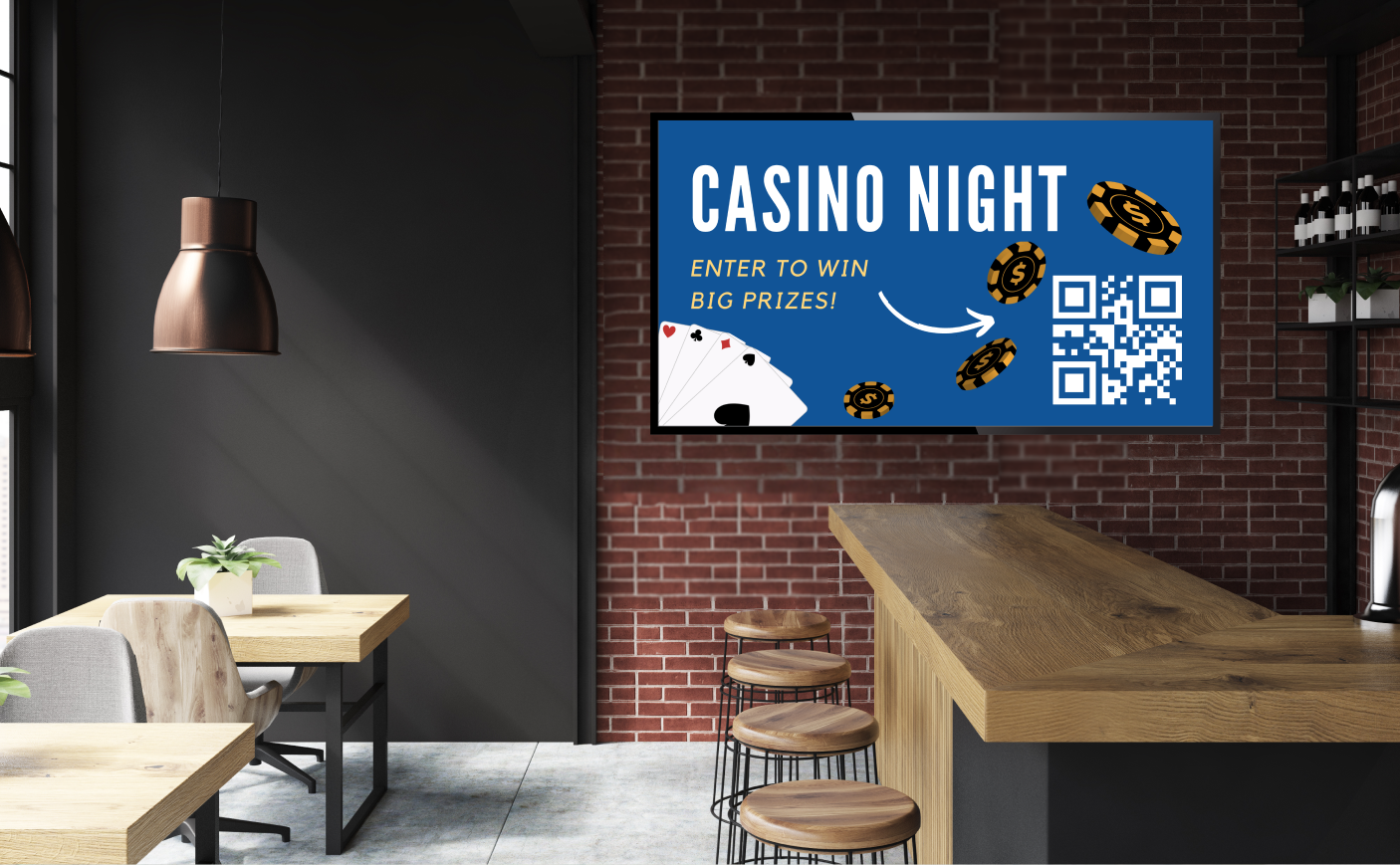 Casinos have a lot of moving parts, and a whole bunch of different use cases for digital signage. Basically, in any part of your casino where guests need information to be displayed to them, digital signage is the best option.
It's far more engaging and attention-grabbing than plain-old printed signs. Not to mention that since it's a digital medium, it'll be more familiar and preferred by guests.
Dynamic and interactive content lets guests get efficient access to the info they need. Digital signs stimulate guests with bright, immersive content. Frankly, it's so much better than printed content that it would be a mistake not to use it wherever you can in your casino.
Here are some of the very best use cases for casino digital signage.
Digital Signage for Casino: How it helps guests
There are simply too many use cases for casino digital signage to name them all here, but here are some of the most obvious and most beneficial.
Attract guests with outdoor digital signage
Your outdoor signage had better be bright and bold if there are other casinos in the area. That alone could make the difference between guests choosing your casino over all of the others.
And even if you're the only casino in the area, you still need to do your due diligence to entice potential players and guests into entering your casino and checking it out, or coming back for another visit.
Push your promos, events, and jackpot totals across your outdoor digital signage to create a buzz that passersby can't resist.
Digital wayfinding for casinos with interactive digital signage
Casinos are a maze of different rooms, areas, and hallways. Without proper guidance, they're almost impossible to navigate—especially for first-time visitors. No one wants to wander around frustrated looking for a certain game or service area.
That's why offering the most effective means of wayfinding is essential to guest satisfaction. Therefore, digital wayfindingis the perfect addition to your casino. With interactive digital wayfinding kiosks placed at key areas in your casino, guests will be able to get to where they're going faster and without the headache of being lost.
Digital wayfinding displays can highlight their route on an interactive map of your facility to show them the shortest path. Guests can even search for terms such as "poker" to find your poker room. That way, they won't have to stop any of your staff for directions, and they'll have the peace of mind of knowing they can rely on your interactive digital screens to direct them to their next in-casino destination.
Supplement the gaming experience with digital signage
One of the best use cases for casino digital signage is to complement the gaming experience. Poker rooms need waiting lists, table games need their limits and stakes to be clearly displayed, and other games can use digital signs to supplement the player experience. Sportsbooks can use an entire digital signage video wall.
Display recent jackpots, payout statistics, player options, or any other info that users might like to know right beside the gaming station. You can use digital signs to help entice passing guests into sitting down and playing, or even use it to offer promos and deals for your hotel or packages.
Use your digital gaming signage for player membership promos, brand reinforcement, the list goes on and on. Any information related to a particular game or gaming area can be displayed using bright, dynamic content on digital screens.
Use Digital Signage for Dining and Hospitality
Within your restaurants, digital menu boards can show your dishes being cooked in mouth-watering detail. Guests can even use interactive menus to peruse through ordering options in full HD. And clearly, this is far more enticing than printed menus, so it'll result in more people ordering.
Your hotel lobby can use digital signage in a variety of ways to greet, inform, and orient guests upon arrival. That way, they'll have quick access to the info they need, such as event details, shuttle times, restaurant and bar hours of operation, and more. They can even sign up for various services right through your interactive signage.
Let your guests use in-room signage for room service, games and entertainment, and making special requests.
Digital signage in Casinos: How it works
Your digital signage network can be controlled remotely through a cloud-based CMS (content management system) through any device that supports a web browser. All you'll need to get started are the screens, media players, and a subscription to the TelemetryTV app.
TelemetryTV Digital Signage Solutions for Casinos
Learn more about how you can drive revenue by delivering personalized experiences and promos to your casinos or slot machine locations.


Visual Communication. Everywhere.
Get started for free. No credit card required.