Hotel Lobby Digital Signage - Everything You Need To Know
In an ever-changing industry, hotels are doing everything they can to connect with their guests and stay one step ahead of the competition. This is where hotel lobby digital signage comes in.
WRITTEN BY: TelemetryTV, 01-31-2020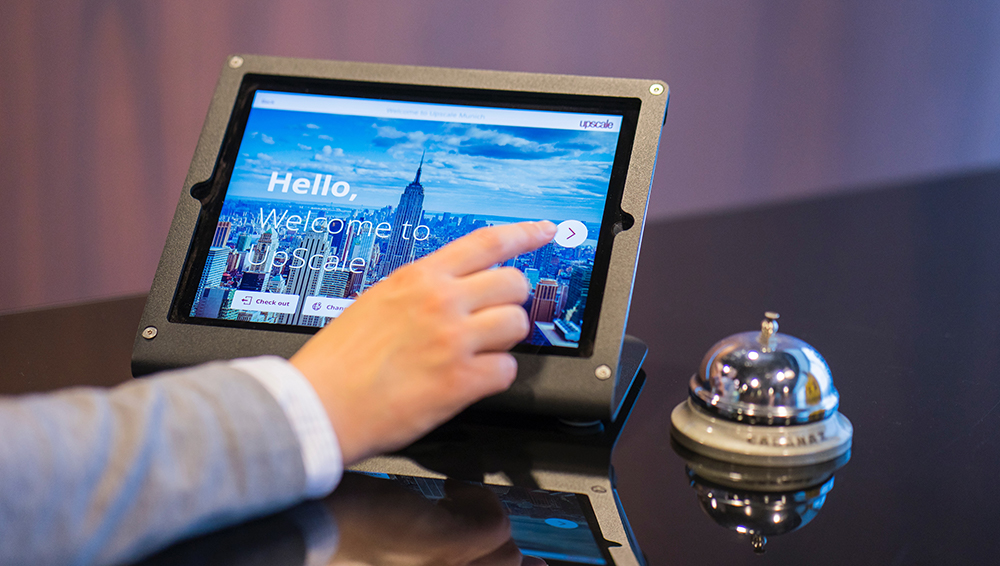 First impressions are everything. No one knows this better than hotels. That's why modern hotels are increasingly looking for ways to make a memorable impact on their guests right upon arrival. Anything less will leave your guest with—at best—a forgettable welcome experience, or—at worst—a downright bad one.
In the age of review-filled booking sites, that simply can't happen if you want your hotel to be successful and sustainable. That's why you need to take all the advantages you can get over your competition. Now more than ever, that means adopting digital signage for your hotel lobby.
So whether you're operating a large hotel chain or a small boutique hotel, here's why hotel lobby digital signage is a smart choice. In short, it's a great and cost-effective way to engage, entertain, and inform your guests like few other things can.
Why hotels should use lobby digital signage
Engage guests
No matter how much guests prepare before going to a destination, they'll probably be loaded-for-bear with questions: Where's a great place to eat nearby? How do we get to the famous sites? Do you know where we can exchange money? Etc.
These questions will almost undoubtedly fall upon your staff to answer, which uses your employees' valuable time that could be spent more productively elsewhere. For this reason, and for the equally good reason of engaging your guests and improving their overall experience, you should use your hotel lobby screens as a type of virtual concierge.
This can range from digital signs that display important information about the most popular attractions, restaurants, events, and other things to do in the area. That way, the first moment your guests walk into your hotel, the energy and anticipation of all the fun they are about to have will be palpable.
And hopefully any questions they might have will be answered without even having to ask.
Help guests find their way
For big hotels with endless hallways and floors, it's probably a good idea to install hotel lobby wayfinding screens. This will allow guests to use digital maps and signs to find their way around your hotel with ease. Directions to elevators, restrooms, on-site bars and restaurants, and amenities such as the pool or gym should be easily understandable with just a few glances to a wayfinding display.
After all, the last thing you want is your guests struggling to find their room or anywhere else in your hotel after arriving from a long day of travel.
This, paired with the virtual concierge approach, will save on employee bandwidth while impressing guests.
Modernize your lobby
Hotels are revamping their lobby experiences like never before in order to stand out from the pack. One of the best ways of doing this is by using hotel lobby digital signage.
For one, modernizing your lobby with digital signage is a great idea because it gives your brand the ultimate wow-factor. For example, digital signage for lobbies can be used in numerous ways to stun guests as they walk through your hotel's doors—from artful screen designs running eye-catching, abstract content to massive video wallsplaying flashy footage from the top sights and sounds of the city. Whatever angle you opt for, let your creativity flow and don't forget to incorporate branding wherever possible.
And secondly, rejuvenating your hotel lobby with a network of digital displays also comes with very useful functionality. It'll allow your hotel to push out fresh and exciting content on a regular basis and with ease.
Increase revenue
Lobby digital signage is also one of the top ways your hotel can increase its bottom line. The reasons are simple.
First off, potentially hundreds of people pass hotel lobby screens on the daily, making them prime real estate for marketers. Seek out local businesses that want access to these viewers and gain a new revenue stream for your hotel. Just remember not to go overboard. Your guests will be turned off if you bombard them with too many ads.
Your hotel digital signage should also attempt to funnel guests to your on-site bar and restaurant, rather than willfully letting your guests take their business elsewhere. Of course, one way to do this is by generally advertising your hotel restaurant and bar on your lobby's screens. But do even better and aim to sweeten the deal a bit. Run promotions, special events, discounts for your guests and increase your sales using digital menu boards.
Protect guests
Unlikely scenarios do happen. That's why hotels must take full precaution to protect their guests in the off-chance that a calamitous situation occurs. Perhaps the best way to protect guests during an unfortunate event is emergency messaging powered by your digital signage.
Emergency alerts and notifications can be broadcast to all of your screens to ensure your guests know how to react accordingly to a disastrous event such as a fire, an active shooting, or severe weather.
Internal Communications
With digital signage, you can optimize internal comms and increase efficiency in a variety of ways. From automation to streamlined, collaborative processes, employee-facing screens empower your staff with the ability to accomplish tasks in a more timely and organized manner.
This results in a more effective team with less to keep track of for each member. They'll be better equipped to provide top-level customer service--an absolute must in the hospitality industry.
Leverage Your Screens To The Max
TelemetryTV is the only digital signage software you need to drive engagement, productivity and revenue for your business.
Learn More
Top content to display on hotel lobby screens
Digital signage content for hotel lobbies runs the gamut from informative and entertaining to everything in between. As for what specific digital signage content is right for your hotel, that largely depends on your audience's desires and needs, as well as your hotel's overall goals.
With that said though, here is some of the most common content you can display on hotel lobby screens:
Property details (amenities, restaurants, menus, wayfinding, etc.)
Nearby sights and attractions
Weather updates
Transportation information
Event schedules
RSS feeds
Videos
Social media pages and feeds
Emergency alerts
Advertisements
Favorable booking reviews
How to get started with hotel lobby digital signage
To get your hotel lobby digital signage up and running, you'll need a few things:
Display
The first ingredient to snag for your hotel lobby signage is a display—or multiple if you want a network of screens. These can range from TVs and video walls to touchscreen kiosks and iPads.
Not sure what to buy? Here's our guide to the best TV displays for digital signageon the market.
Media player
Next, you should grab a media player(s). Media players are tiny computers that power content to your screens. The most common forms of media players are small boxes or plug-and-play devices. We recommend Android OS devices for their easy provisioning and user-friendliness.
The Nvidia Shield and Shield Pro are our favorite choices for media players at the moment.
Digital signage software
Digital signage solutions allow you to manage, schedule, design, and deploy content with ease to your displays. The best signage solutions are cloud-based and come with a wide range of robust apps and easy-to-use templates.
Not only does the TelemetryTV software have all of the above, but it also has dozens of apps and features designed specifically for the hospitality industry and lobby use cases.
Once your display and media player is set up, simply sign-up for TelemetryTV's 14-day free trialand pair your device. It's as simple as that!
Visual Communication. Everywhere.
Get started for free. No credit card required.