How Digital Message Boards for Schools Are Improving Internal Communication Strategies
Digital meesage boards for schools are a major part of today's educational technology. Learn how your school can get started with digital bulletin boards today!
WRITTEN BY: TelemetryTV, 02-19-2020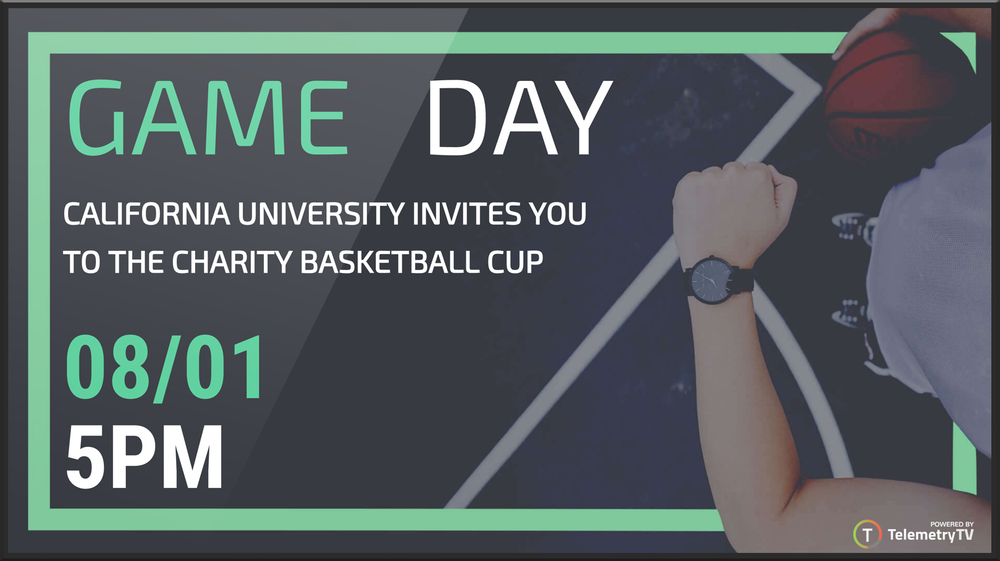 Schools and universities are extremely dynamic environments. Things change a mile a minute and keeping students, staff, and visitors all on the same page is a constant challenge.
That's why today's schools should utilize technology to help them communicate more quickly and effectively. One way educational institutions can do just that is by adopting digital signage for schools—electronic bulletin boards in particular.
What is a digital message board?
We all still have that image in our head of the traditional noticeboard or corkboard in our schools lined with a mess of paper announcements. Those days are long gone though. Not only are traditional bulletin boards extremely easy to ignore, they also take a lot more time to update and waste tons of paper.
Digital message boards, on the other hand, use high-resolution screens to enable you to communicate announcements, alerts, emergency messages and other valuable parts of your internal communication strategy more effectively to everyone on your school or university's campus.
After all, it's 2020. Students today overwhelmingly prefer dynamic content emanating from digital screens. Static content on old school bulletin boards just won't cut it anymore.
Benefits of using digital message boards
There are numerous benefits to switching out your old static boards for dynamic virtual bulletin boards:
Quick messaging
Need to get an alert out to your students, teachers, or visitors at a moment's notice? With digital message boards, content can be deployed to a screen in mere seconds.
Cost-effective
Once you've made the initial investment to set-up an electronic bulletin board, further costs for maintaining them will be minimal—especially compared to the printing and labor costs associated with paper announcements.
Easy to update
Electronic bulletin boards for schools are all about keeping students and staff in the loop at all times. That means content always needs to be up-to-date and relevant. With digital boards, you can change or update notifications or announcements in your schools digital signage CMS in seconds.
Environmentally friendly
We all know how saving paper helps the environment. With an electronic bulletin board, your school will never have to print out an announcement, event poster, or anything of the like again.
Visually appealing
Digital message boards for schools allow your messages to pop in a way that attracts eyeballs like few other things can. Think catchy fonts and colors, eye-catching graphics, and interesting photos and videos.
Better engagement
Like we mentioned earlier, everyone—especially young people—take in information from screens. It's the new normal. For that reason, any messaging your school wants to stick in the minds of people and garner engagement with should be pushed out on high-res screens that'll have a more lasting impact.
Remote management
Perhaps the best thing about electronic bulletin boards is that they can be managed, changed, and updated remotely from anywhere—assuming you use a cloud-based digital signage solution (which we highly recommend).
Leverage Your Screens To The Max
TelemetryTV is the only digital signage software you need to drive engagement, productivity and revenue for your business.
Learn More
How to get started with digital message boards
Getting a digital bulletin board—or digital signage in general—up and running in your school or university is simple and much less expensive than you might think these days.
Here's a quick rundown of everything you need to get started:
Finally, your school will need to sign up for a monthly subscription to a cloud-based digital signage solution. Most of the best cloud-based platforms offer a wide range of useful apps, features, and capabilities for schools that make managing a digital bulletin board and creating content super easy tasks.


2. Choose a screen
There are two hardware decisions you'll need to make before launching a digital bulletin board in your school. The first is selecting the right digital signage display. The type and size of the display your school will need depends on a variety of factors—such as use location, viewing angles, brightness, and use case. For more help, check out our guide to picking the right digital signage display and our top six screens for digital signage currently on the market.
3. Select a media player
The next part of the hardware equation is picking the right media player. Put simply, a media player is the device that will power content to your digital signage displays. Processing power and OS preferences are two of the primary factors in choosing a media player that is right for your digital signage needs. For more help, check out our guide to the best digital signage players for 2020
How to create your own digital message board content
Hardware and software are undeniably important, but content is the real deciding factor when it comes to the success of digital signage. That's why crafting top-notch content for your digital bulletin board is an absolute must.
Here's how your schools content can wow its students, staff, and visitors:
1. Utilize digital sign board apps
Creating content for a digital message board is a whole lot easier if your cloud-based solution comes with apps designed specifically for that purpose. Look for a notice app, an event app, a countdown app, or even an all-in-one bulletin board app. Drag-and-drop templates are a must as well.
2. Take advantage of free tools
Nowadays, there are dozens of great free tools on the internet that can help you create digital signage content, from free stock photos and video sites to Canva and Google Slides. If you need to whip up some flashy digital content on the cheap, there are plenty of viable options.
3. Know digital signage content best practices
Quality digital signage content isn't rocket science. It basically comes down to a simple recipe and—of course—creativity. In general, the best digital bulletin board content:
Informs, entertains, or solves a pain point for your audience
Meets specific objectives your school wants to achieve
Is highly readable, clean, high-contrast, and eye-catching
Includes social media and mobile integration
Opts for dynamic content over static
Stays up-to-date
4. Use scheduling and playlists
It's not enough to just create content for a digital signage bulletin board and then let it stay there until your students have seen it a million times. Keep it fresh. Schedule content to run at certain times as well as create content playlists that allows your messaging to constantly rotate so no one ever gets tired of it.
What type of content can you display on digital sign boards
The most common kinds of content on digital bulletin boards for schools include:
School-wide notifications
Event announcements
School policy reminders
Emergency alerts
Local advertisements on university campuses
Class schedule or room changes
Employee or student recognition
Content that boosts school spirit
TelemetryTV's all-in-one cloud-based solution comes with a variety of apps designed specifically for digital message boards and much, much more. Try it today by signing up for a completely free 14-day trial.
Visual Communication. Everywhere.
Get started for free. No credit card required.