Digital Signage for Pizza Shops: How it helps to sell more
Digital signage enhances the customer experience in pizza shops while making operations more efficient. Here's how to use it
WRITTEN BY: TelemetryTV, 03-22-2022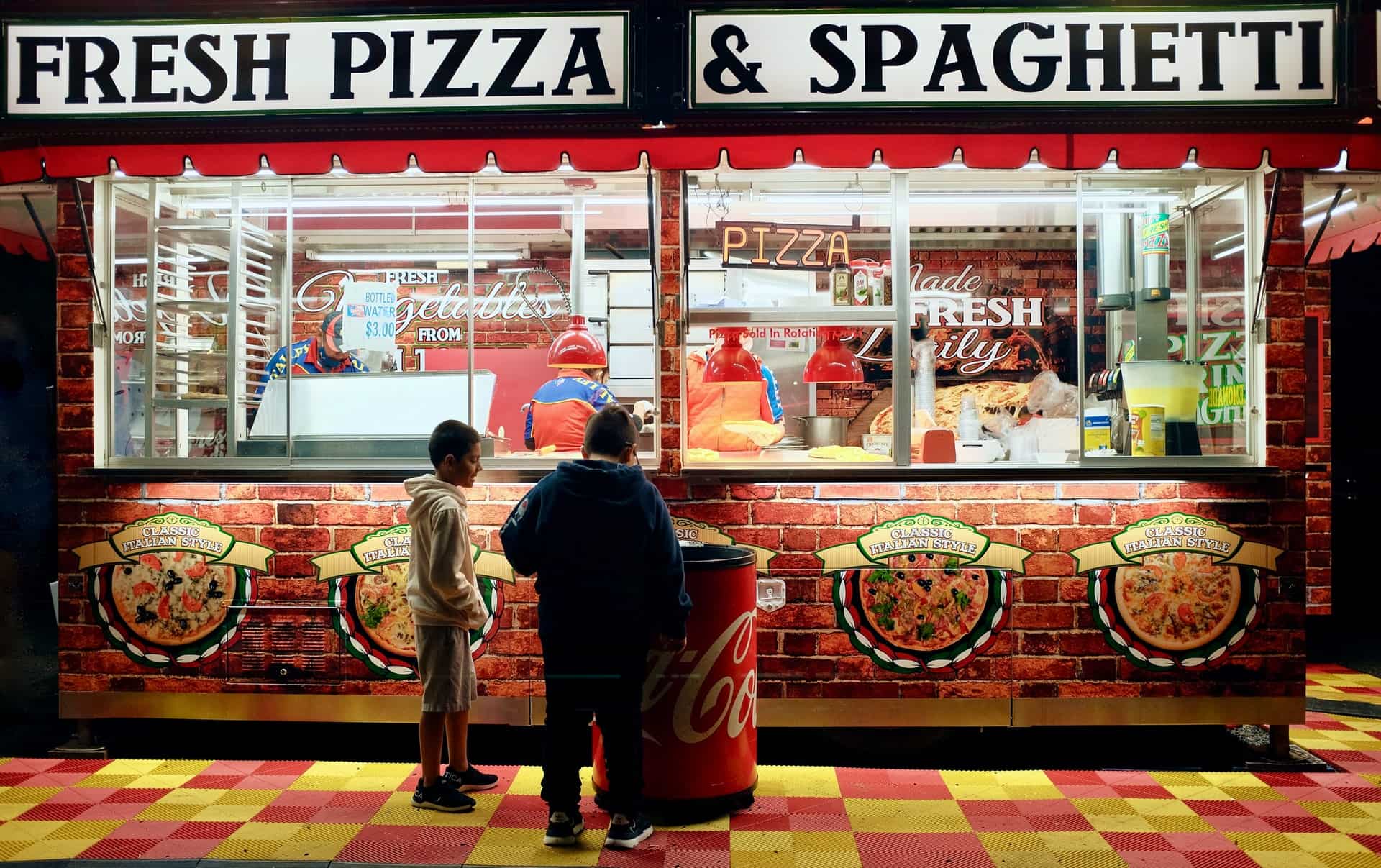 Like any restaurant these days, pizza shops can benefit massively from upgrading their menus and marketing efforts through digital signage.
Granted, there is a nostalgic, old-school element to some pizza shops, but the fact that digital signs are far more engaging, enticing, and effective than printed signs makes adding them to your shop an easy business decision.
Plus, who says you have to stop having that authentic, old-style décor and feel after implementing digital signage?
You can have the best of both worlds and the digital menu boards will only add to the ambience and dining experience if done right.
With that said, here are some of the top ways that pizza shop digital signage can modernize your business and boost revenue as a result.
Storefront Digital Signage for Pizza Shops Attracts Customers
Firstly, you need customers to notice your pizza shop. Passersby and people in the vicinity need to clearly be able to see that you are a pizza shop, and it would be even better if they could see mouth-watering videos of your pizza being made and served.
Digital signage in your shop's windows and storefront allows you to display dynamic content in bright, high-definition that is almost impossible to ignore. You'll grab people's attention and get their stomach grumbling once they see the rich detail in your pizza shop digital signage.
How Digital Menu Boards for Pizza Shops Increase Profits
Let's face it, printed menus don't even come close to showing you what the food actually looks like. Plus, they get faded over time and need to be updated, often resulting in ugly paste-over prices and menu tags.
Digital menu boards are a far better option for displaying food items. That's because they let you display any type of content that you want—videos, photos, digital graphics, and text. Digital menus can even be interactive, which lets your customers engage with your menus.
Not only that, digital signage can be updated in seconds remotely from any device with a web browser. A cloud-based CMS (content management system) makes it super simple to log in and make adjustments in seconds.
The bottom line is, printed signs are clunky, wasteful, and less effective than digital signs. Digital signage gives you far more flexibility and power to entice customers into buying more.
Set Content to Change Automatically with Digital Signage
One of the biggest advantages of switching to digital menu boards and digital signs over print is the ease of use. You can set up all changes and content playlists to switch automatically at a certain time of day, or on certain days of the week or month.
For example, if your pizza shop offers lunch specials that end at 2pm, your menu can switch back to normal pricing and dinner combos without you having to do anything at all.
This all gets managed within your CMS and takes seconds to set up or change.
Increase Social Media Engagement
Display social media tickers across your pizza digital menu board and marketing signage to promote your social networks. You can even include posts from customers who decided to show their love for your pizza pies on Facebook or Instagram.
Incentivize social media engagement using your digital screens with giveaways and offers for those who participate. The result will be more followers and interactions with your brand online, and in turn, more orders, whether they be in-store or for delivery.
Compare Automatically Generated Reports to Sales Numbers
Find out which content works best by comparing sales figures with playlist data. That way, you'll be able to pinpoint the best content playlists for each individual location.
You'll also be able to compare engagement like social media interactions, app reviews, and more. Your digital signage CMS generates reports at the click of button that give you valuable insight into the performance of each store and its digital signage.
Digital Signage for Pizza Shop: How it works
All you need in order to use digital signage for your pizza shop are the displays, media players, and TelemetryTV. We provide an app that takes care of everything you need. You can create all of your content using native apps within our software, and automate the rest.
It's super easy to use, even novice users won't have a problem navigating its features. That means you can delegate digital signage management to any of your staff members.
Get Started with TelemetryTV Solutions Now
Still not totally sure if you're ready to dive in with pizza shop digital signage? Try out a free trial now of the TelemetryTV app totally free.
Visual Communication. Everywhere.
Get started for free. No credit card required.