Top Benefits of Cafe Digital Signage Software & Solutions
Digital signage offers a ton of benefits for cafes. Here's how it can boost sales and how it all works
WRITTEN BY: TelemetryTV, 04-15-2022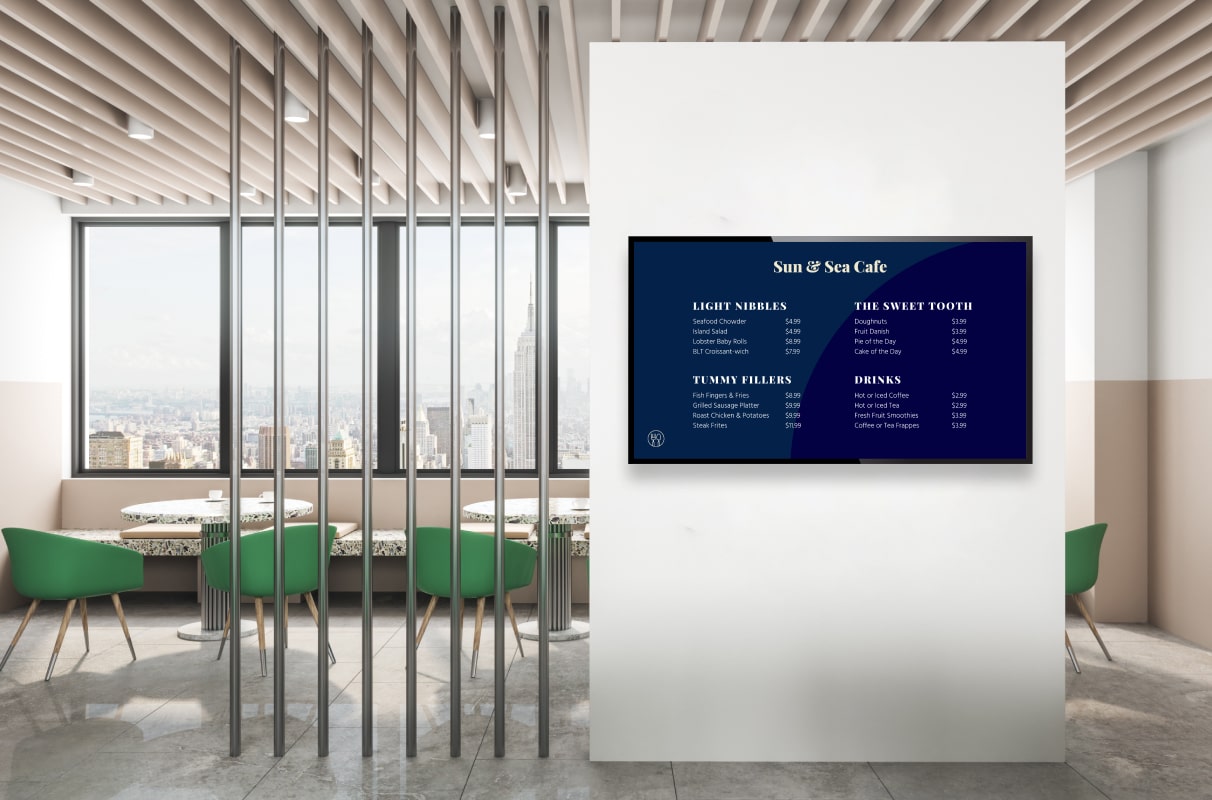 Presentation is super important for cafes. After all, people go there for the charm, ambience, and the experience. If not for that, they'd simply pass through a drive through each time they wanted a late, or opt for homebrew.
With that said, presenting your menu and products in the most aesthetically pleasing way possible is key these days. So it's no wonder that digital signage software like TelemetryTV is popping up at cafes all over the world.
Here, we'll go over why digital signage is such a great addition to any café, how it works, and how to leverage cafe digital signage for your business.
Leverage Your Screens To The Max
TelemetryTV is the only digital signage software you need to drive engagement, productivity and revenue for your business.
Learn More
How to use Digital signage for Cafes: Top Use Cases


Let's be honest, printed poster menus are way behind on the times. They need constant changing, they're clunky and require valuable bandwidth to manage and replace, they deteriorate and fade over time, and they're downright wasteful.
Digital menu boards are a major improvement, not only for their efficiency, but for the way that customers respond to them. They're way more engaging. Bright, UHD screens showing dynamic content with graphics and videos are so much better at capturing the attention of potential customers.
People entering your café who aren't totally sure if they're going to order anything yet will be persuaded by your digital menu board content with mouthwatering images and videos of café drinks being made and served alongside their names on the menu and sizes.
You can make changes remotely from the TelemetryTV app super easily. You can even add themes on the fly that will take effect instantaneously across as many screens as you choose.
Make Promos and Specials Look Better
Your products will literally glow on your digital screens. And you'll be able to use graphics and more attractive content that catches the eye in order to push your morning or lunch specials and limited time offers.
Digital signage also makes upsells and cross-sells easier at the point of sale. You'll see an increase in add-ons and upgrades to customers' orders with attention-grabbing last-minute offers on digital screens that can't be ignored.
Increase Brand Loyalty and Customer Engagement
Since people hang out at cafes, digital signage is an ideal way to continuously market to them. Your digital signs can help you to connect with your customers.
Instead of just highlighting your promos and offerings though, use digital screens to engage with your viewers.
Adding social media content into your playlists is a perfect way to do that. It could be as small as the occasional ticker across the bottom of the screen, all the way up to having multiple screens dedicated solely to social media engagement.
You can promote your social media channels by posting fun, on-topic content related to holidays and current events, or repost from satisfied customers. Giveaways and discounts can give people more incentive to post from your store or about your products.
Sharing reviews and stories from your customer base makes them feel appreciated while supporting your brand and spreading the word.
TelemetryTV Digital Signage Solutions for Cafes



The TelemetryTV app is intuitive and can be used by novice users easily. You can even create your content and playlists right within the app with native support for Canva and a variety of other tools and templates.
Use your own media files and simply drag and drop them to craft custom playlists in no time. Once your playlists are made, you can manage your live content remotely from any device by logging into your cloud-based CMS (content management system) through a browser.
Automate your entire content calendar right down to the hour for a hands-off approach, or manage each screen's content daily if you choose. Adding themes and updating content takes seconds and can be made live or reversed at will.
Get Started with the TelemetryTV App Now
All in all, TelemetryTV is an extremely useful and beneficial tool for cafes that frankly, café owners can't afford to pass up on any longer.
Request a free demo now to see how it all will work for your business specifically. And sign up for a free 14-day trial of TelemetryTV to see first-hand how simple it is to use digital signage software for cafes.
Or to learn more about the features of TelemetryTV, check out our Software Features page.
Don't continue to miss out on the numerous benefits of cafe digital signage. Get started today!
Visual Communication. Everywhere.
Get started for free. No credit card required.