Doctor's Office Digital Signage: How It Helps Doctors and Patients
Digital signage helps doctor's offices provide better patient experience and streamlined operations. Here's what you need to know.
WRITTEN BY: TelemetryTV, 01-14-2022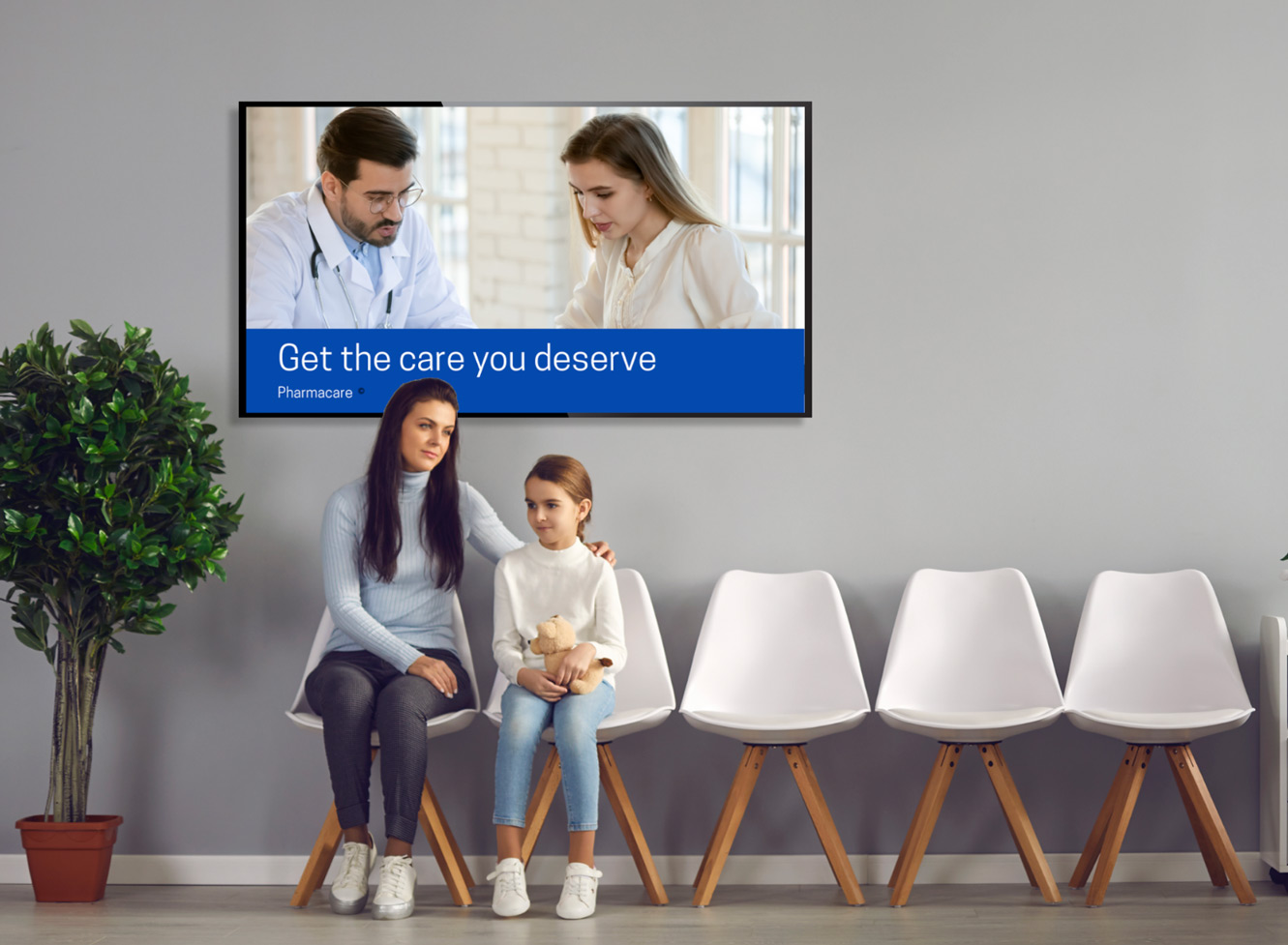 It's no secret that digital signage provides a wide range of benefits to healthcare organizations looking to improve the patient experience and boost their operational effectiveness.
But, up until recently, it was mostly only hospitals and other large healthcare organizations that could afford to get in on all those digital signage perks. Now though, thanks to the massive reduction in the costs involved with installing digital signage, even small doctor's offices are getting in on the action and reaping the benefits.
Benefits of digital signage for doctors offices



1. Patient self-service
In most cases, doctor's offices don't have the biggest teams or most resources at their disposal. Because of this, in order for your medical office to run smoothly, employees must be able to put their labor towards the things that matter most.
Self-service check-in kiosks free up staff to accomplish more productive duties rather than entering basic patient information into a computer. That way, patients can enter their details and medical history by themselves, redirecting your staff's labor to more important goals.
2. Internal communications
Digital signage in doctor's offices can also be used for employee-facing communications. What do we mean by this? Well, put simply, you can broadcast helpful content on your screens so that your staff always stays informed and aware.
Examples of this include content such as work policy updates, daily reminders, patient schedules, and emergency messages.
3. Build trust with patients
The medical industry is all about reputation. Patients need to know that their health is in the hands of trustworthy and qualified professionals.
Digital signage in your medical office can help achieve this. Digital displays can be used to show off things like your medical staff's credentials and satisfied patient testimonials.
Sure, these seem like small things but you'd be surprised by how far they can go toward building patient trust.
4. Eliminate paper signage
Switching from traditional signage to digital signage is a win for any organization—no matter the industry. The reason is twofold.
For one, digital signage eliminates the costs associated with printing paper signage on a regular basis. And two, digital signage helps save time and labor costs because it is can be updated with just a few clicks of a mouse.
5. Point of care communications
Digital signage at the point of care (POC) is a great tool to generate additional revenue, build patient trust, and boost health outcomes. Put simply, there are very few places you can reach patients as easily as the place they are receiving care.
But healthcare communications at the point of care must be both ethical and beneficial to the patient. Fortunately, the TelemetryTV app is one of the few PoC3 certified digital signage platforms out there.
How doctors office digital signage helps patients


1. Educate patients
Fostering healthy and happy patients is the number one priority for pretty much any healthcare practice. Of course, the actual care and treatment your patients receive from your doctors and nurses forms the majority of this, but you shouldn't stop there.
Digital signs in your doctor's office should be used to educate patients as well so they know how to improve and maintain their health when they aren't in your office. Examples of this include content like preventive health tips, dietary suggestions, drug facts, management of symptoms, and more.
2. Waiting room entertainment
No one likes sitting in a waiting room for long periods of time with nothing to do but twiddle their thumbs. And let's be honest, magazines just don't cut it anymore.
That's why every doctor's office nowadays should utilize screens to entertain patients as they wait for their appointment. Types of entertainment you can show on your digital displays include live TV, news, online videos, and weather updates.
Most cloud-based digital signage platforms come with numerous video streaming apps built-in.
3. Increase patient convenience
Like we mentioned earlier, self-service check-in systems help your medical office staff focus on the most important tasks at hand. But, on top of that, allowing your patients to check themselves in also makes things a lot more convenient for them.
Instead of grabbing a pen and going to the front to ask to check-in when they arrive, they can simply go to your touchscreen display and check-in in seconds.
TelemetryTV's solution for doctors office signage
TelemetryTV's all-in-one platform makes deploying digital signage in doctor's offices a breeze. To find out more about how TelemetryTV can help your medical office, try out the app for free today.
Visual Communication. Everywhere.
Get started for free. No credit card required.