How Digital Displays Help Businesses Keep Users Engaged
Keeping employees and customers engaged is a critical element to success. Here's how digital signage displays can help.
WRITTEN BY: TelemetryTV, 10-20-2021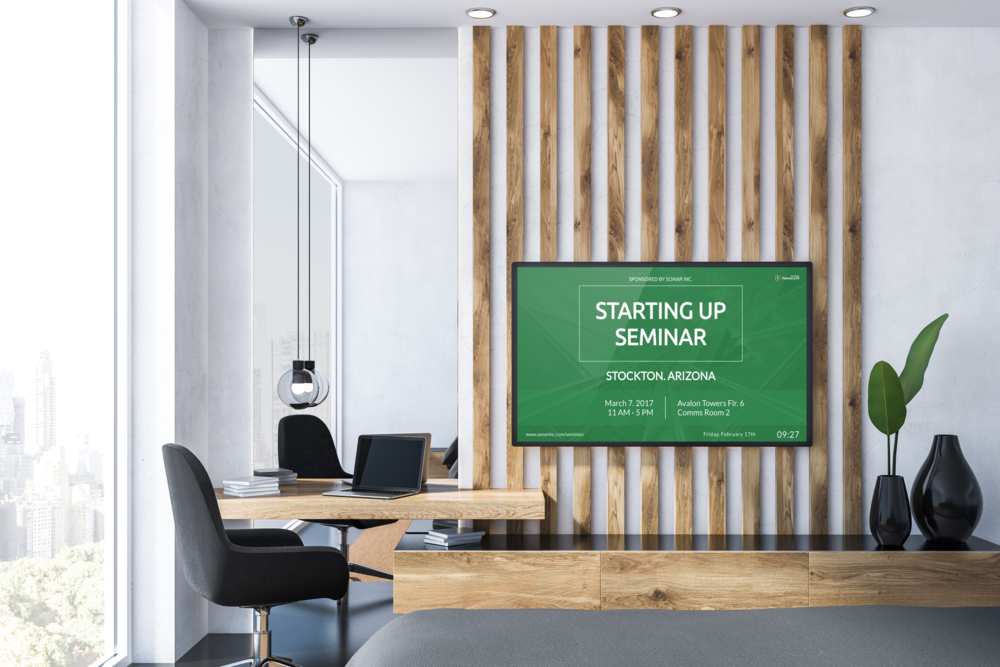 Digital signage carries many benefits, from helping businesses grow and market themselves to giving people relevant information when and where they need it. Arguably the number one advantage of digital signage, however, is its ability to draw people's attention and keep them engaged.
According to one study, 63% of respondents said that digital signage displays catch their attention. On top of that, people who've seen a digital video display in the past month are much more likely to recall the content they saw. Over 70% of people say that ads on digital signage displays are more prominent than ads on both television and online, which makes sense given the dynamic and eye-catching nature of large digital screens.
With that said, let's take a look at how digital signage keeps users engaged—no matter what industry you're in.
Attract and retain customers
Digital display signage helps businesses attract and retain customers in a variety of ways.
1. Build brand awareness
Digital screens are prime real estate for companies to build brand awareness. By using digital displays to create a consistent and appealing brand image, your brand will become much more memorable in the minds of consumers. Well-designed, branded content displayed on digital signage can go a long way.
2. Push consumers to action
You can also use digital media displays to push consumers to action. For example, things like digital menu displays or interactive digital display screens can be used to showcase hot promotions or special bargain prices. POS digital signage displays have also been shown to increase sales at the point-of-purchase. Just be sure to follow call-to-action best practices when crafting your digital signage content.
3. Interactivity breeds engagement
Statistics show that increased interactivity leads to higher engagement. Touchscreen displays provide a great avenue to encourage interactivity. In retail, this could mean touchscreens that allow shoppers to sign up for customer loyalty programs. In the restaurant industry, it could be digital touchscreen menus that streamline the ordering process. Or it could be touchscreen wayfinding kiosks that help visitors find their way through your offices.
4. Deliver highly targeted content
It's no secret that users engage more with content that they want or need to see. Digital signage has the unique ability to get relevant or entertaining content to those people. The ability to target content to specific audiences is primarily done with scheduled playlists and localization. In layman's terms, this just means that you can beam out content to certain screen(s) at certain times—either manually or in an automated fashion.
5. Provide consumers with a pleasant experience
One thing we know for sure: customers won't engage with brands that provide poor user experiences. It's a non-starter for most people, which is why more and more businesses are adopting digital screens to enhance the customer experience. Some examples of this include waiting room signage that entertains visitors while they wait, self check-in screens in hotels, or digital directory kiosks that give visitors the information they need.
Keep employees engaged and productive
Digital signage displays can be used for internal communications as well. More specifically, digital screens can be used to increase employee engagement by:
Announcing new workplace policies and standards
Informing employees of upcoming events or deadlines
Top digital signage features to boost engagement
The TelemetryTV platform comes built-in with hundreds of apps, features, and templates that make creating, managing, and displaying digital signage content an easy task. Dozens of these apps can be used to boost user engagement, such as:
Automated playlists
Content scheduling
Canva integration
Google app suite
Events
Marketing dashboards
Youtube and other video apps
Social media walls
Slack and other productivity apps
KPI metrics
Wayfinding
Calendar
Getting started with TelemetryTV
If that's not enough, TelemetryTV also offers custom integrations, app creation, and overlays (all through our API). Try a 14-day free trial of the TelemetryTV digital signage app today to see it in action for yourself.
Visual Communication. Everywhere.
Get started for free. No credit card required.