Top Digital Signage Trends in 2022
Digital signage is set for another massive year in terms of adoption, tech, and use cases. Here are the key digital signage trends to look out for in 2022.
WRITTEN BY: TelemetryTV, 02-08-2022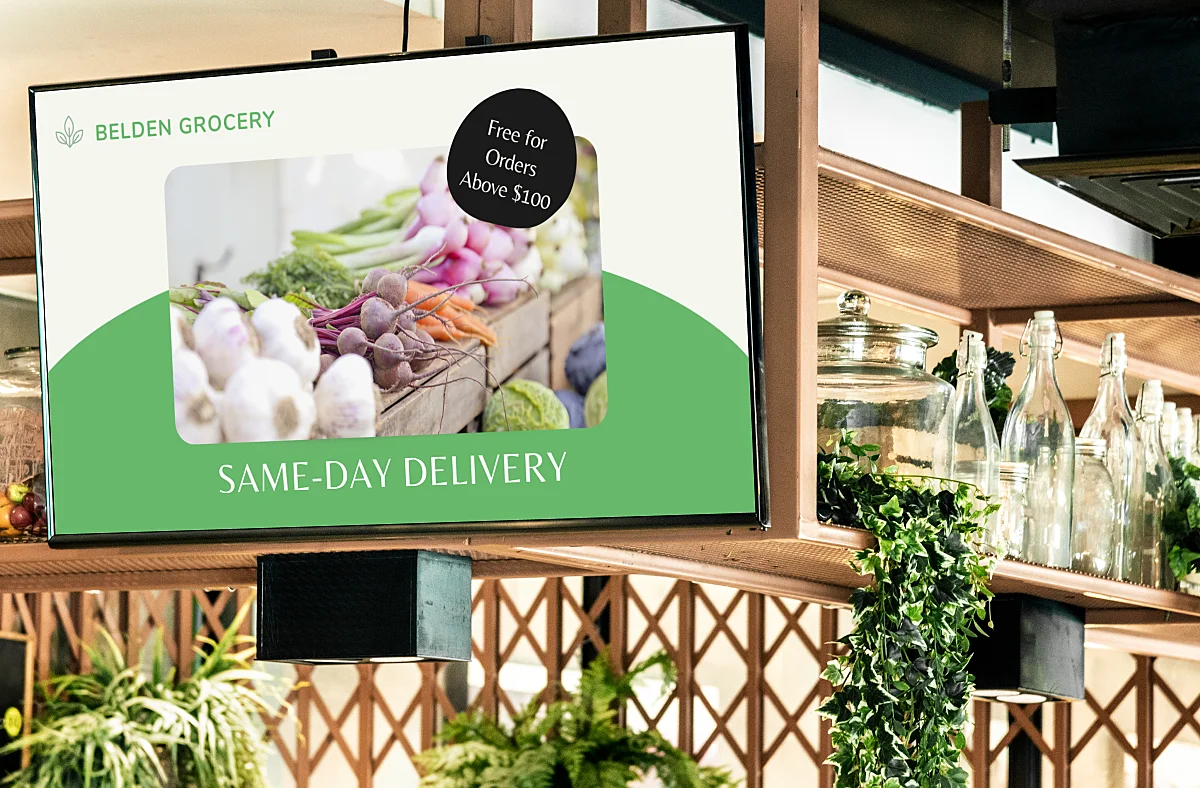 Digital signage is fast becoming a ubiquitous technology in nearly every industry—whether it be healthcare, hospitality, advertising, or transportation.
That's because digital signage has evolved over the years into becoming a game-changing technology that comes with nearly limitless use cases and benefits.
With that said, here are the key trends that will drive digital signage forward in 2022 and make it even more beneficial and accessible to businesses—small or large.
Increased advertising opportunities
In recent years, digital signage has flourished in the realm of advertising. This is true for both DOOH advertising like digital billboards and other outdoor digital signage as well as the indoor digital signage you'd typically see in places like malls, airports, or stadiums.
The reason for this massive growth is due to the accessibility of digital signage. No longer is digital signage only an investment that huge organizations can afford. Now more and more small businesses are using digital signage for advertising purposes as well.
How? Well, let's say you own a small business like a fast-casual restaurant or a brick-and-mortar retail shop. Digital in-store displays allow you to sell the ad space available on your screens to local businesses looking to market their goods or services to more consumers. This creates a much-needed additional source of revenue for your business.
There's no doubt that increased branding and advertising will be a top future trend in the world of digital signage.
Social networking integrations
Another hot trend in digital signage is integrating social media into your digital signage content, boosting your social media footprint and increasing customer interaction with your brand.
Some digital signage content management systems (CMS) come with social media apps built-in so that integrating your business' social accounts into your digital signage content scheduling is a super easy process.
In short, this means that your content can feature things such as Instagram, Twitter, and Facebook feeds as well as social media posts that paint your brand in a great light. It also helps customers know how to connect with your brand even when they aren't physically in your store.
Voice-enabled digital signage
The next two digital signage trends focus on digital signage tech advancements. Tech advancements that many would only think possible in science fiction films.
The first is voice-activated digital signage. Put simply, voice-enabled digital signage is exactly what it sounds like. It allows users to communicate and interact with digital displays using their voice alone.
In the past couple years, voice-activated signage really took off due to the COVID-19 pandemic and a hands-free method of interaction becoming a much healthier alternative than touch-enabled screens.
Voice-enabled signage is also extremely convenient. All users need to do is issue a command and the screen will adapt the content to their needs. You can think of voice-activated digital displays as similar to AI assistants like Amazon Alexa and Siri—just with a visual component.
Facial recognition digital signage
The other futuristic digital signage feature that's currently trending is face recognition.
Instead of storing users' identifying features or using face recognition in a dystopian sense, facial recognition in digital signage simply refers to the use of cameras on digital displays to better understand and analyze audiences so that content can better be targeted to them.
Useful audience metrics that digital signage face recognition can pick up are gender analysis, foot traffic, and demographic statistics. When paired with the time of day and screen location, content can be deployed much more effectively and thoughtfully.
Large displays
As you probably already know, the technology behind screens is getting much better. First and foremost, this means they are cheaper to produce and hence, less costly to consumers. And second, they are able to maintain high resolutions even while increasing the size of the screen significantly.
This has led to businesses adopting bigger and bigger displays to showcase their digital signage content on—wowing consumers in the process.
On top of that, video walls have also become a trending feature in digital signage. This is because video walls allow companies to use multiple screens as one to create an awe-inducing large screen that is impossible to ignore.
Ask almost any business and they'd all love to have a massive screen boosting their brand, highlighting deals and promotions, or running ads as an additional source of revenue. Now, it's way more possible.
Getting started with digital signage in 2022
Since digital signage is easier and less costly than ever to install, more and more businesses will turn to digital signage in 2022 than ever before.
Want to know how your business can benefit from digital signage? Visit TelemetryTV and try a free digital signage demo today.
Visual Communication. Everywhere.
Get started for free. No credit card required.