How Any Small Business Can Boost Sales with Digital Signage
Digital signage has quickly become an effective way for small businesses to increase sales and show off their products and services in new and interesting ways. Here's how.
WRITTEN BY: TelemetryTV, 12-23-2021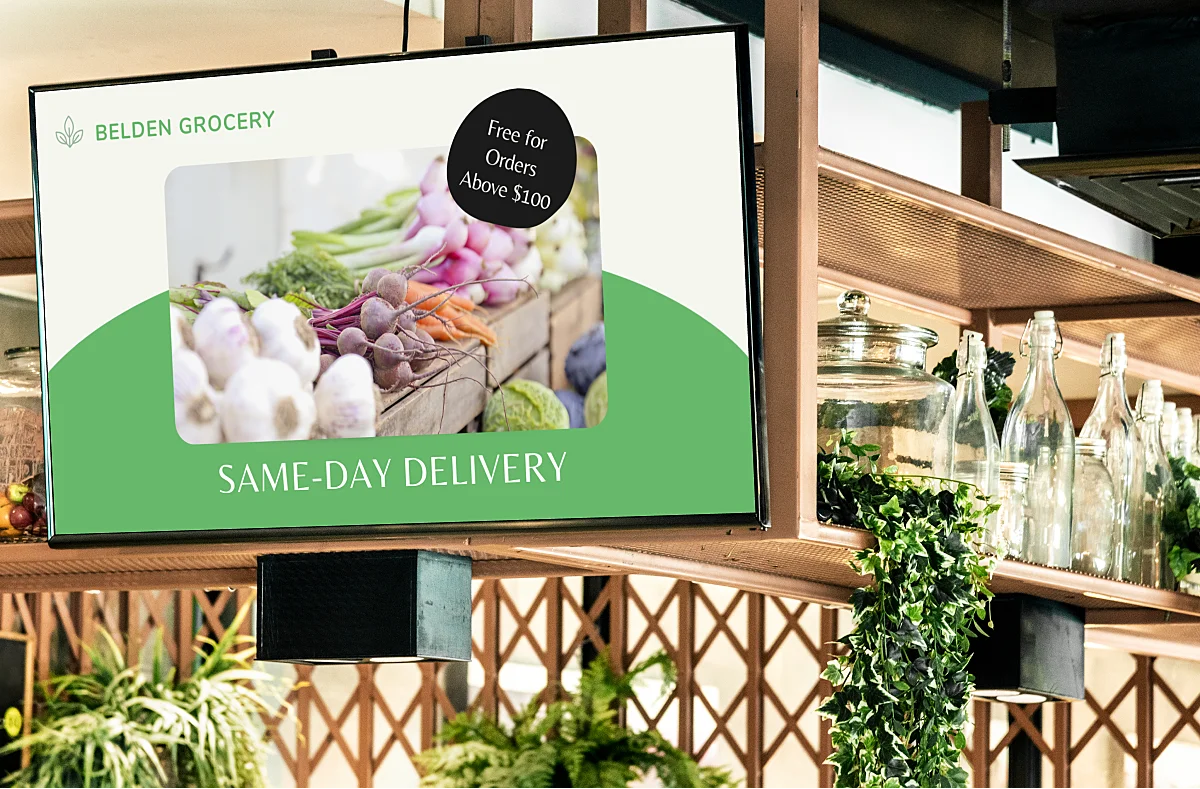 It's pretty much a consensus nowadays that digital signage is a powerful tool when it comes to driving sales.
It's why so many retailers are turning to digital signage to boost their sales. And it's one of the main reasons why digital signage is becoming ubiquitous in places like fast-casual restaurants, brick-and-mortar stores, malls, gas stations, stadiums, and the like.
Digital signage as a tool to increase sales
But many small businesses out there in search of better sales numbers are initially scared away from digital signage. They mistakenly assume that investing in digital signage is too costly, too complicated, and too time-consuming.
Sure, while that was undoubtedly true at one point and time, it's definitely no longer the case. Digital signage is cheaper and easier than ever to install and use—thanks to the huge advances in the tech behind it.
In fact, more and more small businesses are adopting digital signage and reaping the huge number of benefits it provides—including the ability to boost sales.
That said, here is everything your small business needs to know about digital signage and how it can increase your sales.
Advantages of digital signage for small businesses


1. Engage in promotions
Every retailer knows that shoppers are always on the hunt for bargains. It explains why promotions, sales, and special offers get customers inside stores like few other things can.
Digital signage allows small business owners to promote their goods and services on super eye-catching, high-definition screens for all to see. Needless to say, this kind of advertising of promotions is much more effective than special deals advertised on stale traditional signage.
For brick-and-mortar retailers, digital signage should be used to highlight promotions at the front or entrance of the store. Digital displays can wow window shoppers by showing off a deal that just might get them to enter your store.
For those in the restaurant industry, daily specials and other food promotions should be showcased on digital menus or on displays at the point of purchase.
2. Interact with visitors
Touchscreen digital signage also offers shoppers interactivity, which can both improve the customer experience as well as let shoppers interact with your brandin more memorable and meaningful ways, which—in turn—leads to more repeat customers and higher sales.
The best examples of interactive digital signage for small businesses include self-check-out touchscreen kiosks and touchscreen displays that allow shoppers to sign-up for loyalty programs or subscribe to email lists for deals.
The key to successful interactive displays is content that is convenient and provides tangible value. If your touchscreen displays are not user-friendly or don't have anything of substance to offer consumers, then you're better off not even having them.
3. Show product catalogs
Small businesses should also use digital signage to show off their product catalog in flashy and unique ways that otherwise wouldn't be possible without it.
What do we mean by this? Well, digital signage allows small businesses to use a wide array of content. Content like video, text, images, motion graphics, effects, and animation.
When these types of content are combined with attractive digital displays, the options on how you can flaunt your products and services in new, creative, and visually stunning ways are nearly limitless.
Product catalogs can also be displayed on interactive screens so customers can browse your entire product inventory at their leisure. This is also a great way to bridge your brick-and-mortar store with your online product catalog.
4. Build brand awareness
Small business digital signage can also be used as a means of increasing brand awareness. There are a couple of ways small businesses can achieve this.
First, they should use their screens to create a cohesive brand identity. This means using the same colors, design choices, and brand theme on content used across all of their in-store screens.
Second, digital displays provide the perfect opportunity to tell your brand's story and to show off what it stands for. For example, you could display a video on your screen that tells how your brand was founded and how it has worked to help the local community.
Doing these two things can transform your small business from "just another brand" to "oh, I know that brand". And once you're lodged in the mind of consumers, then it's a lot more likely they'll buy something from you than some other brand in the future.
TelemetryTV digital signage solutions for small businesses
If you're a small business owner and want to get started with digital signage, you'll need three things: a screen (obviously), a media player, and a CMS for digital signage to manage and deploy content to your screens.
TelemetryTV's digital signage CMS is a great choice due to its user-friendly interface and low cost. To find out more, visit the TelemetryTV site today.
Visual Communication. Everywhere.
Get started for free. No credit card required.