12 Ways to Improve Customer Experience with Digital Signage in Retail Banking
Banks are always looking for ways to improve their CX. Digital signage is a dynamic and highly effective tool for that. Here's how
WRITTEN BY: TelemetryTV, 11-19-2022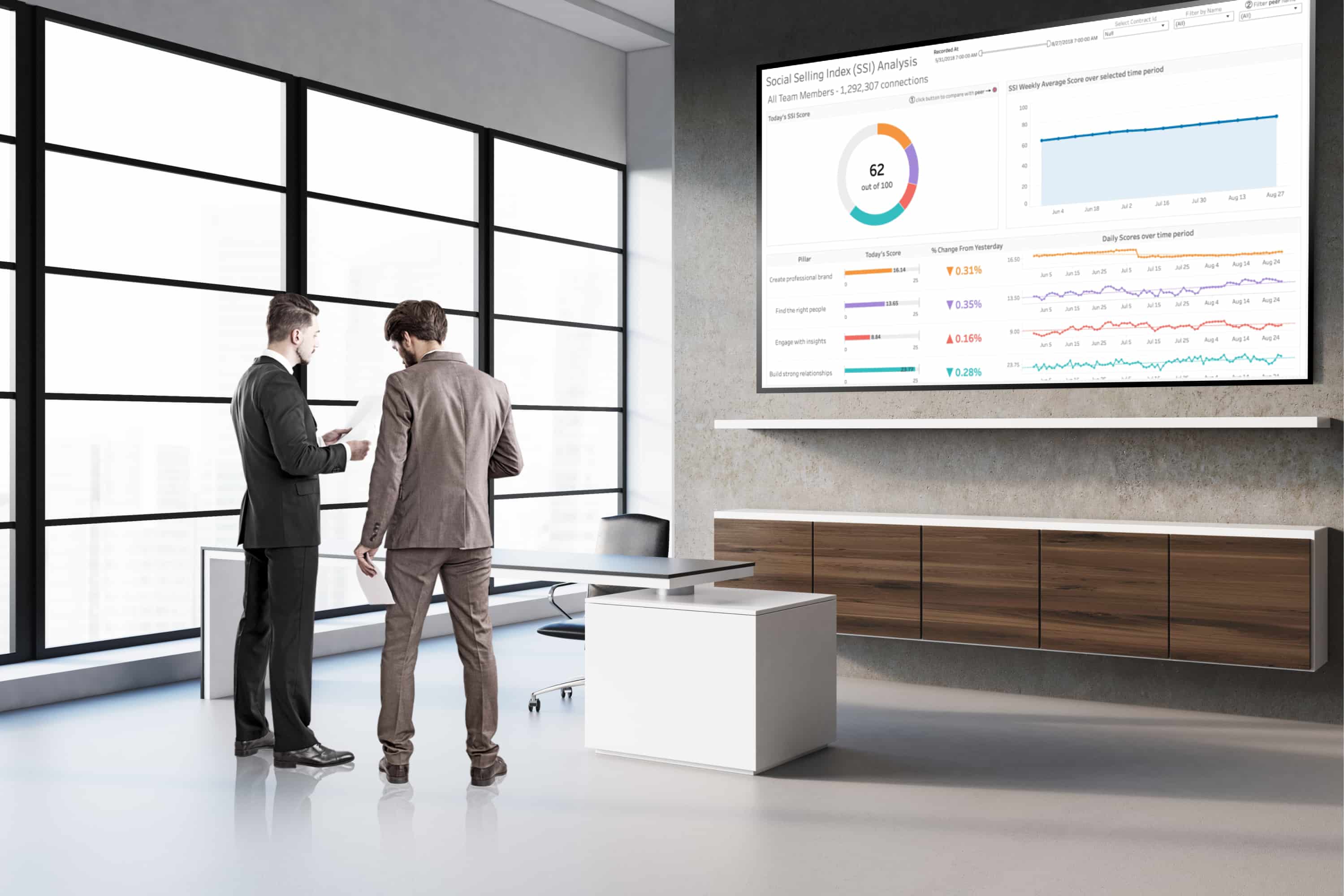 Having a top-notch CX (customer experience) is extremely important for retail banks. Banks that want to stay competitive must always offer the most modern conveniences available.
And since technology is always evolving, that means adopting new hardware and new software frequently in order to keep up.
One of the most important tools in today's retail banks is digital signage, including interactive touchscreens. Digital signage's dynamic nature allows you to accomplish a wide variety of tasks, all managed remotely with one interface.
Whether its employee facing screens, screens for marketing content within a branch, outdoor digital signage, or interactive digital kiosks, digital signage is a very valuable tool that no bank these days should be without.
In this post, we'll go over some of the best ways to improve the CX at your bank using digital signage.
Digital Signage CMS for Banks, Credit Unions, and Financial Services
Engage clients and promote services while reducing your digital signage network's total cost of ownership.
Learn More
Market your latest offers and promotions
Advertising is an essential element of your in-branch experience. Use digital signage to spread the word about your latest promotions and offerings.
This can include details about loan and mortgage programs, savings accounts, cash back cards, and more.
Digital signage is bright and eye-catching, so it's the ideal tool to grab clients' attention and deliver your marketing messages at a glance.
The information you provide can even be interactive with digital kiosks that have 'Show More' buttons, executable videos, and other interactive content.
Highlight fees and any changes
If your rates change in any way, or if you simply want to highlight how your rates compare to those of your competitors, displaying that information on your digital screens is a good idea.
That way, clients will see that you're transparent about what you charge. And if you have an advantage over the competition in terms of your rates or what you offer, then highlight that for clients to see.
Show currency exchange rates, stock market trends, & dashboards
Displaying the rates of the hour, graphs, trends, and other information makes things easier for clients who are interested. That way, they don't have to ask for your currency exchange rates or information of this nature, and they'll have the convenience of having it right in front of them from the start.
Adding real-time content to your digital signs is simple with tools like Webshots. This tool lets you display real-time screenshares of websites, including both public websites and internal intranet sites.
Any website you choose will be displayed in a window on your digital screen using a feature like Playlist Zones to partition your screens, or display them in full screen if you choose.
And with the App Library, you can access over 70 turnkey apps like Twitter, Calendar, YouTube, or RSS—all of which can be set up in minutes and displayed on your digital screens.
Add video walls with branded content
In the marketing world, its 'go big or go home'. Extra-large digital displays made up of multiple screens are unmissable. They're one of the most effective ways to get people's attention.
Create video walls with high-resolution screens functioning together to produce one giant QHD display.
Video walls create custom full pixel resolution, not scaled. This is important to the picture quality displayed on your screens to make sure it looks crisp.
Then you can use your video walls to show branded content, market your offerings, and anything else that supports your goals.
Display news, announcements, and updates
You can also use your screens to display local news, event details, and even third-party advertisements. If your bank will participate in a local fundraiser, use your screens to let your clients know.
Participation in your local community will add credibility to your brand, so use your signs to show videos and content related to your involvement with bettering your community.
This can be extended to national and even international charities, awareness campaigns, and more.
You can even use your screens to entertain clients who might be waiting to speak with a representative or teller by showing streams from news networks or engaging social media content.
Keeping clients engaged will reduce perceived wait times and offer value in the process. Just make sure what you're showing is good enough to keep their attention.
Offer interactional opportunities
Having interactive signage can improve your CX in a lot of ways, one of which is giving clients direct access to the information and applications they need, right there in your branch.
One of the best tools to accomplish this is a digital kiosk, which is essentially a tablet or other touchscreen display embedded into a podium-type encasing.
Interactive kiosks display apps and content playlists. When in kiosk mode, your digital signage software can be set to automatically open your app if it ever closes, restrict certain functions to prevent the user from closing the app or opening other apps, and more.
The digital signage software that powers your kiosk can integrate the apps you use daily, such Google or Microsoft apps. Or you can create custom apps to offer the functionality you need.
An HTML SDK will allow you to easily create your own custom apps using a template that ensures compatibility and saves time. Then, if you need new functionality that you hadn't thought of when first adopting your digital signage solution, you can simply create it with your custom SDK. The apps you create can be as robust and feature-rich as you need.
And for all of the content of your digital signage solution, you can have data sovereignty, which might be a requirement for you. If your digital signage provider offers selectable data regions, you'll be able to comply with any regulations involved in your data storage.
At TelemetryTV, we offer US, EU, UK, Canada, and ASIAPAC. If you select one of these when creating your account, none of your data will ever leave your selected region. Plus, this will help with performance speeds in terms of accessing existing content and saving new data.
Provide indoor navigations
If your bank is relatively large and spread out, your clients could probably use some guidance to figure out where to go and who to talk to.
Digital wayfinding kiosks can serve as your directory, showing exactly where they need to go, how to get there, and more.
These kiosks can even provide basic info and answers to simple questions that could save the user and your team valuable time.
Set up digital bulletin boards
Another way to display announcements and updates is on a digital bulletin board. This digital board can be dedicated to notifying clients of events your bank might take part in, like workshops on financial literacy or webinars.
It can include accolades and certifications to show that your bank is accredited. Any awards you have earned should be displayed there too.
Relevant news to your bank or for its clients can occupy your digital bulletin boards as well.
And with playlist content scheduling, you can schedule content ahead of time or set rules to determine when and where your content displays. A media auto expire setting will automatically remove content from your playlist with user defined expiry dates. Then, you'll be able to take a hands-off approach to playlist management.
Your digital signage software can also include playlist content approvals to require an admin to approve content after additions or changes are made by your designated users.
The group permissions feature lets you decide who can have access and exactly what they'll have access to. These permissions can limit what features and folders each profile can use.
Display alerts & use screen overrides
Another feature of your digital signage that informs your clients and other people in your building is screen overrides. As the name suggests, this feature overrides a playlist with scheduled or immediate alerts to deliver critical information.
An example of these might be a tornado warning, letting people know which areas to avoid on their way home.
Screen overrides can save lives in the event of an emergency.
Use kiosks for your token system
Your digital kiosks can also provide authentication, including token systems. That way, clients will have an added layer of security that they can easily pass through without headaches.
Especially for digital kiosks that allow users to carry out a variety of tasks, this feature can add a lot of convenience.
Show positive reviews
Nowadays, reviews are of paramount importance. That's why it's a good idea to display your positive reviews right there on your in-branch digital signage.
You can pull reviews from sites like Yelp or Google using the Webshots feature, or simply take screenshots and display them as images.
Then, there will be positive reinforcement about your brand displayed within your branch. This will add to the customer experience banking clients receive.
Display engaging video content
In the world of marketing, everyone knows that video is king. That absolutely applies to your bank.
Use the power of high-resolution video to your advantage and catch people's eye with content that engages much more than images.
Create video content that compels with storytelling. This could be your bank's story, employee profiles, or anything that builds rapport with your audience.
You can also place digital signage at your bank's entrance to welcome guests and clients with content specifically crafted for this.
Put simply, video is still king. So use it to your advantage with digital signage displaying high quality, targeted videos around your bank.
TelemetryTV digital signage software for retail banks
At your retail bank, it's essential to prioritize customer experience. Bank digital signage allows you to do that, enhancing your communication, adding more self-service solutions, and providing better service as a result.
With integration of apps like Canva, crafting your content is easy, and can be done right within the app. All you have to do is use a template and Canva's friendly drag and drop content creator lets you put together a playlist in no time.
TelemetryTV provides all of the features and functionality mentioned throughout this article, and more. This includes content scheduling and automation, screen overrides, group permissions, custom app support, and anything else you might need for your retail bank digital signage.
It includes an intuitive interface that's easy enough for novice users, yet robust enough for advanced users. And it requires limited training.
TelemetryTV's award-winning customer service offers you the help you need to get started and manage your digital signage solution moving forward. We provide a wide array of help documentation, and beyond that, we're always happy to answer any inquiries you might have.
Sign up today for a free 14-day trial of TelemetryTV
Get started now and try out TelemetryTV digital signage software free for two weeks. Then, choose the subscription that meets your bank's needs.
Or request a free demo and let one of our experts show you the best use cases for your bank.
Choose TelemetryTV as your digital signage solution and see how much the CX at your bank can improve.
Visual Communication. Everywhere.
Get started for free. No credit card required.